1--What is the title of your latest release?
2--What's the "elevator pitch" for your new book?
Once upon a time JJ Jones turned her ex into a frog. Now he's back and she's got some explaining to do.
3--How did you decide where your book was going to take place?
It's part of my series, Season of the Witch. I wanted the location for the series to be somewhere fun, cozy, charming, magical, and coastal. So I created a fictional town (based on a few different real towns) on the Oregon Coast, which is one of my favorite places.
4--Would you hang out with your sleuth in real life?
Absolutely. If for nothing else than the cocktails!
5--What are three words that describe your sleuth?
Midlife, Magical, Determined
6--What's something you learned while writing this book?
The magical and health properties of cardamom, the meaning of various houseplants, and how to make homemade arancello.
7--Do you edit as you draft or wait until you are totally done?
I wait until I'm done. My first draft is usually a hot mess.
8--What's your favorite foodie indulgence?
Afternoon tea at the Clockwork Rose Tea Emporium
9--Describe your writing space/office!
I have a chaise in my office and right now I sit on that and use a lap desk to write.
10--Who is an author you admire?
There are so many it's hard to pick just one, but I'm a huge fan of Agatha Christie and think she was just the most interesting person and an amazing author.
11--Is there a book that changed your life?
The first time I read an Agatha Christie book (at age 10) I realized that THIS was what I wanted to do. I knew before that, but I wasn't able to really articulate it as a career until then.
12--Tell us about when you got "the call." (when you found out your book was going to be published)
I didn't. I got rejection after rejection after rejection. Then I read about self-publishing and the rest was history. Yes, I did eventually get "the call" (or rather email), but only after I was successfully publishing books on my own.
13--What's your favorite genre to read?
It changes a lot. I go through moods where I only read a certain genre for months on end, then I switch and read a new genre. Currently I'm really into PWF (Paranormal Women's Fiction).
14--What's your favorite movie?
Again, too many to count, but Love, Actually is way up there.
15--What is your favorite season?
It's a toss-up. I'd say spring, except my hay fever is so bad it's hard to enjoy it, so autumn is a win for me.
16--How do you like to celebrate your birthday?
Cake. Lots and lots of cake.
17--What's a recent tv show/movie/book/podcast you highly recommend?
I can't get enough of Only Murders in the Building. I'm also super swoony over The Gilded Age.
18--What's your favorite type of cuisine?
It's another toss-up between Italian and Indian. I love them both so much.
19--What do you do when you have free time?
Free time? What's that? Kidding. I deliberately take time to read every single day. It's both a relaxing escape and a way to learn and improve my craft.
20--What can readers expect from you next?
I'm currently working on the first book in a new series called Edwina Gale, Paranormal Investigator which features a sixty-something year-old witch who investigates paranormal crimes with help from her boyfriend (who is the chief of police), her bestie (an almost immortal Egyptian priestess), and a drag queen who also happens to be a were-jackal.
Season of the Witch #3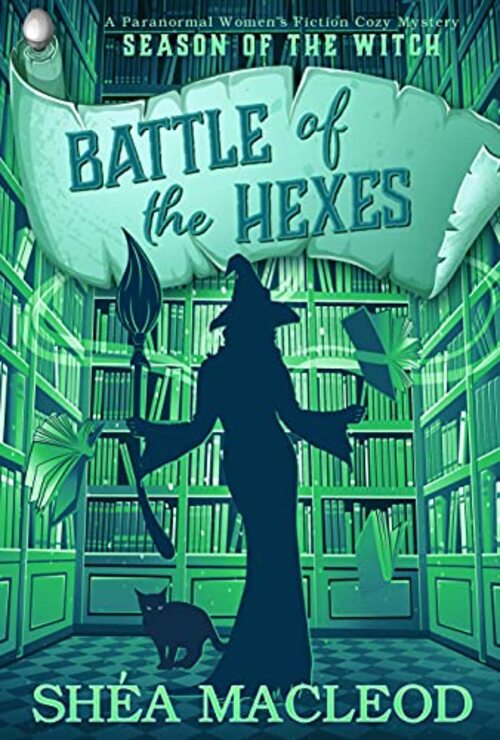 A paranormal women's fictioncozy mystery – because midlife can be a real witch!
Once upon a time, Juniper Jones may or may not have turned her ex into a frog. (Okay, she did, but he totally deserved it.) Unfortunately, she had no idea how to turn him back. And now he's arrived in Miracle Bay and she's got some explaining to do...
As if her ex turning up wasn't enough, JJ stumbles across the body of a mysterious newcomer to town. Unfortunately, one of her closest friends is the prime suspect and if she can't prove his innocence, he'll disappear from her life forever.
Battle of the Hexes is Book 3 in the paranormal women's fiction series, Season of the Witch, from the best selling author of Lady Rample Mysteries and Sunwalker Saga.
Get ready for some midlife magic!
Mystery Paranormal [Sunwalker Press, On Sale: April 7, 2022, e-Book, / ]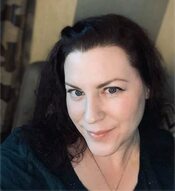 Shea MacLeod is the author of cozy mysteries and paranormal women's fiction. She has dreamed of writing novels since before she could hold a crayon. She totally blames her mother.
She resides in the leafy green hills outside Portland, Oregon where she indulges in her fondness for strong coffee, vintage cocktails, afternoon tea, and dragons.
Because everything's better with dragons.
Shea is the author of the popular Lady Rample Mysteries (set in 1930s London) as well as the post-WW2 Sugar Martin Vintage Cozy Mysteries. She's also written a contemporary cozy series, Viola Roberts Cozy Mysteries and a paranormal cozy series Deepwood Witches. She is currently working on her paranormal women's fiction series, Season of the Witch, as well as The Dream Factory, a magical realism series co-written with Linda Mercury.
No comments posted.