Jen Vido: What inspired THE SHOP ON ROYAL STREET, the first book in the spin-off series based on the New York Times bestselling Tradd Street novels?
Karen White: Back in 2005, when I first started thinking about writing my first series, I wanted to set it in one of my favorite Southern cities—one with lots of history, gorgeous architecture, and—of course—ghosts! Because I had attended Tulane University for four years, I was already familiar with New Orleans so it was an obvious choice. But then Hurricane Katrina came along and changed direction for that first series that eventually became the seven-book Tradd Street series set in Charleston. Seventeen years later, it was hard to close the door too permanently on those characters or the ghostly elements. It was natural to think spin-off, with fan-favorite character Nola Trenholm leading the new cast, and to return to the original setting of New Orleans. And that is how The Shop on Royal Street was born!
Jen: Why did you select New Orleans as the backdrop for this new series? Do you have a connection to The Big Easy?
Karen: I spent four of my formative years in The Big Easy while in college, and I have a strong connection to the city. I met two of my lifelong best friends there, and because they're both New Orleans-natives, they gave me a unique introduction to the city. Katrina was devastating in many ways, but I've never given up on setting a book in the Gulf Coast. My first, The Beach Trees, was all about surviving the storms in our lives—both the literal and figurative—and was set in Biloxi, Mississippi and New Orleans pre-Hurricane Camille (1969) and post Katrina. Now, seventeen years later, I finally get to return with a brand-new series.
Jen: Why is Nola interested in purchasing a historic fixer-upper, and who is standing in her way?
Karen: Despite a promising start, Nola's first steps into young adulthood didn't go as planned, as bad choices sent her back home to Charleston to once again find herself under parental supervision. She's older and wiser now, and determined to make it on her own in a new city. As a show of independence, she wants to buy a house on her own and restore it. Inspired by her parents' renovation of their house in Charleston, Nola has attained a graduate degree in historic preservation and when she sees the dilapidated Creole cottage in the Marigny neighborhood of New Orleans, she falls in love with it. Unfortunately, the house is owned by Mimi Ryan and her grandson Beau—someone Nola remembers well from her past, and is the last person she wants to see again. And she is the last person to whom Beau wants to sell the house. Because the house has a history—a history involving a long-ago murder with a connection to his grandmother, and a few restless spirits who are reluctant to move on.
Jen: What happens in the Creole cottage that disrupts Nola's restoration plan?
Karen: As with every home renovation, there are always nasty surprises like crumbling water pipes behind the walls and wood rot beneath the warped floors. The budget is constantly running through Nola's mind while she is also trying to hire skilled workers to help with the plumbing and electrical wiring nightmare. Apparently, her house has a dark reputation with matching vibes that repels even neighbors from crossing the threshold, leaving her to do the one thing she doesn't want to do—ask Beau Ryan for help.
Jen: How many books will be in this new series, and when will readers be able to get their hands on the next installment?
Karen: Right now, I'm contracted for four books, but hopefully popular demand will mean more books! I'm working on the sequel right now (The House on Prytania) which is due to be published in the spring of 2023.
Jen: Let's talk about your promotional plans for The Shop on Royal Street and the best way for readers to stay connected with you.
Karen: I will be hitting the road to promote The Shop on Royal Street (yay!) and my full appearances schedule can be found on my website at karen-white.com.
I'm also on Instagram, Facebook and Twitter and you can find links to all of those on the main page of my website www.karen-white.com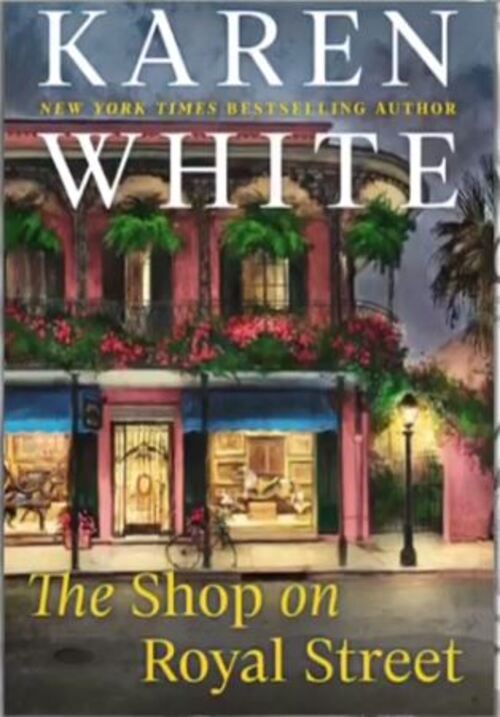 Nola Trenholm is hopeful for a fresh start in the Big Easy but must deal with ghosts from her past—as well as new ones—in this first book in a spin-off series of Karen White's New York Times bestselling Tradd Street novels.
After a difficult detour on her road to adulthood, Nola Trenholm is looking to begin anew in New Orleans, and what better way to start her future than with her first house? But the historic fixer-upper she buys comes with even more work than she anticipated when the house's previous occupants don't seem to be ready to depart.
Although she can't communicate with ghosts like her stepmother can, luckily Nola knows someone in New Orleans who is able to—even if he's the last person on earth she wants anything to do with ever again. Beau Ryan comes with his own dark past—a past that involves the disappearance of his sister and parents during Hurricane Katrina—and he's connected to the unsolved murder of a woman who once lived in the old Creole cottage Nola is determined to make her own...whether the resident restless spirits agree or not.
Mystery | Mystery Paranormal [Berkley, On Sale: March 29, 2022, Hardcover / e-Book, ISBN: 9780593334584 / ]
Reconstruction can be unpredictable in more ways than one.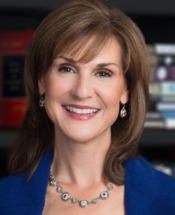 Karen White is the New York Times bestselling author of 28 books, including the Tradd Street series, Dreams of Falling, The Night the Lights Went Out, Flight Patterns, The Sound of Glass, A Long Time Gone, and The Time Between. She is the coauthor of All the Ways We Said Goodbye, The Glass Ocean and The Forgotten Room with New York Times bestselling authors Beatriz Williams and Lauren Willig. She grew up in London but now lives with her husband near Atlanta, Georgia.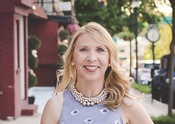 Jennifer Vido is best known for her nationally syndicated Jen's Jewels author interview column. A savvy book blogger she dishes the scoop on the latest happenings in the publishing business. As a national spokesperson for the Arthritis Foundation, she has been featured by Lifetime Television, Redbook, Health Monitor, The New York Times, The Baltimore Sun, Healthguru.com, and Arthritis Today. She is the author of the Piper O'Donnell Mystery series. Currently, she lives in the Baltimore area with her husband and two sons.
No comments posted.