1--What is the title of your latest release?
2--What is it about?
Carpenter Whitney Whitaker and her cousin Buck have bought an old roadside motel at a tax auction, and they're planning to turn the place into condominiums. But during demolition, Whitney's cat Sawdust uncovers a body in one of the rooms. The murder victim is none other than Beckett Morgan, an up-and-coming country singing sensation whose song "Party in the Pasture" is a mega hit. Detective Collin Flynn--who Whitney has begun dating--is faced with a long list of suspects, ranging from female groupies, to jealous musicians, to the star's manager and a record label exec, among others.
3--What do you love about the setting of your book?
Not only is Nashville a beautiful city with its rolling hills and the Cumberland River running through it, but the mid-century motel is a fun, kitschy touch. As a child on family vacations, I stayed at motels just like the one featured in the book, with pink porcelain in the bathrooms and massaging beds that would vibrate for three minutes if you stuck a quarter in a bedside machine. I have many happy memories swimming in the pools and getting treats from the vending machines at motels just like the one featured in the book.
4--How did your main character(s) surprise you?
Whitney proved to be even braver than I realized, and Buck showed a romantic side I didn't know he had. Sawdust, who is usually an extremely sweet kitty, proved to have a naughty side, too!
5--Why will readers relate to your characters?
Many of us fantasize about fixing up houses, and it's fun to go along for the ride as Whitney makes style decisions on the places they flip and completes the work. Cat lovers will also find Whitney's feelings about her cat – and his feelings about her – very relatable. Our kitties mean so much to us!
6--What was one of your biggest challenges while writing this book (spoiler-free, of course!)?
Deciding how far to advance the secondary romantic subplots and how much closer to bring the characters to their long-term goals. Pacing of overarching series subplots can be tricky since an author often doesn't know exactly how many books a series will end up having.
7--Do you look forward to or do you dread the revision process?
I enjoy revising. My editor is extremely talented and gives very insightful suggestions on my draft manuscript. I love seeing the story come together more cohesively as I revise it, and it's rewarding to end up with a polished product that really shines.
8--What's your favorite snack to have on hand while writing?
Wasabi peas. They're good protein, and the spicy kick keeps me alert and energized. My dogs even like them, which is so weird!
9--Where would you go for an ideal writer's retreat?
I'd return to the Writer's Colony at Dairy Hollow. It's in the artsy, Victorian town of Eureka Springs, Arkansas, which is up in the mountains. You get a great mix of nature with plenty of good restaurants and shops to visit on breaks. I went there with writer friends a few years back, and we had a wonderful time and were very productive.
10--What's the best piece of writing advice you've received?
Don't worry about what people you know might think about your work.
11--Who is the fictional character you want to hang out with the most? (anyone in literature!)
Misty of Chincoteague--the horse! I've been fascinated with that book and the wild horses since I was a young girl. I recently went on a wild horse tour on North Carolina's Outer Banks, and it was exciting to see the horses living freely on their own.
12--What's one of your earliest book memories?
Being excited that I not only had access to my school and city libraries, but also the library on the military base where my father was stationed. So many collections to choose from!
13--If you had to write in a different genre, what would it be and why?
Women's fiction. I like how the stories are realistic, sometimes harshly so, but that there are lessons to be taken from them. I also like that the women might endure a lot, but they tend to be okay by the end. I admire resourcefulness and resilience.
14--What song will automatically put you in a good mood?
"Funkytown" by Lipps, Inc. It's impossible not to sing and dance along with that song, and it takes me back to my junior high roller-skating days.
15--What is your favorite way to practice self-care?
Soak in a hot, lavender-scented bubble bath in candlelight.
16--What can you eat and never get sick of?
Avocado rolls. They're my favorite sushi.
17--Will you share a favorite, recent-ish book you recommend?
MURDER IN DEVIL'S COVE by Melissa Bourbon. It was a mix of mystery, family saga, and adventure story, which was a unique blend. The cast of characters was also fascinating and varied, and the concept of a bibliomancer--someone who divines things from books--was intriguing.
18--Do you have any hobbies?
I spend most of my free time walking my dogs on the various trails around our house and our mountain cabin. I love to hike, ice skate, and snow ski, though I can't claim to be very good at the ice skating or skiing. I'm too cautious to push my physical limits, but I love doing these activities because they're a fun way to enjoy the outdoors in winter. I love being outside any time I can!
19--Are you an early bird or a night owl?
Definitely an early bird. My brain turns off around 4:00 every afternoon and I'm a zombie after that. If I need to put in a long day, I'd much rather get up super early than stay up late.
20--What can readers expect from you next?
A new mountain lodge mystery series! The first book, GETAWAY WITH MURDER, will be out later this year. Each book will feature a fun new group of visitors to the lodge, ranging from a yoga class to a female biker gang to a ski club. The owner of the lodge will be middle-aged, and I'm looking forward to writing a character who is in this phase of life and enjoying the freedom and perspective it brings.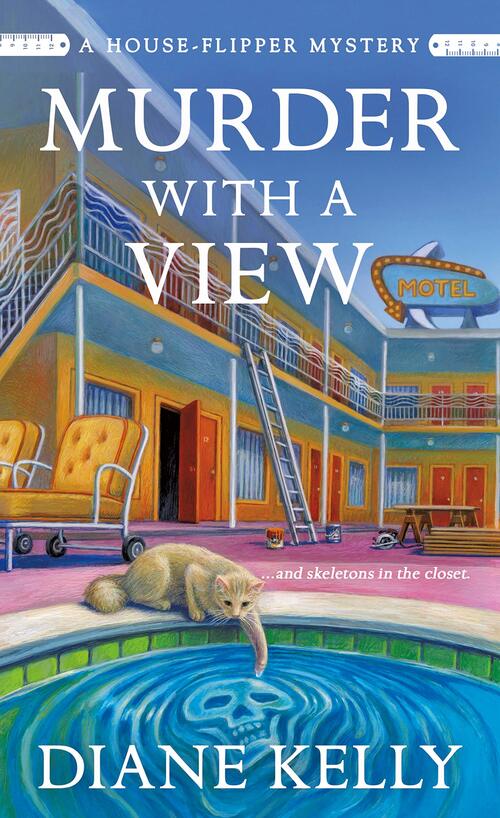 The third in the delightful cozy mystery series from Diane Kelly set in Nashville, TN—where the real estate market is to die for.
Carpenter Whitney Whitaker, her cousin Buck, and guard-cat Sawdust just scored a hot property near downtown Nashville in a tax sale. While the Music City Motor Court might not be much to look at now, the two plan to transform the motel's twelve units into six one-bedroom condominiums with popular mid-century styling. But surprises await when Whitney discovers a squatter living in Room 9 and her cat Sawdust uncovers a body in the bed next door.
The murder victim is none other than Beckett Morgan, an up-and-coming country-western singing sensation who's taken Nashville by storm with his number-one hit "Party in the Pasture." Beckett's left a long trail of broken promises and broken hearts, and the list of suspects seems endless. So does the line of female fans intent on halting the flip and turning the construction site into a shrine for the deceased star. If Whitney and Buck don't help Detective Collin Flynn nail the killer, they'll never be able to clear out the star-obsessed groupies, complete the remodel, and recoup their investment. But just who silenced the singer and why?
Mystery Cozy [St. Martin's Paperbacks, On Sale: February 9, 2021, Mass Market Paperback / e-Book, ISBN: 9781250197481 / eISBN: 9781250197498]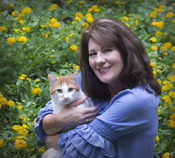 A former tax advisor, Diane Kelly inadvertently worked with white-collar criminals on multiple occasions. Not surprisingly, Diane decided self-employment would be a good idea. Her fingers hit the keyboard and thus began her Death and Taxes romantic mystery series. A graduate of her hometown's Citizen Police Academy, Diane Kelly also writes the hilarious K-9 cop Paw Enforcement series and the new House Flipper cozy mystery series.
Diane's books have been awarded the prestigious Romance Writers of America Golden Heart® Award and a Reviewers Choice Award.
No comments posted.