I grew up with a menagerie: dogs (St. Bernards, Newfoundlands), cats (Persians, tabby), birds (ducks, parrot, lovebirds, cockatiel, parakeets), bunnies, lizards (iguana, bearded dragon), chinchillas, ferret, fish. To this day, my parrot Buddy (who I've had since I was a kid) sits with me while I write my books.
But until recently, I'd never written a story with an animal in a primary role. Why not? Back when I was writing the first book in my Profiler series, a writing friend suggested I could soften Evelyn up by giving her a pet. I countered that there was no way she'd have time to care for one, because the FBI was constantly sending her around the country to profile the worst criminals. (Instead, I revised her backstory and brought her grandmother into the story, which served the same character purpose.) Since I write suspense and romantic suspense, heroes and heroines in high-pressure law enforcement jobs was often a stumbling block for giving my lead characters pets.
Last year, when my editor asked me if I wanted to write a story involving "a hunky guy and a dog," I considered it from a different angle. What if the dog took on a lead role?
That book became my Publishers Weekly bestselling book K-9 DEFENSE. The hunky hero is former Marine Colter Hayes, who had to leave the military after an ambush killed his entire team – and left him and his partner, Combat Tracker Dog Rebel, with injuries severe enough that neither could continue being Marines. The dog, Rebel, is a German Shepherd-Malinois mix who retired with Colter to a remote patch of Alaskan wilderness. Together, man and dog just wanted to be left alone to heal and hide from the world.
My heroine, Kensie Morgan, has other plans for them as soon as she hears the word "tracker." Her younger sister was kidnapped right in front of her when Kensie was only thirteen. Fourteen years later, a note that's already been labeled a hoax by the FBI is her last chance to find her sister. She thinks Colter and Rebel can help – and even when Colter tries to explain that's not the kind of tracking Rebel does, Kensie won't give up.
The book got new life this month when it was re-released in a special duo with Elle James's Six Minutes to Midnight (about another kind of military K-9 and handler!) in VALIANT TRACKER. And although Rebel faces real danger in the story – and Colter learns just how far he'll go to protect his partner and the woman he's starting to fall for – she survives, just like her handler. And so will the dogs in the next books in my series…
Because once I started writing dogs in primary roles, I discovered how much I loved it! Even before I finished writing K-9 Defense, I knew I wanted to tell more stories with dogs. With K-9 Defense, I'd spent a lot of time researching different K-9s, looking for a type of specialty I hadn't seen before in novels. I found it with Combat Tracker Dogs, dogs that can actually track from the site of an explosion back to the person who set it!
For the next several books in my K-9 Alaska series, I knew I wanted to feature different dogs – different breeds, different specialties, and of course, different personalities. So, I went back to my research – and to notes I'd taken in the past when I'd had the chance to visit with various K-9s and their handlers across different types of law enforcement and specialties. On my website, you can go behind the scenes of my K-9 Alaska series and find out more the dogs in the rest of the series. I can't wait to share more of them with you next year!
Until then, find out more about Valiant Tracker below and enter to win a signed copy from Fresh Fiction!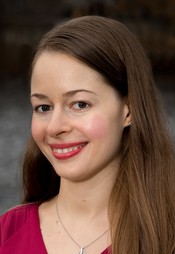 Publishers Weekly bestselling author ELIZABETH HEITER likes her suspense to feature strong heroines, chilling villains, psychological twists, and a little bit (or a lot!) of romance. Her research has taken her into the minds of serial killers, through murder investigations, and onto the FBI Academy's shooting range. Her novels have been published in more than a dozen countries and translated into eight languages; they've also been shortlisted for the HOLT Medallion, the Daphne Du Maurier award, the National Readers' Choice award and the Booksellers' Best award and won the RT Reviewers' Choice award.
The heroine of Elizabeth's Profiler novels was called "one of the most amazing characters created in print" by Fresh Fiction. Her novels have received praise from Lee Child, J.T. Ellison, Jeffery Deaver, Tess Gerritsen, R.L. Stine, Allison Brennan, Laura Griffin, Suzanne Brockmann, Hank Phillippi Ryan and Zoë Sharp.
2 comments posted.