Author Sharon Buchbinder offers one lucky US reader a chance to win an ebook of KISS OF THE SILVER WOLF, a sign copy of KISS OF THE VIRGIN QUEEN, two luggage tags, a tote bag, a coffee mug and an Amazon $20 gift card. Answer the question below for your chance to enter!

Contrary to popular TV images of a pretty girl in a bottle, jinnis, or genies, are powerful shape shifters, who, like humans, can choose between good and evil. If a terrorist ever found a way to conjure and command an evil jinni, the world would never know what hit it. Join Eliana Solomon and the Special Agents of the Anomaly Defense Division of Homeland Security to find and fight evil jinnis!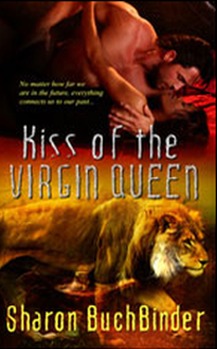 No matter how far we are in the future, everything connects us to our past.
Homeland Security Special Agent Eliana Solomon is on a mission to prevent terrorist attacks. Hard enough to do when the threats are human, almost impossible when it's an evil, shape shifting jinni. Eliana needs help so she calls the sexy and beguiling psychiatrist, Arta Shahani. However, no matter how good he is at his job, the man is on her blacklist. On their last case together, the guy left her for dead.
Arta is stunned when he receives Eliana's call. Forced to abandon the woman he loves, he now fears she won't accept his shape-shifting skills as a Persian Lion. Eliana, in the meantime discovers she is a direct descendant of King Solomon and the Queen of Sheba with special powers of her own. But will her skill and Arta's be enough to defeat the jinni, or will they lose the love history decreed for them as well as their lives in this battle of good versus evil?
Contest ends: July 31, 2016