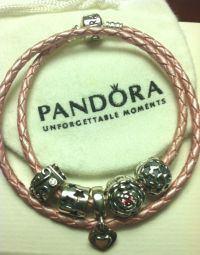 Just in time for the holidays, a story that celebrates the season, a hero and heroine to love and remember, and a prize that'll make a great gift for a friend...or yourself! One Night with a Hero tells the story of two people who believe they're not worthy of love, and find it when they least expect it. The new Pandora bracelet giveaway celebrates a number of the story elements of the book, especially the heroine's inner strength and courage. I hope you'll enjoy both the book and the bracelet! Good luck!

One Night with a Hero
Order Today
He wants just one night...
After growing up with an abusive, alcoholic father, Army Special Forces Sgt. Brady Scott vowed never to marry or have kids. Sent stateside to get his head on straight—and his anger in check—Brady's looking for a distraction. He finds it in his beautiful new neighbor's one–night–only offer for hot sex, but her ability to make him forget is addictive. Suddenly, Brady's not so sure he can stay away.
...what they need is each other.
Orphaned as a child, community center director Joss Daniels swore she'd never put herself in a position to be left behind again, but she can't deny herself one sizzling night with the sexy soldier who makes her laugh and kisses her senseless. When Joss discovers she's pregnant, Brady's rejection leaves her feeling abandoned. Now, they must overcome their fears before they lose the love and security they've found in each other, but can they let go of the past to create a future together?
Contest ends: November 30, 2012