Is it safe to let characters loose in a new setting? That was the question we were asking ourselves when we contemplated the fifth book in our book collector mystery series. All the book collector mysteries are contemporary stories that also focus on one of the great authors of the Golden Age of Detection. We wanted to have the book revolve around Dashiell Hammett, an author who changed the face of mystery fiction. Hammett was himself quite a mysterious figure and had been a Pinkerton agent. What great training for a crime writer: not only did it require attention to detail, long reports, and thinking fast in surprising situations, but also it taught him that people could be very untrustworthy. He left some memorable fiction set in San Francisco, one of the world's great cities. We love The Continental Op and Sam Spade and we think they still make good reading after many years.
We thought that Hammett's work and the city itself would be an excellent backdrop for our forthcoming book, THE HAMMETT HEX. We bundled up our characters, Jordan Bingham and Officer Tyler "Smiley" Dekker and sent them from sleepy little Harrison Falls, New York, to the romantic 'city by the bay'. We enjoyed weaving the plot into the iconic elements of the city: the hills, the cable cars, the alleys that Hammett made famous.
What could go wrong?
Plenty, naturally! All Jordan had to do was bring back a copy of Red Harvest for her curmudgeonly boss, Vera Van Alst. All Smiley had to do was keep a secret … just long enough.
They should have known from reading Hammett that you really can't trust anyone. Soon Jordan is threatened. What could go wrong on a cable car or in a dark alley? Oh right, plenty.
Can our couple manage to work together to sort out what is really happening and who can be trusted? Can they trust each other? Will they live long enough to care? You be the judge.
THE HAMMETT HEX will hit the shelves on October 4th, 2016. But check out the trailer now:
That shadowy figure known as Victoria Abbott is a happy collaboration between the artist, photographer and short story author, Victoria Maffini, and her mother, Mary Jane Maffini, lapsed librarian and award-winning author of three mystery series and two dozen short stories.
Their contemporary and humorous book collector mysteries draw from the beloved authors of the golden age of detection. There is no extra charge for the crooked Irish uncles or the pug. The good news is that while they've written five books together, they haven't killed each other. Yet.
In other good news, their fourth book collector mystery, THE MARSH MADNESS, won the 2016 Bony Blithe award for 'mysteries that make us smile'.
You can find more at: www.victoria-abbott.com or www.maryjanemaffini.com
You can sign up for their e-newsletter (contests, book news, dog fashions, nonsense and recipes) through either website.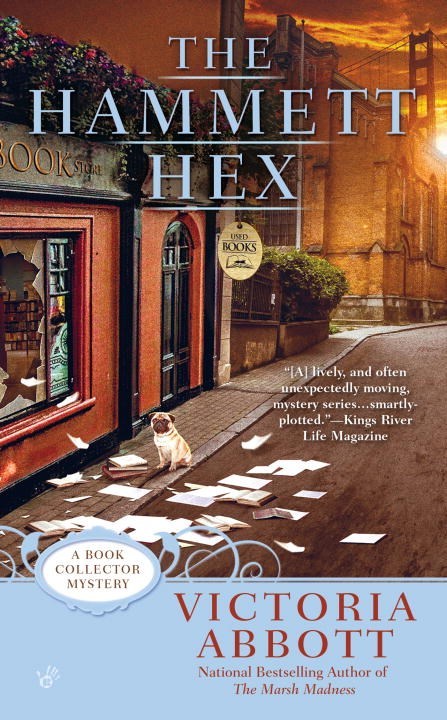 The national bestselling author of The Marsh Madness takes rare book collector Jordan Bingham on a trip to San Francisco—home to Dashiell Hammett's hard-boiled heroes—where nothing is as it seems.
On a getaway to the City by the Bay, book collector Jordan Bingham becomes entangled in a mystery with more twists than Lombard Street...
Jordan has been able to swing a romantic trip to San Francisco with Officer Tyler "Smiley" Dekker on one condition—she must return with a rare copy of Dashiell Hammett's Red Harvest for her irascible employer, Vera Van Alst. For his own part, Smiley is full of surprises. He's a Dashiell devotee himself—excited to be in the city of Hammett's hard-boiled heroes like Sam Spade and the Continental Op—and also announces he plans to visit his previously unmentioned estranged grandmother, who lives in an old Victorian in Pacific Heights.
But the trip goes downhill fast when Jordan is pushed from a cable car and barely escapes death. And when a dark sedan tries to run the couple down, it's clear someone's after them—but who? Just like in Hammett's world, nothing is quite what is seems...
INCLUDES RECIPES
Mystery Cozy [Berkley Prime Crime, On Sale: October 4, 2016, Mass Market Paperback / e-Book, ISBN: 9780425280355 / eISBN: 9780425280362]
No comments posted.