An Interview with Zeke Driscoll, one of the heroes in TWO DOMS FOR KARA by Anya Summers

June 15, 2016
What is your name? Do you have a nickname?
Zeke Driscoll. The only other name I respond to is Master or Sir.
Where were you born? Where have you lived since then? Where do you call home?
Originally I'm from Virginia. I attended the Culinary Institute at Hyde Park in New York. Then I went on to having my own cooking show on the Food Network in Manhattan where I still reside and work.
What is one strong memory that has stuck with you from childhood? Why is it so powerful and lasting?
Probably cooking with my Grandma. She taught me the love of the process and is the person who first encouraged me to pursue my love of cooking to turn it into my career. I really owe her everything for her staunch belief in me.
You're getting ready for a night out. Where are you going? What do you wear? Who will you be with?
Unless I am entertaining potential clients, most nights you can find me at the Dungeon Fantasy Club in Manhattan with my co-top, Chase Manning. I have a full line of fetish gear preferring leather pants tank top. It tends to drive the subs a little wild. And that's the point, am I right?
Where do you go when you're angry? What do you do there?
I've been told that I have a rather explosive anger and I know it. An overdone soufle by my sous chef at the height of a catering event can tip me over the edge. If I'm cooking, I tend to funnel my anger into my cooking. Outside of the kitchen though, it's best if I'm alone, and I will stay home, pump some iron on my weight bench until my furor has cooled off a bit.
Have you been in love? Had a broken heart? Who was it and what happened.
Yes. At least, I thought I was in love. She used me and my cooking show, Blazing Inspirations to try and make a name for herself. When I discovered her true agenda and confronted her about it, she threatened to expose my sexual preferences to the network. She did in an attempt at blackmail. It was the death of my cooking show.
What is your biggest fear? Who have you told this to? Who would you never tell this to? Why?
That I will never find a sub who can love me for me, without agenda or motive. Why would I tell anyone this. It's not like there is anything that could be done to fix it. Well, unless Kara agrees to be our sub. Then we will see.
If you had to make a meal for me right now with only the ingredients in your refrigerator and pantry, what would you make me?
You're talking to a chef. My kitchen is always fully stocked. I can whip up whatever my heart desires on a whim whether it's crème brulee at two in the morning or Peking duck, you name it, I have it.
Look down. Describe what you're wearing. Is this the way you're normally dressed? If not, what do you normally wear?
I'm not a fan of traditional chef clothing so you won't find me in the traditional slacks. Unless I'm in the midst of a catering event where the clientele is, shall we say, hoity toity. More often than not, I'm in jeans. Today I have a black and red chef jacket to go with it. It has a special design to help keep me cool in the kitchen. I have a ton of chef jackets but I've been known to wear a teeshirt too. What's the one thing you want out of life that you don't think you can have? Why can't you have it?
I want my business partner, Kara Lowe. I've wanted her since we first met five years ago. She's the one for me, I just don't know if she will agree to enter a ménage relationship with Chase and I.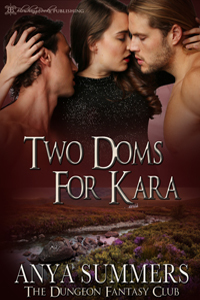 They're her business partners, so she shouldn't get involved. Should she?
Kara Lowe is the successful owner of Bridal Dreams, where she works with happy couples to make their special day a fantasy come true. When she is asked to oversee the wedding of a lifetime on the other side of the world, she knows she needs to rely on the two men she's recently gone into business with to ensure the elite couple's wedding goes off without a hitch. What she doesn't expect is for her two partners to decide that, in the wild hills of Scotland, anything goes—including all of her pent-up inhibitions.
Zeke Driscoll and Chase Manning have desired Kara for years; since well before their merger with Bridal Dreams. When a unique getaway wedding presents itself on the books, they decide the Dungeon Fantasy Club is the perfect place to unravel their partner's sweet beauty and uncover the submissive they know is hiding inside her, just waiting to be let out. The two Doms will test Kara's boundaries, knowing they've found the submissive to hold their hearts.
As Kara begins to lose her heart, she must face the reality of their ménage relationship. Will she be brave enough to commit to a lifetime with her two Doms?
This is the third book in the Dungeon Fantasy Club series by Anya Summers; however, like all the other books, it can be read as a standalone. It contains explicit sexual themes, including BDSM, MFM ménage, and some m/m action. If such content offends you, please do not purchase.
Born in St. Louis, Missouri, Anya grew up listening to Cardinals baseball and reading anything she could get her hands on. She remembers her mother saying if only she would read the right type of books instead binging her way through the romance aisles at the bookstore, she'd have been a doctor. While Anya never did get that doctorate, she graduated cum laude from the University of Missouri-St. Louis with a M.A. in History.
Anya is a #1 Amazon Bestselling and Award-Winning Author published in multiple fiction genres. She also writes urban fantasy and paranormal romance under the name, Maggie Mae Gallagher. A total geek at her core, when she is not writing, she adores attending the latest comic con or spending time with her family. She currently lives in the midwest with her two furry felines.
Comments
No comments posted.

Registered users may leave comments.
Log in or register now!