Baseball has always been a sport I've loved. I grew up collecting baseball cards, watching the Boston Red Sox whenever a game was on TV, and playing with the boys in the schoolyard. And still after many, many years, the love of the game is still imbedded me. So much so, that my home office is riddled with pictures and memorabilia of the game.
My inspiration for DARE TO KISS goes a bit deeper. As a little girl I fought hard to play baseball on a boys' city league. But back in the late sixties and early seventies, girls weren't allowed to play on boys' team. It was then I came up with the plot for DARE TO KISS on how a high school girl breaks through barriers to play on an all boys' baseball team.
It didn't take me long once I started writing. The protagonist, Lacey Robinson is a girl, who is a lot like myself. She loves the energy of the ball field. She loves hearing the crack of the bat and the roar of the crowd. She loves striking a batter out, but most of all she loves the game, and no matter the consequences, and she's faced with many in DARE TO KISS, she works hard to push through everyone of them to play the game.
In today's society it isn't far off that we could see females in the major leagues one day. More girls are stepping up and showing their talent and skills. Case in point is seventeen-year-old Chelsea Baker who was the youngest female to ever throw at batting practice for the Tampa Bay Rays two years ago, and the first female of Hillsborough County in Florida to make the varsity team. I was so over the moon when I read about her. I mean, wow! I'm envious of any girl playing boys' baseball.
To compliment DARE TO KISS, JKS Communications had this brilliant idea of an adult coloring book. At first, I couldn't get my mind around the concept. As an adult, I haven't colored since an early age. But I doodle when I sit at corporate meetings and color what I draw on paper. So why not have something fun for fans to do. I polled my fan group, and just about everyone was excited. In fact, the fans helped to pick out the scenes depicted in the coloring book. I wanted them to be part of the process, and I can't thank them enough for all their help. One fan, Jennifer Lowe, who loves the Maxwell Series, bought the coloring books as soon as it was released. She said, "For me, it was a way to connect with the Maxwell Series, but also to get the creative juices flowing." Not only can fans color, they can read excerpts of the scenes their coloring, which are located in the back of the coloring book.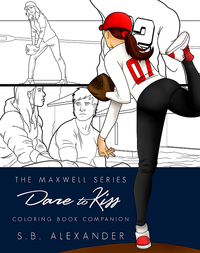 Color along to scenes right out of DARE TO KISS.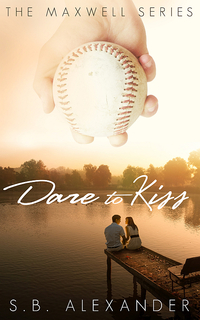 Her dreams shattered.
Her world destroyed.
He can save and heal her...
Only if she dares.
Trying to rebuild her life, seventeen-year-old Lacey Robinson moves from one coast to the other to start over. But the pain and devastation of her past can't be left behind--not after a loss like that.
Starting over is always easier said than done...
When Lacey meets the brooding, sexy Kade Maxwell, he just might have the magic touch that awakens her feminine side, and a kiss that erases her worst nightmares.
As Lacey begins to heal, her dreams of playing baseball take a turn for the worse--a chauvinistic team captain has other plans. And when Kade comes face-to-face with a violent rival from his past, Lacey's fears and pain resurface, threatening to destroy what they repaired. Together, they must dare to fight, so they can dare to find a future.
Intended for audiences 17 and older.
No comments posted.