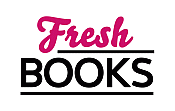 Sweet Reads in February
Jeanne's Lyet Gassman | Celeste's Chocolate Cherry Cake

December 11, 2015

I have always been a chocolate fiend. Chocolate chip cookies, chocolate ice cream, chocolate fudge, chocolate candy with almost any filling, even semi-sweet chocolate chips straight from the package are my vice. I prefer chocolate anything for dessert, except perhaps mole, which is a combination of chiles and chocolate, something that makes no sense to me. Chiles should be spicy, and chocolate should be sweet.

When I turned 21 in college, my best friend planned a surprise birthday party for me in the common room of my dorm. Celeste made an excuse to meet me there, and I nearly canceled because I was depressed that no one remembered my birthday. Instead, I opened the door to shouts of surprise and lots of hugs and laughter.

One of the best gifts I received that night was Celeste's mother's recipe for chocolate cherry cake. Celeste's mother was renowned for her cooking, and as a poor college student who ate mostly in the cafeteria, I always looked forward to dinner invitations at her house. Celeste wrote her mother's recipe on a piece of paper torn from a secretary's steno pad. (That should date me a little! For those who don't know the term, secretaries used to take dictation on steno pads, writing in a code known as "short hand.")

Celeste prepared this same cake for the party. Even as I write this, I can still remember the joy of the layers of chocolate blended with bits of cherry melting in my mouth with that first taste. Celeste had forgotten to bring forks, so we cut pieces of the cake with a plastic knife and used our fingers to stuff our faces.

This cake recipe has become my go-to recipe for all holiday events, and it never fails to please. I prefer to prepare the cake as a sheet cake with a single layer because the icing goes on more smoothly. One of the reasons I love this recipe so much, aside from its deliciousness, is that it's so easy to prepare, and easy is something we all need during the busy holiday rush.
Celeste's Chocolate Cherry Cake
Ingredients:
• 1 Duncan Hines Devil's Food cake mix
• 21 oz. can cherry pie filling
• 1 tsp. almond extract
• 2 eggs, beaten (Eggs need to be beaten separately so they don't chop up the cherry pieces in the pie filling.)
• 1/2 cup cooking oil (Substitute the oil for the water called for on the box.)


Icing:
• 1 c. white sugar
• 5 tbsp. butter (can use margarine)
• 1/3 c. milk
• 6 oz. semi-sweet chocolate chips or semi-sweet baker's chocolate

Topping:
Maraschino cherries
Instructions:
Preheat oven to 350 degrees F.
By hand, mix together cake mix, pie filling, beaten eggs, almond extract, and cooking oil. Pour into greased 9 x 13 inch pan. Bake for approximately 35 minutes at 350 degrees. Inserted knife should come out clean when cake is done. Allow cake to cool first if you want a nice, solid chocolate topping.
For icing:
Boil sugar, butter and milk 1 minute, stirring constantly. Remove from heat. Add chocolate chips and stir until smooth. Spread icing over cooled cake. (Tip: The melted chocolate can be messy, so turn out the cooled cake on a large cookie sheet edged with strips of wax paper. Once the chocolate cools, you can gently slide the wax paper from the cake and have a beautiful presentation.
Before the icing has cooled completely, decorate the top with Maraschino cherries in an arrangement of your choice.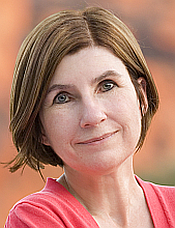 JEANNE LYET GASSMAN lives in Arizona where the desert landscape inspires much of her fiction. She holds an MFA in Writ­ing from Vermont College of Fine Arts and has received fellow­ships from Ragdale and the Arizona Commission on the Arts. In addition to writing, Jeanne teaches creative writing workshops in the Phoenix, Arizona, metropolitan area. Her work has appeared in Hippocampus, Hermeneutic Chaos Literary Journal, Red Savina Review, The Museum of Americana, Assisi: An Online Journal of Arts & Letters, Switchback, Literary Mama, and Barrelhouse, among many others. Her debut novel, Blood of a Stone, received a 2015 Independent Publisher Book Award in the national category of religious fiction and was a finalist for the 2015 Independent Author Network Book of the Year Awards.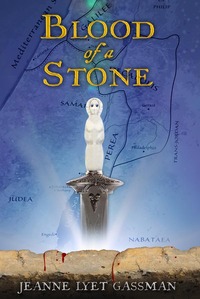 Set in the first century on the edges of the Roman Empire and the Jesus movement, Blood of a Stone is a sweeping story of murder, betrayal, love, and the search for redemption.
Faced with the brutality of slavery, Demetrios confronts his master and flees by the blood of a stone. Determined to escape his past, he struggles to create a new life and a new identity with his friend and fellow escaped slave, Elazar.
However, freedom has its price. Secrets cannot remain secret forever. A chance for love is lost. Elazar betrays Demetrios to a so-called prophet named Jesus of Nazareth. Fearing the Roman authorities and Jesus, Demetrios risks everything to silence those who would enslave him again. His quest leads him to startling discoveries and dire choices. Demetrios must answer the question we all ask: Can we ever be free of our past?
Buy on:
Amazon.com
|
Kindle
Comments
No comments posted.

Registered users may leave comments.
Log in or register now!