Interview commenced at 12:05. Interviewer: David.
The applicant seems annoyed to be here and is most likely staying to appease friends or family. Note to self: Add a security question on application to ensure that applicants are willingly participating.
Name: Scott Cooper McCade
Age: 27
Appearance: Short dark hair, green eyes. 6ft.
Pet Peeve: The CIA.
Note: applicant is using intimidation techniques to avoid the question.
Secret: Like I'd tell you.
Guilty Pleasure: Cuddling?
Note: Applicant rolled his eyes and refuses to take personality questions seriously.
Family: Brothers, twelve of them. One of which seems to have taken a shine to you.
Note: Applicant attempted to derail interview by bringing the large man in the doorway to distract interviewer's attention. (Note to self: as if I could overlook the hissing man with dark, cold eyes staring at me.)
Three skills you possess:I can shoot a target from a mile away, strip any firearm blindfolded in under ten seconds and I keep these troublemakers in line.
What you are looking for in a mate: Mate? Is that an attempt to get the shifter market on side, going after the 'furry dollar'?
Note: Interview suspended due to applicant's continued lack of cooperation.

Interview commenced 12:35. Interviewer: David.
The applicant appears nervous. He runs a hand through his hair and adjusts his glasses, but smiles kindly when drawn into conversation.
Name: George Frank Kelvin
Age: 22
Appearance: Shaggy blond hair, hazel eyes, glasses, oh and a birth mark on my left cheek in the shape of a butterfly. Pet Peeve: Not keeping your word.
Note: Interesting emphasis. A sense of honor appears very important to applicant.
Secret: I'm more than what I appear.
Note: Curious answer. Applicant's body language flickered briefly from docile to confident.
Guilty Pleasure: Coffee.
Family: I'd rather not get into that.
Three Skills: I'm quite good with computers, I guess I'm a decent cook and I can build tailored devices like phones, computers, and tablets etc. Wait, does that count as three?
Note: Applicant is humble, but exceptionally smart.
What you are looking for in a mate: Someone to make me feel safe.
Note to self: It's a long shot but I might know just the match for this one...

If you want to get to know the men that inspired these profiles, take a look at my Shifter Protection Specialists Inc. from Pride Publishing.
I'm SA Welsh and I write because the voices in my head keep making me. I love reading and I love letting the characters and stories in my head come to life in a book. I can't function in the morning without a cup of tea and when I'm not writing I'm reading. I have enough books to last me through an apocalypse but don't ask me to share them unless you are a fellow book worm and know how to treat and appreciate a good book. It is thanks to the writers that inspired me to put myself out there that I became an author and the editors that make sense of my chaos that I keep writing.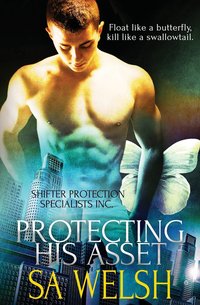 Float like a butterfly. Kill like a swallowtail.
Scott knows his boring day is over the second a bloody and scared George Kelvin crashes into his office, claiming people are trying to kill him. He knows he should pass the case over to one of his brothers, but he can't seem to do it. The strength and resilience of the man mixed with a quirky sense of humor fascinate him. He may be a human in the company of powerful shifters, but he's just as deadly and well trained as the rest of his brothers.
With devious CIA agents, foreign forces gunning for what George possesses and George's power-hungry father, who is also Deputy Director of the FBI, Scott begins to wonder if he's bitten off more than he can chew.
George always knew his father was dangerous and cruel. However, he never thought that those titles would inadequately sum up the lengths his father is willing to go to, to get what he wants. The only chance he has is using whatever is on file against his father. Staying alive to do that is another challenge. When he runs into the Shifter Protection Specialists, Inc. office, he's desperate, but isn't convinced anyone can protect him from his father. Risking more than he'd thought possible, he discovers that maybe he is more than he's always been taught to believe.
One thing is for certain—his father is not going to give up easily.
No comments posted.