Hi, I'm Andrea Randolph, and I'm mad for medieval. Have been, ever since I went to that first camp. Not a Renaissance Fair, mind you, with their turkey legs and ugh, potatoes. But a real honest attempt at recreating the Middle Ages, right in Virginia! The pageantry. The armor glinting in the sun. The banners blowing in the breeze. Craftsmen at work, using time-honored techniques. The horses and the drama of the jousts. Just the chance to head back to a simpler time.
I think that's why, when it came time to plan my wedding, that I chose a traditional hand-fasting ceremony followed by a grand feast—right at the camp! What could be more perfect?
Of course, a hand fasting was typically an engagement. The couple, with their parents' consent, would tie a decorative cord around their clasped hands. (We'll be literally tying the knot!) But from what I gathered in my research, if the relationship was consummated at that point, the couple would be considered legitimately wed by the church. (And we have every intention of…you know…consummating it.)
My dress is finally ready. It's hand-stitched in a gorgeous blue fabric we bought from one of the artisans, and mother and I made the pattern from an old painting we found in a book. And there'll be a dove release and trumpets. And we even found someone licensed to officiate (to make it legal). He'll be dressed as a friar.
Of course, Audrey Bloom will be supplying the flowers. Not a lot of them, mind you. After all, the camp is a mile hike into the woods, and she and her assistant Amber Lee will have to carry them. (I wish Liv could come, but the poor thing looks like she could deliver triplets at any moment.) But Audrey found some good hearty English roses, white with a yellow center, that would have been found at the time. It's costing a pretty penny to have them flown in, but they will make a lovely head wreath and bouquet.
And she's also bringing the bachelor's buttons I asked for. Yes, they're flowers, too, and Audrey thinks that maybe the tradition I told her about gave rise to the name. See, in the middle ages, at the feast following a wedding, unmarried female guests would hide these flowers in their clothing, and the bachelors present would be tasked with finding them. (How delightfully naughty! You should have seen Audrey blush!) Sounds like a sure-fire way to liven up a dull reception. Not that mine will be dull.
Nick Maxwell is cooking the feast. That's quite a job, because he'll be making the stew—venison, if he can get a deer—and baking the bread trenchers on which it's served. (No dishes to rent, or to wash!) But since he's the only one who can manage the ovens without using a thermometer, he's our guy. I'm sure it will be wonderful. I expect he won't be able to resist the urge to show off in front of Audrey.
I do hope there will be no trouble if Brad, Audrey's ex, shows up. Rumor has it he wants to film the camp for some reason. I'm not sure King Arthur—no, not that King Arthur. This one is elected and in real life he's a dentist—will allow video cameras into camp. He's rather strict about controlling the anachronisms, which is fine by me.
I've planned everything to the finest detail. What could go wrong?
Barbara Early (A.K.A. Beverly Allen) grew up buried in the snowy suburbs of Buffalo, NY, where she developed a love for all things sedentary: reading, writing, classic movies, and Facebook Scrabble. She holds a degree in Electrical Engineering, but her penchant for the creative caused her to run away screaming from the pocket- protector set.
She taught secondary English and science for several years before home schooling her daughter successfully through high school. Barbara cooks up cozy mysteries with a healthy dose of comedy and sometimes a splash of romance.
When not reading or writing, she enjoys cooking, crafts, home-improvement projects, and spending time with her husband and daughter.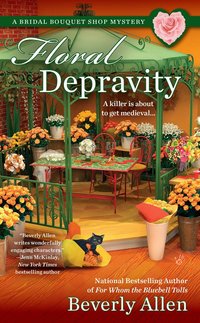 In the latest Bridal Bouquet Shop mystery, florist Audrey Bloom creates an arrangement for a one-of- a-kind wedding, but ends up pruning a one-of-a-kind criminal…
As the co-owner of the Rose in Bloom Flower Shop, Audrey knows how to put together unique wedding bouquets, but this one takes the cake. The daughter of a local historian is getting married in a medieval-themed, hand- fasting ceremony, and Audrey is responsible for providing period-accurate blooms.
But making sure she gets her roses right turns out to be the least of Audrey's problems. Shortly after the vows are exchanged, the father of the groom suddenly drops dead. When Audrey discovers the man's death stems from monkshood poisoning, it's a clear-cut case of murder. Now, faced with a suspect list that rivals the guest list, Audrey needs to root out the toxic killer…
No comments posted.