Setting THE DEBT OF TAMAR in a single location was really never in the cards for this novelist! As an adventure buff and travel enthusiast, I knew that wherever I sent my characters, I'd be trekking there as well. Besides, don't they say you never really know a person until you walk a mile in their shoes?
With that in mind, I set out to truly get to know my characters by doing what I could to follow in their footsteps, to be where they've been and see what they've seen. Whether by sheer imagination, plane or train, here are the destinations I visited along with my characters while penning my debut novel, THE DEBT OF TAMAR.
Lisbon, Portugal: The heart of one of the wealthiest colonial empires in history, and the oldest city in Western Europe, legend has it that this majestic city was founded by none other than Greek king of Ithaca, Ulysses. Home base to some of the greatest explorers and travel expeditions of the fifteenth and sixteenth centuries, yet also the site of some of the most horrific religious persecution of the time, Lisbon serves as the setting for the fiery auto de fe scene in the opening chapter of my novel.
Venice, Italy: As my characters trek east along rocky mountain terrain to evade the persecution of Inquisition authorities in Portugal, one of their most memorable stops is in the ancient city of Mestre, situated in the modern-day Italian province of Veneto. In its heyday, Venice was the capital of a major maritime power. Situated on a group of over 100 small islands linked by bridges and snaking lagoons, "The Floating City" was and is the perfect place to get lost in. Spend a few days exploring this magical city by gondola, and don't forget to visit the centuries-old clock tower mentioned in the novel!
Istanbul, Turkey: The setting at the heart of my novel, I had the privilege of visiting Istanbul on four different occasions while conceiving of and writing THE DEBT OF TAMAR. A cosmopolitan city where East meets West, this capital of a former Islamic Empire was the epicenter of some of the most progressive thinking and inclusive attitudes of the fifteenth and sixteenth centuries, and the ultimate destination for tens of thousands of Jews fleeing Inquisition persecution at the time. Today it is a dynamic metropolis with everything to offer to a modern-day explorer: world-class restaurants, a bustling nightlife scene, and an abundance of historical and cultural sites. Not to be missed are the gardens and pavilions of Topkapi Palace, the centuries-old home of Ottoman rulers and their families throughout history, which also serves as the setting for some of the most dramatic and romantic scenes in THE DEBT OF TAMAR.
Paris, France: When most people think of "The City of Light," literary brilliance, Impressionist art, and timeless romance are some of the first things that come to mind. Yet there is also a darker side of the city's past not often talked about. Complicit in Nazi war crimes during World War II, Parisian authorities were active in the rounding up, deportation, and murder of tens of thousands of Jews who had considered Paris their home. If you're lucky to travel to Paris, visit some of the sights mentioned in the book, such as the world famous Luxembourg Gardens and Le Marais, the Jewish Quarter. Pay tribute to the nearly 14,000 Jews who lost their lives after being imprisoned for days without food or water in the Vélodrome d'hiver sports stadium, where a monument to the victims stands today.
Tiberias, Israel: A fishing town situated along the banks of the Sea of Galilee, this magical village is revered by Christians, Muslims, and Jews alike. Take a boat ride on the same waters Christians believe Jesus once walked upon. Enjoy strolling along the promenade or through the bustling bazaars, but whatever you do, don't miss The Dona Gracia museum, dedicated to the life and legacy of its namesake, the inspirational sixteenth-century heroine who rescued countless Jews during the Inquisition, and served as the inspiration for the protagonist in THE DEBT OF TAMAR.
So where would you like to travel to in my next novel?
Connect with me on Facebook and send me your suggestions!
Nicole Dweck holds a BA in Journalism and a Master's Degree in Global Affairs from NYU. When THE DEBT OF TAMAR, her debut novel, was self-published, it was a USA Today bestseller and received honorable mention in Writer's Digest's Self- Published Book Awards. She lives in New York City with her husband and their son.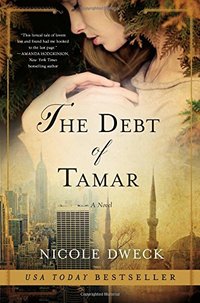 Bestselling author Nicole Dweck brings to life one of history's greatest yet overlooked stories of love and resilience.
In 2002, thirty-two-year-old Selim Osman, the last descendant of Ottoman Sultan Suleiman the Magnificent, flees Istanbul for New York. In a twist of fate he meets Hannah, the daughter of a Holocaust survivor and an artist striving to understand a father she barely knows. Unaware that the connection they share goes back centuries, the two feel an immediate pull to one another. But as their story intertwines with that of their ancestors, the heroic but ultimately tragic decision that bound two families centuries ago ripples into the future, threatening to tear Hannah and Selim apart.
From a 16th-century harem to a seaside village in the Holy Land, from Nazi-occupied Paris to modern- day Manhattan, Nicole Dweck's THE DEBT OF TAMAR weaves a spellbinding tapestry of love, history, and fate that will enchant readers from the very first page.
No comments posted.