What intrigues me about paranormal characters is actually their normalcy, rather than the 'para' bit. It seems universal that such immortal beings love, hate, are stressed and pushed to their limits, just like us, even if their loves and their limits might be more extreme than what humans are used to (which is, of course, part of the allure). Who doesn't savour the idea of everlasting love? For vampires and shifters, the concept of forever just happens to be a lot longer.
In DARKER NIGHTS, my new erotic romance story, a human woman named Delia is pursued by two immortals. Having been loved and left by a vampire in the past, Delia is understandably cautious about getting involved with Caleb and Mark. She's alright with some screwing but she doesn't want to get screwed again so it's going to take all of their combined powers for the vampire and the werewolf to convince her that they belong together.
The immortals may live longer but, in my writing, they face the same issues we all do. Unique, I think, to my take on paranormal erotic romance are vampires needing lawyers (my heroine, Delia Darker, is a lawyer). Instead of mating for life, sometimes they get divorced and, boy, can they be difficult divorce clients, as the client Delia is dealing with in the opening scene of the story proves. I imagine that vampires can be very wealthy, too, since their investment horizon is almost infinite (imagine starting to invest in the stock market when it just got started!).
Maybe my mind goes to strange places but I like thinking about how paranormal romance characters deal with very human issues, like hiring a lawyer and getting divorced. From there, it was an easy leap to envisioning a law firm that exclusively caters to these types of creatures. That got me thinking again. How would the vampires know that this was the law firm for them? They could hardly advertise on the radio the way personal injury firms tirelessly do nowadays. So, this firm must have been around a long time and its existence passed on by word of mouth, down through the generations. So what if the human lawyers who staff such a law firm also have that tradition handed down? What would that do to a young woman, to mingle with clients whose very existence is a secret to the rest of the world? How stressful, yet exhilarating, that must be for her. I could see the character emerging already. Delia—such an old-fashioned name!—Darker, a young lawyer, good at her job, with the weight of tradition bearing down on her and hopelessly attracted to the very clients she must spend the rest of her life around.
Doesn't it make sense for Delia to be conflicted? And what better stressor to put on her than two very sexy immortal beings, one of whom is already convinced she's just the woman for him.
The result is a paranormal erotic ménage story that I would like to think works on a couple of levels. Sexy and strange, yes, but oh-so-human in the end.
Nan Comargue is a thirtysomething romance and erotic romance writer who has been reading romance novels all her life. She prefers sexy confident heroes who win over slightly introverted heroines (read: nerdish types) but she writes about everything from angel-warriors to cowboy ménage.
Nan is Canadian, eh? So naturally she's written a contemporary romance with a professional hockey player as the hero (and a librarian as the heroine).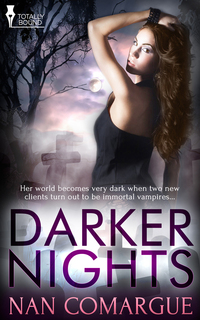 Lawyer Delia Darker's world becomes very dark when two new clients turn out to be immortal vampires—and her long- time fantasy.
Delia Darker works at her family's law firm, serving vampires and other immortals, but she has long ago gotten over her own lust for vampire males after being hurt and abandoned by one. When her colleague forces her to take over a meeting with two of his clients, she's suddenly thrown into the night-time world of music, partying and incredible sex. How can she resist spending the night with Mark Lyons and Caleb Jennings?
Caleb has been searching for his and Mark's one true mate, the ideal match prophesized for immortals. However, Mark is skeptical. Immortality just doesn't seem to go with a committed long-term relationship. It doesn't matter how attractive Delia is, he just doesn't think it's going to work—but he's willing to give it a try for his best friend's sake.
When that first wild night turns into a series of sexy encounters, Delia starts worrying that she might be falling for Mark and Caleb—and that certainly wasn't the plan. She isn't sure she wants to become an immortal. Sleeping with both a vampire and a werewolf might be a crazy experiment that's all right for a little while, but the two males couldn't want more than that, could they?
No comments posted.