One of the things I'm asked a lot is "Where do you get your ideas?" I usually say "eavesdropping," since that is one of my top life skills. But I'm also blessed with what I call the Tell Me Everything face.
Say, for example, we're in an elevator together. I say hello, because I'm super-friendly. Suddenly, you find yourself telling me that your friend is sick, or your pantyhose are riding up, or your grandma died, or, in one notable case, that you're pregnant and not sure who the father is.
Or that your husband had an affair.
That's how IF YOU ONLY KNEW was born. A woman plopped down next to me at a Chili's as I was waiting for a friend. "How's it going?" I asked. Helpless in front of the Tell Me Everything face, she said, "My husband is having an affair."
I flinched.
"I know," she went on. "You always think you'd know what to do. But then it happens, and nothing is that clear after all. I thought we were so happy, and then…this."
I was horrified for her, and completely engrossed. I couldn't stop thinking about it. We all think we wouldn't put up with infidelity…but it's easy to say until the moment arrives.
IF YOU ONLY KNEW is about two sisters, Jenny and Rachel Tate. Both of them thought they had perfect lives and great marriages. Jenny found out her marriage wasn't quite so wonderful when her lovely husband gently informed her he wanted a divorce. Not long after, he met and married Ana-Sofia, and they now have a newborn daughter. Trapped by their friendship, Jenny finds herself on the outside looking in at the life she wanted with Owen. Determined to move on, no matter what her heart says, she moves back to her hometown to be closer to her sister, and tries not to fall for every guy she passes. She's a wedding dress designer, in love with love. It's only natural that she fixates on Leo Killian, her downstairs neighbor, a piano teacher who has a way with kids.
Rachel, meanwhile, is that woman from Chili's. A blissful stay-at-home mommy to triplet three-year-old daughters, Rachel prides herself on her family and her marriage. Her parents had that kind of wonderful relationship (she thinks), right up until the sudden death of her father. She knows not to take anything for granted.
But when she finds an incriminating picture on her husband's phone, her world starts to crack. Should she confront him? What if he is having an affair? What will happen to the life she so carefully built?
No matter what happens, Jenny and Rachel know one thing —they've got each other's backs. This is a book about sisterhood and secrets, about what we want and what we'll accept, and what we really deserve.
I hope you'll love the book! And as with my past four books, preorders and first week sales will benefit Fisher House Foundation, which provides a home away from home for military families when a loved one is in the hospital.
Thank you so much, guys!

All the best,
Kristan

Called "the master of small-town romance" by Romantic Times, Kristan Higgins is a New York Times and USA TODAY bestselling author and two-time winner of the Romance Writers of America RITA Award. She has been called "a rising superstar in contemporary romance" by USA TODAY,who went on to praise Kristan's "genius-level EQ...whippet-fast, funny dialogue and sweet plots with a deliciously tart edge." Her contemporary romances feature big- hearted, memorable love stories about regular people, combining quirky families, real-life issues and a cute dog or two as well.
Kristan lives in her hometown with her brave and heroic firefighter husband of 20 years and two lovely children who sport long eyelashes and advanced vocabularies. The family shares their home with a hyperactive mutt named Willow and a soulless feline named Huck. When she is not writing or baking cookies, Kristan can be found watching the New York Yankees and Googling her latest celebrity crush.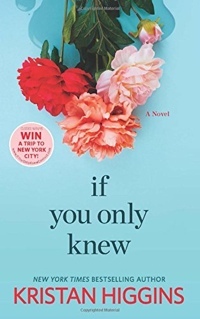 The drama, hilarity and tears of sisterhood are at the heart of the thoroughly captivating new novel by New York Times bestselling author Kristan Higgins—a funny, frank and bittersweet look at marriage, forgiveness and moving on.
Letting go of her ex-husband is harder than wedding-dress designer Jenny Tate expected…especially since his new wife wants to be Jenny's new best friend. Sensing this isn't exactly helping her achieve closure, Jenny trades the Manhattan skyline for her hometown up the Hudson, where she'll start her own business and bask in her sister Rachel's picture-perfect family life…and maybe even find a little romance of her own with Leo, her downstairs neighbor, a guy who's utterly irresistible and annoyingly distant at the same time.
Rachel's idyllic marriage, however, is imploding after she discovers her husband sexting with a colleague. She always thought she'd walk away in this situation, but her triplet daughters have her reconsidering her stance on adultery, much to Jenny's surprise. Rachel points to their parents' perfect marriage as a shining example of patience and forgiveness; but to protect her sister, Jenny may have to tarnish that memory— and their relationship­—and reveal a family secret she's been keeping since childhood.
Both Rachel and Jenny will have to come to terms with the past and the present and find a way to get what they want most of all.
No comments posted.