Hello and thank you so much for having me here at Fresh Fiction to celebrate the release of BACHELORETTE FOR SALE. It's the first book in the West Side Romance series in which a sexy singles auction comes with the prize of a lifetime.
I love stories about finding love in all the right places, meaning where you least expect to find it and even when you're not looking. I also love the idea of finding love on a reality show, even though most of the relationships don't make it for the long haul. Still I keep the faith.
One night as I was watched one of my favorite bachelorettes go home during the 2- on-1 date of The Bachelor, I wondered what her life would be like after the show. Would she get recognized while out shopping or get preferential treatment at a popular restaurant or would it be like she'd never been on TV and watched by millions at all?
This particular favorite, who started my brain spinning wasn't a mean girl, or drama queen, she was nice and if I mentioned her name here, you'd probably respond with "who?". So, I went one step further and asked, what if she was in the middle of a scandal? What would her life be like then? And could she find love in her own backyard after all the humiliation and public heartbreak?
Which is how I came up with the story of BACHELORETTE FOR SALE.
For my heroine, Cherry Ryan's life wasn't all roses and sunshine at the end of her season. She found and lost her Prince Charming, went from nice girl next door to a well, let's say not a nice person and the favorite topic of all the tabloids. Of course, we all know there are two sides to every story, but see, she didn't tell her side. Instead she hightailed it home and hid out with her faithful dog, Tucker, and a tub of cookie dough trying not to bring any more shame on her family. Then one day she got a chance to redeem herself and this is where the story gets interesting.
I really liked the idea of taking this 'nice girl', putting her in the middle of a hot mess and not having her be completely innocent, because after all, I think most of us are nice people, but we've all made mistakes before. Some small and some that have changed our lives. I'm sure if Cherry had hindsight on her side, she'd go back and make a different decision that night, but like the rest of us, she can't. What she can do is to face up to her bad judgment, own that baby, and move on. And she's trying to.
Which isn't always easy when others know the story, or even worse, half of the story. Our hero, Jason Valentine only knows bits and pieces that he's heard through the grapevine and he's not impressed. Neither is she for that matter, which made this so much fun to write and to root for these two. Neither were looking for love, they had a job to do and issues to work out.
I think that's how it happens for most of us. We find that someone special, the one who really gets us the most, when we're looking for them the least. I know it did for me. So tell me did you look for love or did it find you when you were looking the other way?
Gail Chianese's love of reading began at the tender age of three, when she'd make her grandpa read Fourteen Country Rabbits over and over and over again (and correct him when he skipped parts). While she's branched out over the years by reading mystery, women's fiction, and urban fantasy, she always circles back to romance in the end. That's probably because she's married to her real life hero. Her wonderful hubby has served in the US Navy for the past twenty two years and he's done things he can't tell her about. But it doesn't stop her from being extremely proud of him and the sacrifices he makes for her, his family, and his country. He's also uber-supportive of her dreams and of their three children. Living in Mystic, CT and a member of Connecticut Romance Writers of America, Gail loves to hear from readers.
Website | Facebook | Twitter | Pinterest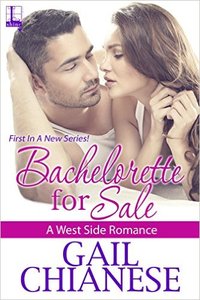 "This book will make your heart smile." —Kristan Higgins, New York Times bestselling author
This sparkling debut dives right in to everything funny, flirty, and fiery about modern dating with the tale of a sexy singles auction that comes with the prize of a lifetime…
As far as Cherry Ryan is concerned, the bright lights of Hollywood are nothing but glare after her heart is broken on a reality show for millions to see. Instead she's throwing herself into fundraising for the local community center that was a priceless lifeline to her as a kid. But when a volunteer for the singles auction bails at the last minute, Cherry finds herself on the block—and sold to Jason Valentine, a handsome contractor with a gorgeous body—and a really bad attitude about her days in the limelight…
Cherry soon finds that Jason's more than eye candy, and not entirely sweet— especially his quest to win the bid for the center's renovation. Mixing business with pleasure doesn't seem like such a good idea—until Jason has a chance to reveal the big heart beneath his surly exterior. Cherry's falling for him hard, but trust isn't easy when you've been burned. To conquer her fears will take a giant leap of faith—straight into the spotlight again…
3 comments posted.
Hi Deborah, sorry for the late response (I'm in CA). I set up time on my calendar.
So I work my day job from 8-4, then it's break to make dinner or bug the kids,
then from 6-7 it's CTRWA business and then from 7-? I write.
(Gail Chianese 1:01am June 26, 2015)