1--What is the title of your latest release?
CALAMITY, Book 1 of the Uncharted Hearts series
2--What's the "elevator pitch" for your new book?
Calamity Jane in space - with sex
3--How did you decide where your book was going to take place?
I've always loved science fiction and I wanted to write one that had a tinge of the west to it. I grew up in Arizona and live in Colorado and there's something about a desert that appeals to me.
4--Would you hang out with your protagonist in real life?
Temper is a lot more fun than I am! I'd be that annoying friend in the back asking if everyone has enough water and if we're really planning on going out and being social after dark. I'd hang out with her, but she might not hang out with me.
5--What are three words that describe your protagonist?
Impulsive, heroic, leader
6--What's something you learned while writing this book?
I spent an unhealthy amount of time (is there a healthy amount?) reading and listening to Jim Jones' "sermons" to get my cult-speech right.
7--Do you edit as you draft or wait until you are totally done?
Unless the plan itself is deeply flawed, I power through the first draft. As I realize things need adjusting or improvement, I leave a note but move forward. If I stop to edit, I lose momentum.
8--What's your favorite foodie indulgence?
My mother's macaroni and cheese. It's perfect in every single way.
9--Describe your writing space/office!
Currently, I write anywhere and everywhere. I make it a habit to buy laptop-sized purses so that I can write whenever I have downtime. In the winter, I write under a blanket by the fireplace. In the summer, I write in my loft in a sunbeam.
10--Who are some authors you admire?
V.E. Schwab is great—every book an absolute banger. Nnedi Okorafor writes beautiful science fiction with nuanced female characters. Sarah MacLean writes funny, sharp historical romance.
11--Is there a book that changed your life?
In a very literal way, yes. A couple years ago, I read my first book by Rebecca Zanetti (Hunted). Through a few complicated turns, the fact that I read that book led me to my literary agent. Also, it was a darn good read!
12--Tell us about when you got "the call." (when you found out your book was going to be published)
Valentine's Day and I have a rough relationship. I deeply love it. It hates me. I've been dumped three times on Valentine's Day. But I adore the fact that there's a holiday in honor of love and I'm its biggest cheerleader. This year, Bramble launched on Valentine's Day and that's when my book was officially announced. So, I finally had a delightful V-day in the world of romance—albeit an unexpected twist!
13--What's your favorite genre to read?
I'm a glutton for books. I love a romance—any of the sub-genres. I love fantasy and science fiction. I love mysteries.
14—What are a few of your favorite movies?
I love Clue. It's so fast and funny. Die Hard is great because I fully support a movie where someone gets beat up and keeps going. Knives Out is fantastic. Are a group of weirdos up to no good? I'm in.
15--What is your favorite season?
I've spent almost all my life living in places without seasons. Since moving to Colorado, I've enjoyed them all. There's something to be said for a cool fall day by the fire (and fall definitely has the best clothes).
16—What made you decide to write in this genre?
My first scifi romance experience was Farscape, which I'm sure has injected some strange DNA into the Uncharted Hearts series. Then Firefly came along with adventure and hijinx. I loved both but wanted a version with a female leader/main character. There are some great scifi romances out there (Jessie Mihalik and Everina Maxwell spring to mind) but there's also space for more! …Pun intended.
17--What's a recent tv show/movie/book/podcast you highly recommend?
I love Only Murders in the Building and Our Flag Means Death. Both follow my "group of weirdos" rule. I also love For all Mankind's alternate history. There's something fascinating about the idea that losing the space race might have been the best thing for America's future in the stars. Podcast lightening round: This Podcast will Kill You, Just Keep Writing, Writing Excuses, Radio Rental.
18--What's your favorite type of cuisine?
Sushi. Or anything that's largely cheese based. Maybe not sushi that's largely cheese based.
19--What do you do when you have free time?
I'm a big hiker and runner. It helps me unlock story ideas to be out in nature. I also spend time with family, bake, knit, read, do pub trivia, and lavish attention on my cat who is jealous of all the time spent on things that aren't her.
20--What can readers expect from you next?
I'm currently finishing up the sequel to Calamity: Fiasco. It features a romance for a new member of the crew, lust from afar (and and near), an aquatic planet full of sea serpents, and a chubby flying lizard that eats metal.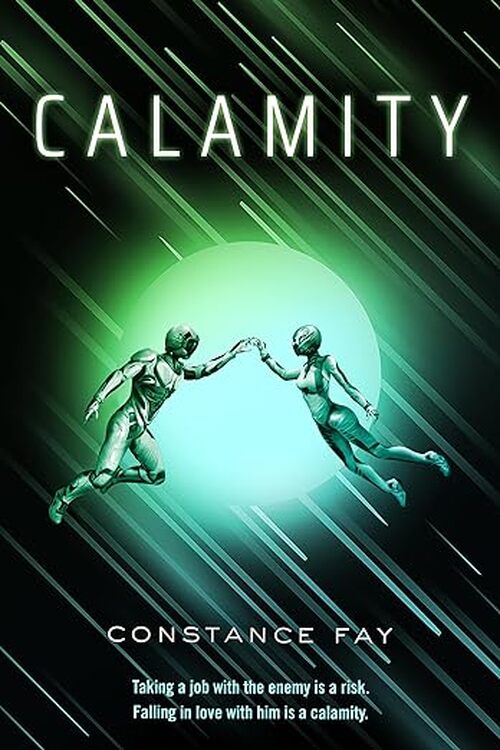 Winter's Orbit meets Ilona Andrews in this sexy enemies-to-lovers romance.
The captain of a ragtag mercenary ship is given an offer she can't refuse by the ruthless head of an intergalactic noble family. The only catch? She'll have to team up with his son--an upsettingly competent hardbody with his own agenda--to get her reward.
She's got a ramshackle spaceship, a misfit crew, and a big problem with its sexy newest member…
Temperance Reed, banished from the wealthy and dangerous Fifteen Families, just wants to keep her crew together after their feckless captain ran off with the intern. But she's drowning in debt and revolutionary new engine technology is about to make her beloved ship obsolete.
Enter Arcadio Escajeda. Second child of the terrifying Escajeda Family, he's the thorn in Temper's side as they're sent off on a scouting mission on the backwater desert planet of Herschel 2. They throw sparks every time they meet but Temper's suspicions of his ulterior motives only serve to fuel the flames between them.
Despite volcanic eruptions, secret cultists, and deadly galactic fighters, the greatest threat on this mission may be to Temper's heart.
Science Fiction Space Opera [Tor, On Sale: November 14, 2023, Paperback / e-Book, ISBN: 9781250330413 / eISBN: 9781250330420]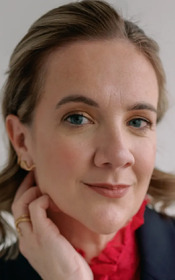 Constance Fay writes space romance novels and genre fiction short stories. Her short fiction can be found in the Magazine of Fantasy and Science Fiction, Catscast podcast, and other publications. She has a background in medical device R&D and lives in Colorado with a cat who edits all her work first.
No comments posted.