1--What is the title of your latest release?
2--What's the "elevator pitch" for your new book?
A cryptic text leads Liv Russo to suspect that her dead husband may actually be alive and living in the Alaskan wilderness. Heading north with her developmentally delayed young son, Liv soon discovers that the most dangerous thing in the wild may not be starvation, cold or grizzly bears but the person you love.
3--How did you decide where your book was going to take place?
My husband and I spent seven weeks traveling through Alaska and the Yukon in our van. We hiked, fished, and camped along rushing rivers without another person in sight. When I was thinking about plot and about where someone could disappear if they wanted to hide, the wilderness of Alaska came to mind first.
4--Would you hang out with your protagonist in real life?
Yes. I love being around women who don't back down from a challenge.
5--What are three words that describe your protagonist?
Wounded, determined, resourceful
6--What's something you learned while writing this book?
I learned from readings and interviews that, despite every good intention, envy and jealousy are among the hardest emotions to overcome.
7--Do you edit as you draft or wait until you are totally done?
I try to let my creative mind run free, then go back and do edits once I've completed a full draft. If I edit too early, self-doubt can begin to creep in.
8--What's your favorite foodie indulgence?
I had a beautiful duck confit when I was staying in the Gascony region of France. If it didn't take so long to make, I swear I would eat it every week.
9--Describe your writing space/office!
I live in a small beach house, so my writing space is in a corner of our single-car garage surrounded by surfboards, mountain bikes and tools. My desk is nothing fancy. In fact, I found it on the side of the road a few blocks from my house with a "free" sign on it.
10--Who is an author you admire?
Karen Dionne. She's just an amazing storyteller.
11--Is there a book that changed your life?
"Into the Wild" by Jon Krakauer. The book made me think how I'd gotten too safe in my own life and how I'd lost that spirit of launching into the unknown. I actually quit my job soon after I finished reading it and have never looked back.
12--Tell us about when you got "the call." (when you found out your book was going to be published)/Or, for indie authors, when you decided to self-publish.
My husband was in the hospital for a medical emergency, and I was standing in the hallway outside his room when I got" the call" from my wonderful agent, Heather Jackson, that my book had been sold. It was weird to be so excited and worried at the same time.
13--What's your favorite genre to read?
Literary thrillers
14--What's your favorite movie?
"Brokeback Mountain" for its deep and beautiful portrayal of hardscrabble western life and suppressed passion.
15--What is your favorite season?
I'm a downhill skier and spend a lot of the winter in our little cabin in the woods near Lake Tahoe, so winter is my favorite time of the year.
16--How do you like to celebrate your birthday?
My favorite celebration usually involves some kind of physical activity: kayaking, hiking, mountain biking…but always while wearing my once-a-year birthday crown.
17--What's a recent tv show/movie/book/podcast you highly recommend?
I love William Kent Krueger's novel, "The River We Remember."
18--What's your favorite type of cuisine?
The food of Provence: Simply prepared fish or chicken, roasted fingerling potatoes, a caprese salad, accompanied by a wonderful glass of rosé.
19--What do you do when you have free time?
Hike, bike, ski, golf, hang out with friends.
20--What can readers expect from you next?
Another suspense novel set in the wild but with a female hermit and a young girl as protagonists.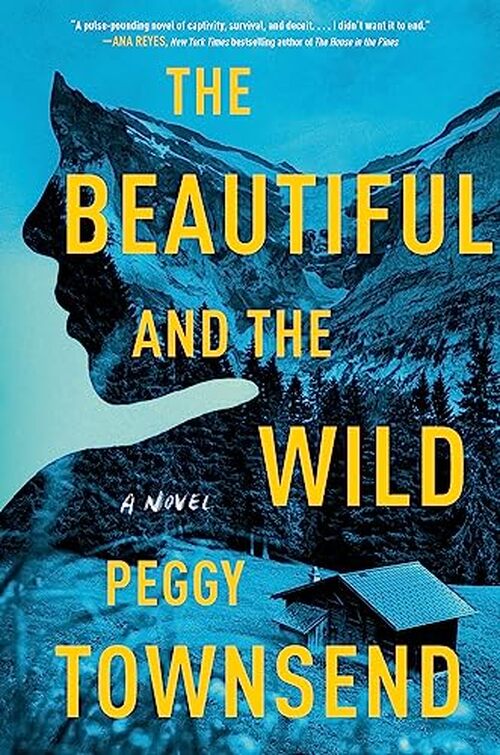 The dangers of Alaska aren't limited to storms, starvation, and grizzly bears. Sometimes the most dangerous thing is the person you love.
It's summer in Alaska and the light surrounding the shipping-container-turned-storage shed where Liv Russo is being held prisoner is fuzzy and gray. Around her is thick forest and jagged mountains. In front of her, across a clearing, is a low-slung cabin with a single window that spills a wash of yellow light onto bare ground. Illuminated in that light is the father of her child, a man she once loved. A man who is now her jailor. Liv vows to do anything to escape.
Carrying her own secrets and a fierce need to protect her young son, Liv must navigate a new world where extreme weather, starvation, and dangerous wildlife are not the only threats she faces. With winter's arrival imminent, she knows she must reckon with her past and the choices that brought her to the unforgiving Alaskan landscape if she is ever going to make it out alive.
A story of survival in the wilds of Alaska, The Beautiful and the Wild explores the question of whether we can ever truly know the person we love—or ourselves.
Thriller Domestic | Women's Fiction [Berkley, On Sale: November 7, 2023, Hardcover / e-Book, ISBN: 9780593638088 / eISBN: 9780593638095]
Peggy Townsend is an award-winning journalist who has panhandled with street kids, taken to the skies with pararescuers, and once chased an escaped murderer through a graveyard at midnight. Her first mystery, "See Her Run," was listed as one of "13 Thrillers to Keep You Up at Night" by Kirkus Reviews. Her second book "The Thin Edge," arrived May 14, 2019 and was called "an outstanding" novel by The Associated Press. She has rafted rivers, come face-to-face with grizzly bears in Alaska and has twice lived in a van for seven weeks — which makes her seem more adventurous than she actually is. She divides her time between the Central California coast and the Sierra Nevada mountains.
No comments posted.