Copyright © 2023 by James Spooner and Chris L. Terry, Excerpt from the story Glow by Camille A. Collins in the anthology BLACK PUNK NOW
III.
I was fourteen and in eighth grade, the very same age as George Stinney, when I learned he was the youngest person ever sentenced to death in America. He was so small the electric chair helmet slid around his head and they had to make adjustments before blasting the poor kid to kingdom come. The idea that a young Black boy would have brutally killed two white girls for no reason must have been just as preposterous to the people who wrongfully charged him as it was to anyone else with a single brain cell—but, as I wrote in my first history paper, "being Black means being expendable in America."
I got a D on the paper. My history teacher, Mrs. Sneed, asked to see me after class. "It's a solid paper, Essie, but I just can't get past the last sentence. It's a very jarring remark and we talked so much about grounding things in fact. Please keep facts, dates, and statistics in mind next time. I think you'll be much happier with your grades if you do."
It's not very punk to be a crying mush, but I was proud to have an original topic for my Black History Month essay. Everyone else was writing about Martin Luther King Jr. or Rosa Parks. "But I worked so hard on it," I sniffed. Mom was chopping tomatoes for our taco supper as I explained about the line that had offended Mrs. Sneed and cost me a better grade. Mom rested half a tomato on the cutting board and turned to face me. "I'm sorry, Essie. It was a beautiful, intelligent essay, babe, no matter what anyone says. They just don't see it, because they don't want to; don't have to . . . I don't know, but better you get used to it so you're not constantly disappointed."
Despite being majorly bummed over my grade, I was proud of my daring choice of a subject. It was easier to confront my mother's forbidden topic of conversation through a stranger like George, and the reaper that chased me for inheriting her fears, than tempt her anger by questioning her about Aunt Vonne.
Yvonne was my mother's little sister, the daughter Grandad had with his second wife. Their age difference was so vast, Vonne, as they called her, was almost like another kid to my mom. She'd been an auroral spark whose presence seemed a new chance at life for the family. Even after so many years, her spirit was a faded sorrow, hanging on us like a blanket from a family chest, weighted in notes of cedar and myrrh.
Mommy, who was usually buoyant with a heart as light as a dove's, turned gravely cold at nearly any mention of her mislaid baby sis. I was eight and dead asleep when the police came. Over time, I gathered enough snippets of old folks' talk and mother's miniature poems of grief to convince myself I'd heard it all.
There was a party of some sort. Vonne "shouldn't have ever been within a million miles of those dogs," because "she wasn't ever self-conscious or half as stuck-up as she ought to have been, kind, pretty thing she was." For "she was a lost princess without a throne, that's all."
"Sweet as cotton candy and never meaning nobody no harm." "No, never. Not a soul!"
At some point this gang of "dogs" deliberately isolated her from her friends "and went at her like hell hounds" but "she fought! Don't forget that! She fought her heart out! Child died with clumps of hair in her hand and pigs' flesh beneath her nails. Lord, have mercy . . ."
"Yes, that's right. She sure did."
I couldn't unhear the story of my aunt's fate, and I became convinced that her demise snaked my neck in an amulet of fated poison. Selfishly, I relished the morbidity, like a child poking a dead bird with a stick, or freefalling into the cozy, foreign folds of melancholy; just as I burrowed in my dead grandmother's old furs on chilly nights.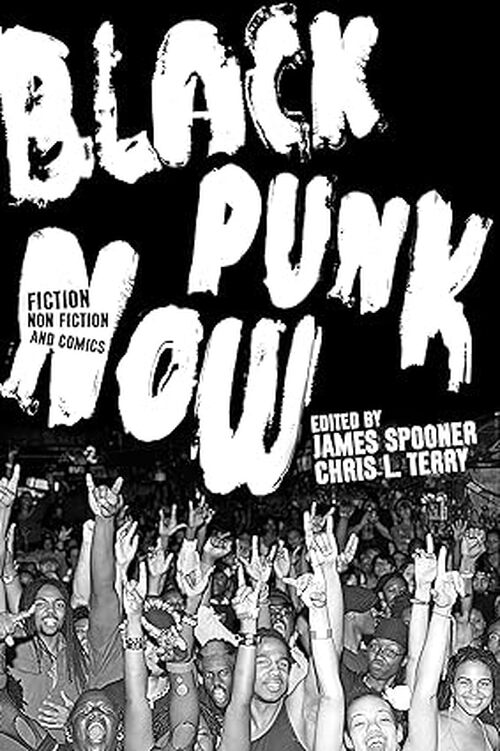 A canonizing, bold, and urgent anthology setting a new precedent for Black Punk Lit, created by generations of Black punks—featuring both new voices and those from the not-so-recent past
Black Punk Now is an anthology of contemporary nonfiction, fiction, illustrations, and comics that collectively describe punk today and give punks—especially the Black ones—a wider frame of reference. It shows all of the strains, styles, and identities of Black punk that are thriving, and gives newcomers to the scene more chances to see themselves.
Curated from the perspective of Black writers with connections to the world of punk, the collection mixes media as well as generations, creating a new reference point for music-lovers, readers, and historians by capturing the present and looking towards the future. With strong visual elements integrated throughout, this smart, intimate collection is demonstrative of punk by being punk itself: underground, rebellious, aesthetic but not static—working to decenter whiteness by prioritizing other perspectives.
Edited by graphic novelist and filmmaker James Spooner, and author Chris L. Terry, contributors to the collection include critic Hanif Abdurraqib and Mars Dixon, conversations with Brontez Purnell, and a roundtable of all femme festival organizers.
Anthology [Soft Skull, On Sale: October 31, 2023, Paperback / e-Book, ISBN: 9781593767457 / ]
Camille A. Collins has an MFA in Creative Writing from The School of the Art Institute of Chicago. She has been the recipient of the Short Fiction Prize from the South Carolina Arts Commission, and her writing has appeared in The African-American National Biography, published by Harvard University and Oxford University Press; in The Twisted Vine, a literary journal of Western New Mexico University, and other places.
No comments posted.