From THE FATAL FOLIO: The Cambridge Bookshop Series by Elizabeth Penney. Copyright © 2023 by the author and reprinted by permission of St. Martin's Publishing Group.
Soon after, we stepped outside, Kieran's flashlight the only source of light. Trees whipped in the wind and clouds scudded across the sky, hiding then revealing the moon. Behind us, the walls and towers of Hazelhurst House loomed forbidding and dark, crenellations etched against the sky.
"Good grief," I said as we strolled across the garden bridge. "I feel like we're in a Gothic novel."
"We are." He leaned close, speaking in a deep, sonorous voice. "I am luring you to the graveyard, my pretty. I need your, 'blood, your precious blood.'"
I laughed with delighted glee. "Love that quote from Nosferatu."
"It's a classic, for sure."
We stepped off the bridge and started to cross the garden, footsteps crunching on gravel. Topiaries and trees made odd shapes in the dark and unseen things rustled in the undergrowth.
I wondered if Selwyn Scott had wandered these paths at night, drawing inspiration from the surroundings. The author didn't have to travel to find a mysterious, brooding landscape and ancient manor. It was all right here.
We turned down a path that took us between head-high hedges. I hadn't been in this corner of the extensive grounds. I was glad to have Kieran guiding me, otherwise I would definitely be lost. We couldn't even see the house lights now.
"It's not much farther," he said. "Honestly."
"I'm glad," I said, shivering. "It's getting cold out." I was grateful for the pair of gloves I'd stuffed in my pocket and the wool socks keeping my feet toasty. Aunt Violet had made them for me.
Kieran put an arm around me. "We'll have to stick close together."
I laughed. "I can live with that."
The hedge ended and we were in the cemetery, a sea of headstones picked out by Kieran's flashlight. Huge trees arched overhead, blocking out the sky.
"No one has been buried here since the late eighteen hundreds," Kieran said as he led me through a gap in a stone wall, leaves rustling as we shuffled along. "We ran out of room." The markers were of various sizes in a jumble of styles, and small mausoleums stood here and there.
"Any idea where to look?" Maybe we should have waited until daylight.
Kieran veered toward the right. "Actually, yes. They're in one of the mausoleums."
"Do we have to go inside?" I had no interest in exploring enclosed spaces after my adventure last summer.
He threw me a look. "Of course not. There are bronze plaques on the outside."
I gave an exaggerated exhale. "Phew. So glad."
We made our way across the clearing, skirting gravestones and plots, dodging edging lifted by frost and markers embedded in the tall grass. Gusts of wind sent leaves spinning down from the trees or propelled them in bursts, as if haunted.
"I wish we could see the stones better," I whispered. It felt wrong to speak in a normal voice out here among the dead, on a dark, cold night. "I like reading the names and dates, and studying the artwork on the stones." Wandering through a cemetery and thinking about those who had come before us was both melancholy and a history lesson.
At some point, I reminded myself, I should visit the churchyard in Hazelhurst village, where my ancestors had lived. I'd never viewed my grandparents' graves. My mother hadn't gotten along with her parents, who practically drove her away from home. She'd married my American father and moved to Vermont.
"We'll come back," Kieran promised. Moving slowly along, he focused the flashlight on dull metal rectangles fastened to the structure, which was white stone stained with lichens and rust. With the battering of centuries, literally, the plaques were hard to read.
I helped, taking the lower row while he did the upper. "Aha," I said. "I found Alistair." He had died in 1830, at age 42.
He moved the light to that square, where we also found Agatha. Her life had spanned 1792 to 1862, so she had reached seventy years of age. "Now the children."
They were on another plaque. Samuel had died in 1886, at age 74. I gasped. Frances had died in 1841, the year The Fatal Folio was published.
"Is her death the reason Among the Ruins wasn't published?" I mused. "This has me leaning toward Frances as the author."
"It's a possibility," Kieran said. "It doesn't knock her mother and brother out of the running, though."
He was right. The fact that Frances died in 1841 was only one piece of information.
"Look. There's another entry." The final inscription provided another tidbit of information. There had been a third child. His name was Selwyn and he had died at age two, in 1816. "Selwyn Scott. He must have been the reason they chose that as a pen name."
"I'm sure you're right." Kieran traced his fingers over the letters. "Poor little guy. He was only two."
"How sad. They lost so many babies back then." The sound of leaves shuffling caught my ear and I turned to see a light bouncing along the ground. Instinctively, I moved closer to Kieran. "Someone's coming."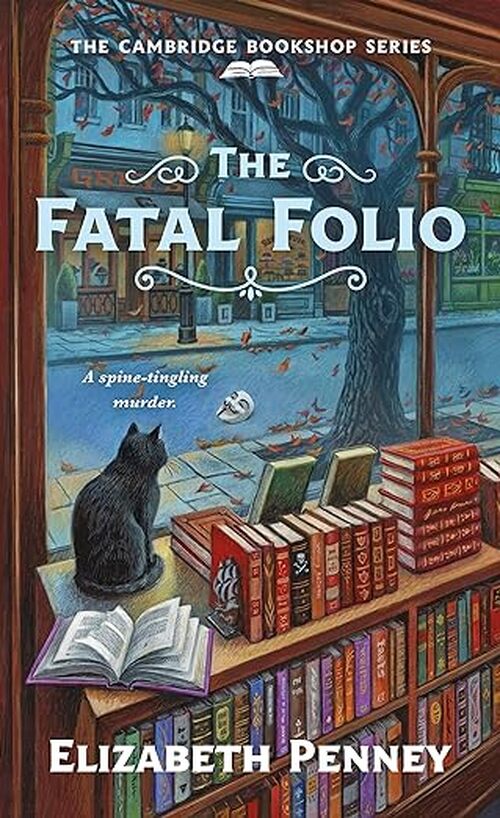 The Cambridge Bookshop
In the third in Elizabeth Penney's delightful Cambridge Bookshop series, The Fatal Folio, Molly Kimball is learning that every killer has a story…
After moving to Cambridge, England, Molly Kimball has found a lot to love, including—of course—her family's ancestral bookshop, Thomas Marlowe—Manuscripts and Folios. And though she's not quite ready to use the "L" word when it comes to her boyfriend Kieran, she's definitely fallen for his intimidating family's library.
His family is paying her handsomely for an updated catalog when Molly discovers the original manuscript of a Gothic novel, A Fatal Folio by the pseudonymous Selwyn Scott. Kieran's cousin Oliver, a professor specializing in Gothic literature, is eager to publish a paper on the mystery—especially because a troublesome student, Thad, is threatening to file a complaint against him and prevent his long-awaited promotion.
On Guy Fawkes Night, Molly, Kieran, and her friends set out to enjoy the costumes, fireworks, and fun—at least until a stray firework starts a panic, and the group stumbles upon a prone body, their face covered by a mask. It's Thad, and he's been stabbed to death.
It soon becomes clear Oliver isn't the only one with a motive, and Molly must once again put on a few masks of her own to sleuth out Thad's killer, prove Oliver's innocence, and discover what Selwyn's novel might have to do with this most atmospheric mystery…
Mystery Cozy | Thriller Crime [Minotaur Books, On Sale: October 24, 2023, Mass Market Paperback / e-Book, ISBN: 9781250787743 / eISBN: 9781250787750]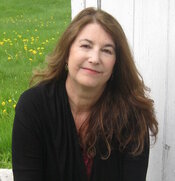 Elizabeth Penney is an author, entrepreneur, and local food advocate living in the White Mountains of New Hampshire. In addition to writing full-time, she operates a micro farm, a challenge in that climate! Elements that often appear in her novels include small towns, past/present mysteries, and the domestic arts. Elizabeth grew up in Maine, where family still lives, and she draws inspiration from the state's timeless landscape and rich heritage.
Elizabeth's writing credits include over twenty mysteries, short stories, and hundreds of business articles. A former small business consultant, banker, and nonprofit executive, she holds a BS and an MBA.
She loves walking in the woods, kayaking on quiet ponds, trying new recipes, and feeding family and friends. Oh, and pampering the only child still at home, a very demanding Siamese cat.
No comments posted.