1--What is the title of your latest release?
2--What's the "elevator pitch" for your new book?
Two hotel receptionists – and arch-rivals – are forced to work together to return a collection of wedding and engagement rings discovered in the hotel's lost and found.
3--How did you decide where your book was going to take place?
The setting is so key to this book! It takes place in the New Forest, which is a beautiful area of the UK not far from where I live. The name is kind of misleading: the New Forest is very old, and it's basically a huge swathe of woodland and heathland in the south of England, filled with wild ponies and deer and mossy riverbanks. I knew I wanted THE WAKE-UP CALL to be set in winter – I'd never written a wintery book before – and there is just something magical about forests in wintertime, so it seemed like the perfect moment to write about the New Forest.
4--Would you hang out with your protagonist in real life?
Oh, absolutely. I think Izzy would be a pretty amazing friend, actually.
5--What are three words that describe your protagonist?
Sparkly, optimistic, stubborn.
6--What's something you learned while writing this book?
That writing a first draft fast works best for me. I actually wrote The Wake-Up Call in the middle of writing another book – the book that will come after it! And I threw myself into it, writing my fastest first draft ever. It was gorgeous. I loved fully immersing myself in the novel, and not second-guessing, and just letting the story flow out of me.
7--Do you edit as you draft or wait until you are totally done?
No editing as I go! Or at least, I try not to. Sometimes I have an idea some of the way through that means I actually can't really continue without going back and rewriting, but in those cases it's usually such a big change that it feels more like writing from scratch than editing anyway.
8--What's your favorite foodie indulgence?
I am a total pudding person – I love anything sweet. My mum makes the most amazing apple and blackberry crumble (a classic British dessert!) and I could eat that for every meal of the day quite happily.
9--Describe your writing space/office!
Actually, it's just changed! We moved house a few days ago, so this is my very first day sitting at my new desk. (Well, it's actually the same desk. But the view is different!) In front of me is a gorgeous window which is a big part of what made me fall in love with this house – it's a beautiful original early 20th century one which opens out onto the back garden and the woodland beyond. Behind me is an absolute chaos of boxes, suitcases and binbags. We are still very much in the unpacking phase…
10--Who is an author you admire?
I admire so many authors, but Taylor Jenkins Reid has always fascinated me, because her books are so varied, and yet they share a common feeling that I think makes it easy to say "I'm a TJR fan!" despite the variety in her work. I love that she always follows the story she wants to write, and that her genre is hard to define exactly, but that she's found such success anyway. I really admire how pacey her novels are, too – they're page-turners by stealth, in that they're not super plotty or action-packed but you still can't put them down.
11--Is there a book that changed your life?
Rachel's Holiday by Marian Keyes showed me what "women's fiction" actually was. I was a bit of a book snob as a teenager – I didn't discover romance novels, comedy and commercial fiction until my early twenties, and had all sorts of preconceived ideas about what was behind those pink cartoonish covers of the noughties. I read Rachel's Holiday and thought, oh, wow. If this is chick lit, that's what I want to read – and write.
12--Tell us about when you got "the call." (when you found out your book was going to be published)/Or, for indie authors, when you decided to self-publish.
I will never forget this moment. I wish I could have bottled the feeling so that I could go back and experience it over and over again. It was about nine o'clock at night, and I wasn't expecting to hear any news for days if not weeks, so the slew of messages from my agent saying to call her back was a real surprise. I rang her, and when she said I had a publishing deal for not one but two books, I was so shocked I had to sit down on the floor. I think I said "oh my god" about 100 times on that call. I also so vividly remember my boyfriend (now husband)'s face when I came down the stairs and told him. His jaw literally dropped! I think that's when I started crying…
13--What's your favorite genre to read?
Romance! Every so often I do dabble in a character-driven thriller or some literary fiction, but I will never tire of beautiful love stories.
14--What's your favorite movie?
It so depends on what I'm in the mood for! But I love Love Actually, not so much just for the film itself, but for what it represents: Christmas with my husband and his family, who watch it every year. It reminds me of cozy nights in front of the fire in their cottage in Yorkshire, curled up in my husband's arms.
15--What is your favorite season?
Autumn! Or maybe spring. I love those transitional times, when the world's shifting and we're all shifting too, getting in the mood for something new. We're just coming into autumn as I write this and I'm so ready for pumpkin spice and falling leaves and putting cinnamon in everything.
16--How do you like to celebrate your birthday?
I'm not a big party person – I would always rather have dinner one-on-one with someone than get everyone together for a big event. So my favorite way to celebrate is usually with something small, maybe a meal out with my family or a little trip with my husband and our son. This year for my birthday we were on the Isle of Wight, a picturesque island off the coast of England, and ending up spending the day at a donkey sanctuary – heaven for my two-year-old!
17--What's a recent tv show/movie/book/podcast you highly recommend?
I recently became totally obsessed with Heartstopper on Netflix. It's so hard to write something as heartwarming and joyful as that show without it ever feeling cringey, but they walk that line so beautifully. It's a genuinely life-affirming show, and I kept beaming at the television while watching.
18--What's your favorite type of cuisine?
As a cook, I'm quite homely – I love making pies and bakes and hearty food. But if I'm eating out, nothing beats real Italian food, for me. As a vegetarian, I really appreciate how many Italian dishes there are without meat, too.
19--What do you do when you have free time?
I love to bake, and wish I had more time to do it. In reality, any free time I have goes to walking the dog (which I also love!), a quick run, reading, and playtime with my son. At the moment he's totally obsessed with doing puzzles, so there's a lot of that going on at our house…
20--What can readers expect from you next?
After THE WAKE-UP CALL? They might have to wait a little while, but another – big, epic, tearjerking – love story is on its way…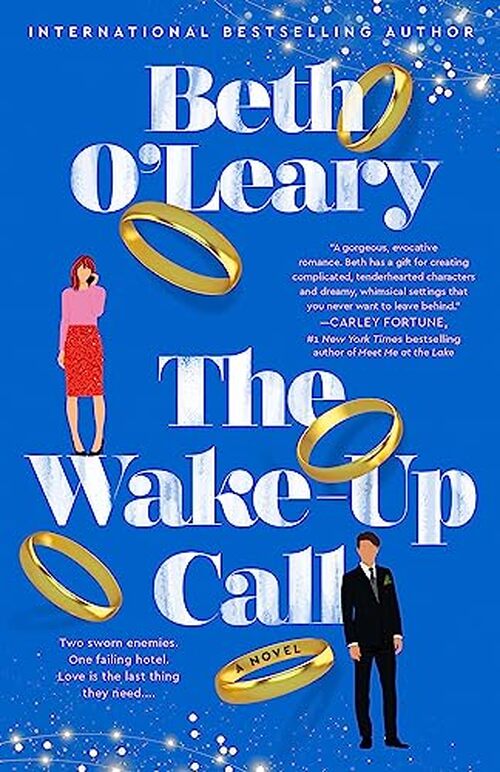 Two hotel receptionists—and arch-rivals—find a collection of old wedding rings and compete to return them to their owners, discovering their own love story along the way.
It's the busiest season of the year, and Forest Manor Hotel is quite literally falling apart. So when Izzy and Lucas are given the same shift on the hotel's front desk, they have no choice but to put their differences aside and see it through.
The hotel won't stay afloat beyond Christmas without some sort of miracle. But when Izzy returns a guest's lost wedding ring, the reward convinces management that this might be the way to fix everything. With four rings still sitting in the lost & found, the race is on for Izzy and Lucas to save their beloved hotel—and their jobs.
As their bitter rivalry turns into something much more complicated, Izzy and Lucas begin to wonder if there's more at stake here than the hotel's future. Can the two of them make it through the season with their hearts intact?
Romance Comedy [Berkley, On Sale: September 26, 2023, Trade Paperback / e-Book, ISBN: 9780593640128 / eISBN: 9780593640135]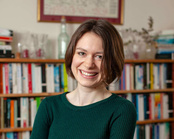 Beth O'Leary worked in children's publishing before becoming a full-time author. The Flatshare is her debut novel. The idea for The Flatshare came to Beth when her doctor boyfriend was doing long night shifts as part of his training and they could go weeks without seeing each other, but she could track his life by how many cups of coffee were left on the counter, by how much he'd eaten and whether the bookmark in his novel had changed locations. It made her wonder – what could you learn about someone if you lived together but never overlapped?
No comments posted.