Book Title: MURDER AND MAMON
Character Name: Lila Macapagal
How would you describe your family or your childhood?
My family mostly consists of people who are not related to me by blood but are family all the same. My family is my greatest support and also my greatest source of stress. They love me a lot (though they'd never actually say it, of course) but that love is heavy because it comes with a lot of expectations. My adolescence (and early adulthood, let's be real) was mostly me struggling to figure out what I owe to my family and what I owe to myself.
What is your greatest talent?
Singing and baking
Significant other?
Dr. Jae Park, a local dentist who is very hot, very geeky, and very sweet.
Biggest challenge in relationships?
Trust
Where do you live?
Shady Palms, IL, a small town about two hours outside of Chicago
Do you have any enemies?
Probably all the murderers I caught while amateur sleuthing. Plus the usual haters
How do you feel about the place where you are now? Is there something you are particularly attached to, or particularly repelled by, in this place?
Ooh, complicated. I used to hate my hometown. I felt like it was too small, and no one had any dreams or ambition, so I moved to Chicago for university. For various reasons (poor choice in men being number one), I had to return to Shady Palms and my relationship with the town slowly started to shift. I reconnected with the people from my past and made new friends and connections. I feel more comfortable in my family and in my skin. And now I run the cafe of my dreams with my two best friends and am dating the first decent guy I've ever been with. Shady Palms may not have been my home when I was younger, but it certainly is now.
Do you have children, pets, both, or neither?
Longganisa is a brown Dachshund, my cafe's mascot, and the cutest dog in the world.
What do you do for a living?
I co-own a cafe with my two best friends. I'm in charge of the baking.
Greatest disappointment?
Losing my dream of opening my own cafe in Chicago because my ex-fiance is a cheating scumbag.
Greatest source of joy?
The Brew-ha Cafe, the cafe I opened with my best friends after realizing that my dream wasn't dead, I just needed to shift my point of view.
What do you do to entertain yourself or have fun?
Go jogging along the Riverwalk with Longganisa, karaoke with friends and family, eat, come up with new bakes, spend time with my boyfriend Jae, solve murders, you know, the usual.
What is the most pressing problem you have at the moment?
If there hasn't been a murder somehow involving someone I care about (which I then of course have to solve), then my most pressing problem is that I want a soft-serve machine for the cafe but they're way too expensive.
A Tita Rosie's Kitchen Mystery #4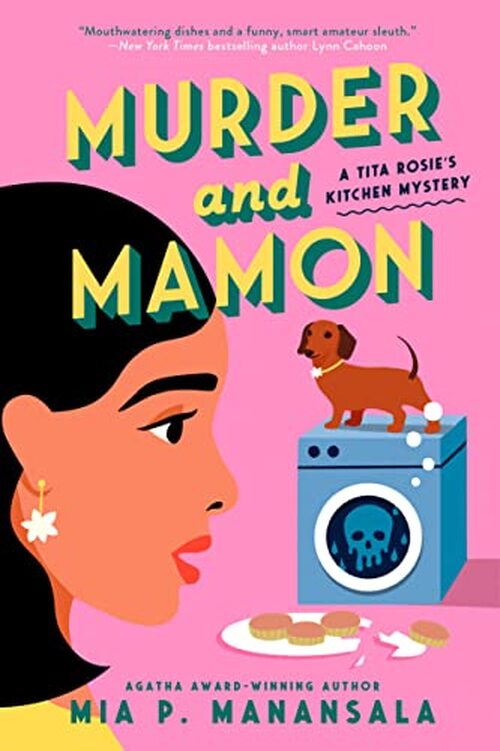 When murder mars the grand opening for Lila Macapagal's aunties' new laundromat, she will have to air out all the dirty laundry in Shady Palms to catch a killer…
Lila Macapagal's godmothers April, Mae, and June—AKA the Calendar Crew—are celebrating the opening of their latest joint business venture, a new laundromat, to much fanfare (and controversy). However, what should've been a joyous occasion quickly turns into a tragedy when they discover the building has been vandalized—and the body of Ninang April's niece, recently arrived from the Philippines, next to a chilling message painted on the floor. The question is, was the message aimed at the victim or Lila's gossipy godmothers, who have not-so-squeaky-clean reputations?
With Ninang April falling apart from grief and little progress from the Shady Palms Police Department in this slippery case, it's up to Lila and her network to find justice for the young woman.
The Calendar Crew have stuck their noses into everybody's business for years, but now the tables are turned as Lila must pry into the Calendar Crew's lives to figure out who has a vendetta against the (extremely opinionated yet loving) aunties and stop them before they strike again.
Mystery Cozy | Mystery Culinary [Penguin Press, On Sale: September 19, 2023, Paperback / e-Book, ISBN: 9780593549162 / eISBN: 9780593549179]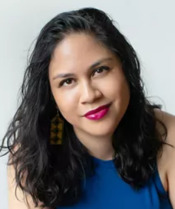 Mia P. Manansala is a writer from Chicago who loves books, baking, and bad-ass women. She uses humor (and murder) to explore aspects of the Filipino diaspora, queerness, and her millennial love for pop culture.
She is the winner of the 2018 Hugh Holton Award, the 2018 Eleanor Taylor Bland Crime Fiction Writers of Color Award, the 2017 William F. Deeck - Malice Domestic Grant for Unpublished Writers, and the 2016 Mystery Writers of America/Helen McCloy Scholarship. She's also a 2017 Pitch Wars alum and 2018-2019 mentor.
No comments posted.