1--What is the title of your latest release?
2--What's the "elevator pitch" for your new book?
Immigrant newlyweds Captain Jim and Lady Diana are on board an ocean liner bound for Liverpool when a Spanish diplomat is viciously killed. The distraught Captain seeks Jim's help. To avert dire international consequences, Captain Jim must solve the mystery before they dock. But there are a thousand suspects on board…some with secrets they will kill to protect.
3--How did you decide where your book was going to take place?
I've had the idea for the locked cabin crime for a while. The early transatlantic steamships were magnificent floating hotels. Open air decks, luxurious furnishings, dressing formally for dinner, an international cohort of passengers and the high seas—it was an irresistible setting for working-man Captain Jim and his posh wife Diana.
4--Would you hang out with your sleuth in real life?
I do! Captain Jim often watches through my eyes and remarks upon things around me, but he's such a gentleman, it's never been a problem. Diana, now, she has a rather wicked sense of humor.
5--What are three words that describe your sleuth?
Captain Jim is Determined, honorable, skeptical. His young wife Diana is insightful, compassionate, and tenacious.
6--What's something you learned while writing this book?
I didn't know much about Spanish history before researching this novel—the bloody civil wars, Basque separatists, and the precursor to the Spanish American war over Cuba.
7--Do you edit as you draft or wait until you are totally done?
I tweak as I go, but after writing the draft I do a massive revision and a series of edits. My early reader Jay also provides tough love input which has always taken the novel to new heights.
8--What's your favorite foodie indulgence?
Chocolate! All forms of! I don't need a lot, but yeah, I looooove my chocolate.
9--Describe your writing space/office!
A wall of books from end to end, books in double rows on shelves, books spilling over to stacks on the ledges. An old glass-top desk scarred and bleached, bearing two large monitors. A credenza with printer and wicker basket, and a bank of windows facing trees. And a door I close on the world.
10--Who is an author you admire?
Ann Cleeves…Hank Phillipi Ryan…Vaseem Khan…Abir Mukherjee… (Wait, you said one author?)
11--Is there a book that changed your life?
Jane Eyre – I read it at 13 and it changed everything. I had found books, and the world was richly varied and gorgeously interesting.
12--Tell us about when you got "the call." (when you found out your book was going to be published)
On a break between sets at the gym I spotted an email from MWA saying that I had won the Mystery Writers of America/Minotaur award for best first crime fiction! I sent it on to my agent with the subject "Yikes!" because I couldn't believe it. Minotaur is an imprint of Macmillan Publishers—the world's largest publisher of detective fiction. I drove back pumped on adrenaline, wanting to reread that email to make sure I hadn't misunderstood. It even invited me to the Edgar Awards!
13--What's your favorite genre to read?
I read many genres and love historical fiction as well as all types of crime fiction. I alternate between fiction and non-fiction research, and between classic and modern authors.
14--What's your favorite movie?
Bridge of Spies. It's got it all—intriguing characters, inherent conflict, magnificent dialog and reveal after reveal. J'adore.
15--What is your favorite season?
Springtime! Green sprouts like touches of lace on the trees, cool winds and rain, sunlight saying "grow babies, grow!" and everywhere snow melting for soft patches of crocus and daffodil.
16--How do you like to celebrate your birthday?
Cozy dinner with the family in a nice ethnic restaurant with my boys telling me their adventures.
17--What's a recent tv show/movie/book/podcast you highly recommend?
The Night Manager. It had a ton of surprises and reversals, great twists and suspense, and a satisfying end. Good acting too—even the villain was believably awful.
18--What's your favorite type of cuisine?
I adore Thai, Malaysian, Korean, Mexican, Vietnamese, Hawaiian and Japanese food…mmmmmm.
19--What do you do when you have free time?
Free time? What's that? I write, promote, teach occasionally, and serve three non-profits (Mystery Writers of America NY chapter, Shine and Inspire, and The Zoroastrian Association of Greater New York.) And I cook. Take walks with hubby. And have friends!
20--What can readers expect from you next?
Oh yes indeed. I've started writing book 4, where Captain Jim and Lady Diana must return to Bombay to rescue her brother and have to face the music.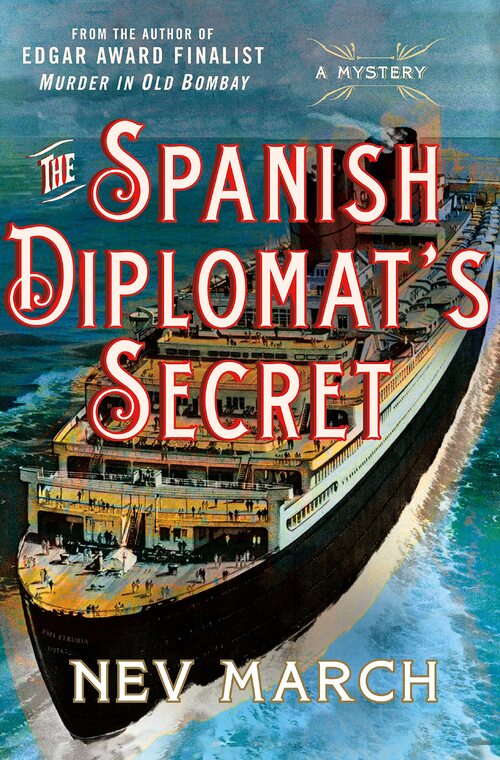 In The Spanish Diplomat's Secret, award-winning author Nev March explores the vivid nineteenth-century world of the transatlantic voyage, one passenger's secret at a time.
Captain Jim Agnihotri and his wife Lady Diana Framji are embarking to England in the summer of 1894. Jim is hopeful the cruise will help Diana open up to him. Something is troubling her, and Jim is concerned.
On their first evening, Jim meets an intriguing Spaniard, a fellow soldier with whom he finds an instant kinship. But within twenty-four hours, Don Juan Nepomuceno is murdered, his body discovered shortly after he asks rather urgently to see Jim.
When the captain discovers that Jim is an investigator, he pleads with Jim to find the killer before they dock in Liverpool in six days, or there could be international consequences. Aboard the beleaguered luxury liner are a thousand suspects, but no witnesses to the locked-cabin crime. Jim would prefer to keep Diana safely out of his investigation, but he's doubled over, seasick. Plus, Jim knows Diana can navigate the high society world of the ship's first-class passengers in ways he cannot.
Together, using the tricks gleaned from their favorite fictional sleuth, Sherlock Holmes, Jim and Diana must learn why one man's life came to a murderous end.
Mystery Historical [Minotaur Books, On Sale: September 12, 2023, Hardcover / e-Book, ISBN: 9781250855060 / eISBN: 9781250855077]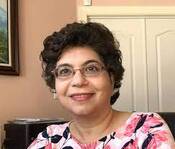 NEV MARCH is the winner of the Minotaur Books/Mystery Writers of America First Crime Novel Award. Leaving a long career in business analysis in 2015 she returned to her passion, writing fiction. She is a member of MWA, the Hunterdon County Library Write-Group and volunteers with non-profit organizations. A Parsee Zoroastrian herself, Nev lives with her husband and two sons in New Jersey.
No comments posted.