Your book, GRAVE EXPECTATIONS, is about a medium and ghosts. What made you write about these things? Do you have a fascination with the paranormal? Do you enjoy shows about ghosts? I love the re-enactments but find the "ghost hunter" type shows kind of goofy.
I grew up in a very rural, superstitious part of the UK and being told ghost stories – in fact my mum's side of the family insist they lived in a haunted house for years – but I don't actually believe in ghosts myself. But I love horror, I love ghost stories. They tell us so much about ourselves! They're always an expression of something else, I find. What you're scared of, what you're haunted by, is very honest, and it's obviously usually shaped by the local area and its history as well. Where I live now, in Cork in Ireland, if someone says they were "haunted" it means they were lucky – "Managed to get the Taylor Swift tickets! We were only haunted." That's pretty cool.
I do actually love the "ghost hunter" shows because of how goofy they are! They're the kind of mediums Claire wishes she could be – they put on a performance and get a TV show and money, whereas she is just embarrassed and never has enough pasta to eat.
How would you describe your protagonist, the "almost-authentic medium" Claire, to readers?
She's very tired, and awkward, and kind of a guilty true crime/police procedural obsessive. She thinks a lot of things internally that she wouldn't say out loud – except maybe to Sophie, who is quite mean and can be a repository for that. Claire is most confident around Sophie, who unfortunately nobody else can see, but that's reflected in how Claire talks to Sophie vs. how she talks to everyone else. With Claire and Sophie I was trying to literalize the feeling of being a millennial. We're in our mid-late 30s, rising to 40s depending on where you put the generational cut off, and Zoomers make fun of us for being old, but to the generations above and newspaper columnists we're the easy punchline for entitled children who eat avocados. We're not allowed to grow up! So Sophie literally can't, she's always 17, and Claire struggles with that kind of arrested development because she's always accompanied by her worst teenage impulses, and the worst thing that happened to her as a teenager.
The description for GRAVE EXPECTATIONS describes it as being a mix of detective novel, paranormal, and humor. Did you try to create a balance, or does one aspect dominate?
I think it's ended up fairly even, in a way, because probably all three of those elements are arising out of or are a backdrop to the characters, which have ended up being the more dominant aspect in some ways. They're a bunch of bickering idiots trying to do their best. I am quite proud of how the humor has panned out, actually. I've tried to make Grave Expectations funny in the way that real life is funny, so it's not a parody, and the paranormal stuff fits in with that. Like, in real life, if you were a ghost, it would be dead boring. Pun intended. And in real life murder isn't as interesting as in stories. True crime documentaries often have to work quite hard to build a plot in, have you noticed? Because a lot of the time it's just "absolute loser murders a woman without a real plan" as opposed to "genius serial killer matches wits with a troubled detective".
Whether it's the gang from Scooby Doo or Buffy, I love stories with an ensemble cast. How would you describe the group in your book? How well do they work together?
I love ­both those gangs (and that the Buffy gang called themselves the Scoobies). My group's vibe is "chaotic found family". I started building my gang in quite a utility belt way. I knew I wanted the medium aspect, and was trying to think, well, if you actually could see dead people all the time that would suck. Like that would really affect your life, right? Probably not in a lot of good ways. Then I knew I needed some kind of adult to keep a handle on things, which became Basher the ex-cop – and I tried to build in a lot of parallels to the Claire and Sophie relationship in the book, or like funhouse mirror versions. So, I knew I wanted a Zoomer, a current gen teen who is all confident and creative and switched on and had some kind of pre-existing relationship with Basher. Thus, Alex (who is actually my favorite). But none of them is really a complete person, and one of them is arguably not a person at all depending on your definitions, so they kind of all have to step up and do different things as required.
Any time I interview an author of a spooky book, I have to ask – do you enjoy horror/spooky films? A favorite?
Yes! I will have to restrain myself to only a few recommendations… Actually, since we're in the area, I could do comedy horror, couldn't I? The What We Do in The Shadows movie – movie, not the series - is one of my comfort watches. As an English Millennial I'm a card-carrying member of the Garth Marenghi fan club, and I would recommend both his TV show Garth Marenghi's Darkplace and his recent book Terrortome. Just a few weeks ago I watched a great movie about a vampire who finds out he has a teenage daughter, called Blood Relatives. One of those movies I'd love to get a sequel or see expanded into a TV show.
Other authors I've interviewed have told me that the kinds of books they enjoy reading are different from the kind of books they enjoy writing. What do you like to read? Favorite books? Favorite author?
I actually read a lot of crime fiction. Gotta keep an eye on the competition… I really love Janice Hallett's books, she's 100% the new queen of crime for me, but I also love the rise of Southern Noir with writers like S. A. Cosby, and neo cozy crime – Mia P. Manansala is my favorite cozy crime writer. As far as not crime fiction goes, my favorite author is Terry Pratchett. His fantasy series is huge in the UK and had a profound influence on my sense of humor. I've also been reading a bunch of short fiction. I read a great collection called How to Gut A Fish by Sheila Armstrong, and I love the literary magazine Taco Bell Quarterly.
What are you currently working on?
For my sins, I must start work on the edits for the sequel to Grave Expectations! It's my version of a closed loop mystery on an island getaway, featuring pirates and wreckers and murders, oh my. I've got some other ideas on the back burner for something complete different as well, but nobody has paid me to write those yet…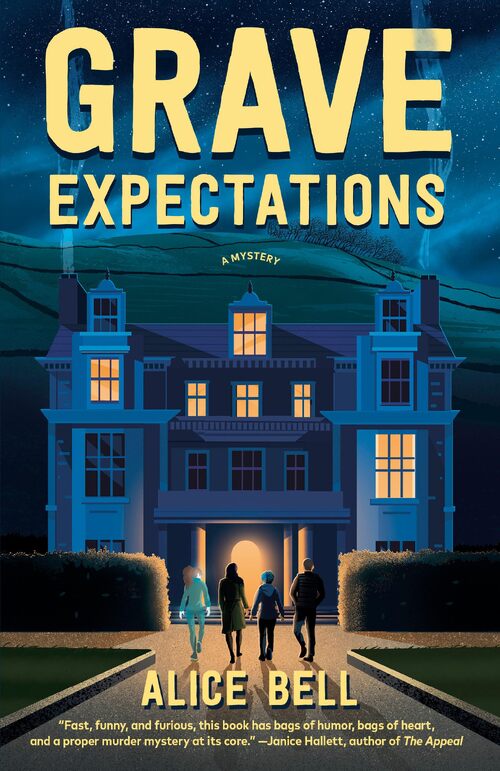 A fast-paced and hilarious debut crime novel, in which a burnt-out Millennial medium must utilize her ability to see ghosts and team-up with a band of oddball investigators to figure out which member(s) of a posh English family are guilty of murder.
"This book has bags of humor, bags of heart, and a proper murder mystery at its core." —Janice Hallett, author of The Appeal
Almost-authentic medium Claire and her best friend, Sophie, agree to take on a seemingly simple job at a crumbling old manor in the English countryside: performing a seance for the family matriarch's 80th birthday. The pair have been friends since before Sophie went missing when they were seventeen. Everyone else is convinced Sophie simply ran away, but Claire knows the truth. Claire knows Sophie was murdered because Sophie has been haunting her ever since.
Despite this traumatic past, Claire and Sophie are still unprepared for what they encounter when they arrive at the manor: a ghost, tragic and unrecognizable, and clearly the spirit of someone killed in a rage at the previous year's party. Given her obsession with crime shows—not to mention Sophie's ability to walk through walls—Claire decides they're the best people to solve the case. And with the help of the only obviously not-guilty members of their host family—sexy ex-policeman Sebastian and far-too-cool non-binary teen Alex—they launch an investigation into which of last year's guests never escaped the manor's grounds.
What follows is somewhat irregular detective work involving stealing a priest's cassock, getting too drunk to remember to question your suspect, and of course, Chekhov's sparkly purple dildo. As Claire desperately tries to keep a lid on the shameful secret that would definitely alienate her new friends, the gang must race against their own incompetence to find the murderer before the murderer finds them.
Mystery | Mystery Paranormal [Vintage, On Sale: September 5, 2023, Trade Paperback / e-Book, ISBN: 9780593470633 / eISBN: 9780593470640]
ALICE BELL grew up in South West England, in the sort of middle-of-nowhere where teenagers spend their weekends drinking Smirnoff Ice in a field that also has at least one horse in it. In 2018 she became the deputy editor of Rock Paper Shotgun, a popular PC gaming website. In 2019 she was named one of the 100 most influential women in the UK games industry. After spending several years in London, Bell now lives in Cork, Ireland, where she watches giant ships, makes crochet animals, and plays video games where you can set things on fire and make elves kiss. She has probably read more detective fiction and watched more episodes of Midsomer Murders than you.
No comments posted.