1--What is the title of your latest release?
2--What's the "elevator pitch" for your new book?
A woman is determined to stay in her dream home even after it becomes a haunted nightmare.
3--How did you decide where your book was going to take place?
My book actually doesn't take place in a specific geographic location, which was an intentional choice to allow the story to seem like it could be happening more or less anywhere. That said, I knew that the setting itself needed to be a properly haunted house, and I chose a Victorian house because: 1. I've always loved Victorian-style houses, and 2. Victorian-style houses seem to be just begging for a good haunting. Perhaps that's why I love them so much.
4--Would you hang out with your protagonist in real life?
I would probably meet up with her for coffee and a chat, but I probably wouldn't go over to her house. It's way too haunted for me.
5--What are three words that describe your protagonist?
Can survive anything.
6--What's something you learned while writing this book?
It was a fun learning experience to notice the book take opportunities to write itself. I've always been a bit of a planner, and I usually won't start writing a project until I have a fairly comprehensive outline. While this one still had an outline, I gave myself a bit of freedom, and it was rewarding to watch things evolve in the moment, let the characters tell me how they would handle a situation, and allow tiny writing choices turn into meaningful aspects of the story. It also helped me, when it was time to start my next project, not feel so beholden to the outline and, instead, be willing to see where the story wanted to take itself.
7--Do you edit as you draft or wait until you are totally done?
A bit of both. I'll usually look back at what I wrote the day before and do some light tweaking, but I wait until the first draft is done to really get into the heavy lifting, editing-wise.
8--What's your favorite foodie indulgence?
Craft beer, which counts as food because it goes in your mouth.
9--Describe your writing space/office!
A hulking, baby-shit-green sofa that is at least twenty years old and was handed down to me by my parents back before I could afford luxuries such as furniture. It is a massive pain in the ass to move and has moved with me a whopping eight times. My spouse fantasizes about burning it in the backyard. It is one of my favorite possessions and is objectively the most comfortable sofa you will ever sit on. Wherever that sofa is, that's where I'm writing.
10--Who is an author you admire?
Honestly, all of them. Anyone who has ever put the proverbial pen to paper (or, these days, fingers to keyboard) and written down an idea. No matter how silly or serious the thing they produced, they wrote something. And that is awesome.
11--Is there a book that changed your life?
"Pat the Bunny," which is the first book I demolished. I truly believe that readers should destroy books, and my mother assures me that, as a baby, I physically ate this book.
12--Tell us about when you got "the call." (when you found out your book was going to be published)/Or, for indie authors, when you decided to self-publish.
This whole process seems like it has been a series of very exciting calls (or emails). It was exciting when my prospective agents at Folio, Kat Odom-Tomchin and Sharon Bowers, responded positively to my query and asked to read my manuscript. It was even more exciting when they loved the manuscript and offered to represent me! It was a series of exciting calls and emails as they prepared to submit the manuscript to several publishers, exciting as I spoke with potential editors, and beyond exciting as Berkley took interest. What I was hoping for but truly not expecting was the call from my agents when Berkley made an offer on the book in a pre-empt—I got that phone call at work and was glad I was sitting down for it! And, truly, that was only the start of the exciting calls and emails about the book, but I'll spare you the details on the rest!
13--What's your favorite genre to read?
It is all horror all the time over here!
14--What's your favorite movie?
This shifts frequently and varies by genre, but for horror I would have to say "It Follows." Highly recommend. Please watch it.
15--What is your favorite season?
It is perpetually a toss-up between spring and autumn, because I love the changing of the seasons. Right now, it is autumn, as I am especially excited for the cooler weather and the blessed spooky season to be upon us.
16--How do you like to celebrate your birthday?
Secretly.
17--What's a recent tv show/movie/book/podcast you highly recommend?
"Our Flag Means Death." Everybody watch this show. And tell HBO to release that second season, damnit.
18--What's your favorite type of cuisine?
I'm not picky. If it is food, I'll eat it. Especially if that food is actually craft beer.
19--What do you do when you have free time?
Write! I also cuddle with my cat and force my spouse to watch bad horror movies.
20--What can readers expect from you next?
You should see another spooky book from me sometime in the future. Stay tuned!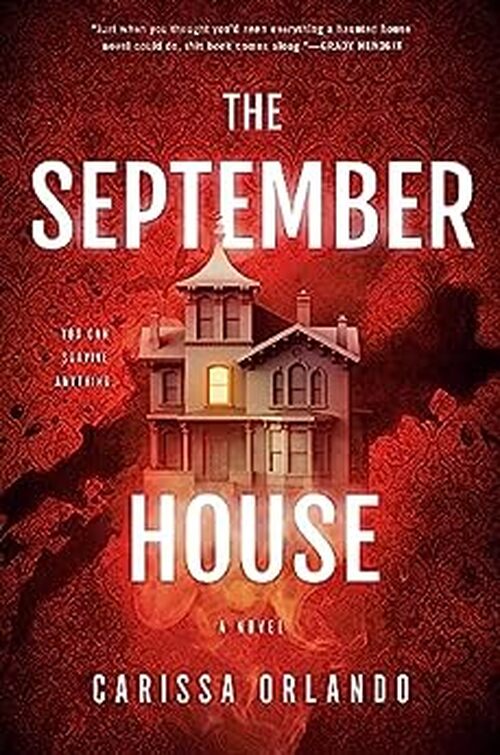 A woman is determined to stay in her dream home even after it becomes a haunted nightmare in this compulsively readable, twisty, and layered debut novel.
When Margaret and her husband Hal bought the large Victorian house on Hawthorn Street—for sale at a surprisingly reasonable price—they couldn't believe they finally had a home of their own. Then they discovered the hauntings. Every September, the walls drip blood. The ghosts of former inhabitants appear, and all of them are terrified of something that lurks in the basement. Most people would flee.
Margaret is not most people.
Margaret is staying. It's her house. But after four years Hal can't take it anymore, and he leaves abruptly. Now, he's not returning calls, and their daughter Katherine—who knows nothing about the hauntings—arrives, intent on looking for her missing father. To make things worse, September has just begun, and with every attempt Margaret and Katherine make at finding Hal, the hauntings grow more harrowing, because there are some secrets the house needs to keep.
Thriller Paranormal - Supernatural [Berkley, On Sale: September 5, 2023, Hardcover / e-Book, ISBN: 9780593548615 / ]
Carissa Orlando has a doctorate in clinical-community psychology and specializes in work with children and adolescents. In her "day job," Carissa works to improve the quality of and access to mental health care for children and their families. Prior to her career in psychology, Carissa studied creative writing in college and has written creatively in some form since she was a child. It was only a matter of time before Carissa, an avid horror fan for much of her life, merged her understanding of the human psyche and deep love for storytelling into a piece of fiction.
No comments posted.