1--What is the title of your latest release?
2--What's the "elevator pitch" for your new book?
A former attorney decides to quit the rat race and ends up in a small town where she falls for a cute security guard, who's trying to save up enough money to escape said small town.
3--How did you decide where your book was going to take place?
It's loosely based on my own personal favorite small town - Galena, Illinois.
4--Would you hang out with your heroine in real life?
I would. She's smart and funny, and I respect her decision to start living her life on her own terms—which means mostly wearing pajamas.
5--What are three words that describe your hero?
Loyal, patient, empathetic
6--What's something you learned while writing this book?
A lot of new legal terms and basketball jargon!
7--Do you edit as you draft or wait until you are totally done?
I usually do a few step-backs as I go along. I'll write the first quarter of the novel, then go back and revise. Then write the next quarter, and go back to the beginning. I keep doing this over and over as needed, until I finally get to the end. I usually know how the book will end (or I have a good idea), but I tend not to write those final pages until the rest of the book is in decent shape.
8--What's your favorite foodie indulgence?
Ooh! I love food—cooking, baking, eating out, you name it. This is not a "foodie" thing, by any means, but, like my MC, I'm helpless any time I'm near an open bag of Cheetos. But one of my legit favorite indulgences to eat/make is this pound cake. It tastes like a much more elevated version of the Sara Lee version I used to eat at my own grandmother's house.
9--Describe your writing space/office!
I live in a very traditional Chicago bungalow; and during the pandemic, I turned our front room (pronounced: frunchroom) into an office. I can see the street and hear the fire trucks and ambulances. I can keep tabs on the neighborhood, all while pretending to write.
10--Who is an author you admire?
I'm currently burning through Louise Penny's Armand Gamache novels, and I absolutely adore how she's made the world of Three Pines so vivid and lived-in. Such great world-building.
11--Is there a book that changed your life?
The Betsy-Tacy book series by Maud Hart Lovelace. Whenever I go back and read those books, I can't believe how much I modeled my own existence (or tried to!) after those books.
12--Tell us about when you got "the call." (when you found out your book was going to be published)
Lol, that was a while ago, and I don't remember it being a moment, like a lifechanging bolt of lightning. I think the process of getting published gets very romanticized, but it's a lot of hurry up and wait. I'm sure it was exciting to find out my first book was going to be published (and I didn't get a call; I got an email), but then I remember waiting for the offer and then contract, and finally waiting and waiting and waiting for the book to finally be published. It's not a sexy answer, but I'd venture that for many of us, publishing isn't a sexy endeavor.
13--What's your favorite genre to read?
Right now (other than the Louise Penny novels), I'm very into celebrity memoirs. I like to mix it up. I don't stick to one genre for too long. The books get repetitive, and I get bored.
14--What's your favorite movie?
Boogie Nights, Austin Powers, Tommy Boy, 27 Dresses (minus the "Benny and the Jets" scene)
15--What is your favorite season?
Fall! Sweater weather.
16--How do you like to celebrate your birthday?
I feel like these questions are a therapy session. My birthday is right before Christmas, so I never make a big thing of it. My daughter's birthday is a few days after mine, so now I'm more concerned with making sure she has a good day. We were both sick this past year for our birthdays, so…that was a tall order.
17--What's a recent tv show/movie/book/podcast you highly recommend?
TV-wise, I'm really enjoying Jury Duty on FreeVee. We did our annual Oscar movie marathon recently, and I loved Triangle of Sadness. Minnie Driver's memoir was GREAT. And I'm catching up on the Fly on the Wall podcast with David Spade and Dana Carvey, which is a lot of fun for a big SNL fan.
18--What's your favorite type of cuisine?
Anything delicious. I like it all.
19--What do you do when you have free time?
Walk the dog, work out, watch TV, read self-help books and ignore the advice.
20--What can readers expect from you next?
I have a book about to go on sub (fingers crossed), so stay tuned!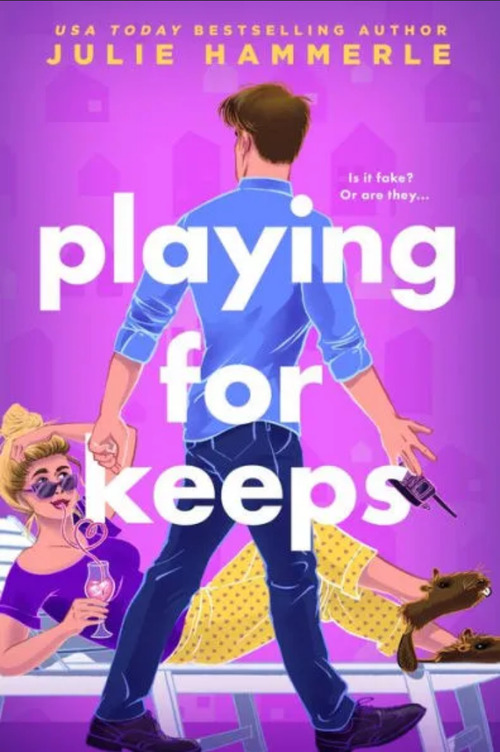 USA Today bestselling author Julie Hammerle's quirky romantic comedy about two strangers, a fake relationship, and a teeny mid-lie crisis…
Bryce Barrett has disappeared off the face of the earth. Well, technically she's just temporarily hiding out in a teeny Midwest town, away from her ruined marriage and professional demise…at least until she can figure out her next steps. But when she bumps into her ex—dressed in what could be only described as "dumpster chic"—she does the only reasonable thing a woman can do: panics and pretends the cute security guard on the scene is her new boyfriend.
Free-spirited nomad Jake Warner knew returning to his hometown was a bad idea. It's bad enough that his family's pressuring him to step into his dad's hypercompetitive shoes and settle down, but when a complete stranger (cute, though possibly unbalanced) enlists him as her fake boyfriend, Jake knows he's making some questionable choices…especially when he inexplicably goes along with it.
Now these two mismatched misfits are temporary allies against a town filled with happy, normal, and annoyingly stable people. Fake dating keeps everyone off their back while they plot their respective escapes. But nothing botches a plan more than unexpected chemistry…
Romance Comedy [Entangled, On Sale: May 8, 2023, e-Book, ISBN: 9781649373830 / eISBN: 9781649373830]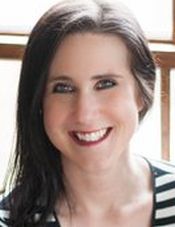 USA Today best-selling, RITA nominated author, Julie Hammerle writes romantic comedies for adults and teens. Before settling down to write "for real," she studied opera, taught Latin, and held her real estate license for one hot minute. Currently, when not writing, she ropes people into conversations about Game of Thrones and makes excuses to avoid the gym. Her favorite YA-centric TV shows include 90210 (original spice), Felicity, and Freaks and Geeks. Her music playlist reads like a 1997 Lilith Fair set list.
She lives in Chicago with her husband and her two kids.
No comments posted.