I start searching around my feet for my bag. I spin round in my swivel chair a few times, examining the floor.
"What are you doing?" Mimi asks.
I groan. "I left my bag in the meeting room."
"I'll come with you. I want a coffee anyway," Mimi says, standing. "I'm guessing you won't turn down a coffee, Rakhee?"
"You know me so well," Rakhee says, typing away furiously again.
Gabby, our editorial assistant who sits a couple of rows behind, overhears.
"I can get your coffees if you like," she sweetly offers, glancing up from her screen.
"That's okay," I say. "I need to rescue my bag from the meeting room."
"You'd lose your head if it wasn't screwed on," chuckles Dominic from the picture desk as we wander by.
"Hey! If you still want early screening tickets to the next Ryan Reynolds movie, I'd be careful about your tone," I say breezily.
"Have I told you lately how amazing you are?" he adds quickly.
"That's more like it." I grin, winking at him.
Mimi is waylaid at the picture desk about one of the hotels she's featuring in an all-inclusive round-up, so I go ahead, swiftly passing Cosmo's glass office that is situated next to Meeting Room Three. Facing away from the door, he's on the phone, leaning back in his chair with his feet on the desk. His eyes are fixed on the bookcase that runs the length of the wall.
I bet he's not listening to a word of the conversation, instead admiring that ridiculous trophy that's pride of place in the middle of the shelves.
When Cosmo first moved into his new office, it was the first thing to be unpacked, carefully positioned in the center of the bookshelves. We all assumed it was a journalism award, but when Mimi made the mistake of asking about it, she got a long-winded, blow-by-blow account of how he'd won a bowling tournament the previous year. He drops it into conversation whenever he can, which you'd think would be quite tricky, but he manages it surprisingly often.
I reach Meeting Room Three and spot my bag straightaway through the glass, on the floor under the table.
I've already entered before I realize that the room isn't empty.
A man is standing at the other end of the table, and he glances up from his phone at the sound of my footsteps.
Our eyes meet.
My cheeks burn hot under his intense gaze, his piercing blue stare seeming to look right through me. His brow furrows and his jaw clenches, as though he's cross and confused at the same time. I wonder what he's thinking. Whether he's remembering. My whole face is on fire.
"Harper?"
Mimi's voice makes me jump. He startles as well, both of us jolted from our thoughts.
"Sorry, coming," I croak, quickly crouching down.
He remains silent as I reach for my bag and pull it toward me. Mimi gives him a friendly smile and apologizes for the disturbance. Frowning, he doesn't say anything.
Without prolonging the awkwardness any further, I turn on my heel and march out, Mimi hurrying to keep up.
"What was that?" she asks, falling into step with me as we make our way down the side of the busy newspaper desks toward the kitchen.
I play innocent. "What do you mean?"
"Um, the eye contact? The tension in that room!" "There wasn't any tension," I claim.
"Isn't that guy on the features team for the paper? He always looks cross about something, but even I can appreciate that he is very pretty. He's like a model masquerading as a reporter," she muses, before snapping her fingers as she remembers. "Jansson. But I can't remember his first name? It will come to me in a minute."
"Ryan."
"That's the one. Ryan Jansson. I think he's Scandinavian." "His dad is Swedish," I say, without thinking.
As we reach the kitchen area, she stops. "Wait. Do you know him?"
"No, course not," I say, flustered. "He must have mentioned it in one of his articles."
"Well, he wants you," she surmises.
"You think that about everyone. A minute ago, you thought that singer was professing his love to me via donut delivery."
"I'm telling you, Harper Jenkins, that guy was undressing you with those crazy-beautiful eyes of his," she says, moving to the coffee machine. "It's a shame he works for the dark side. Did I tell you that one of the newspaper guys tried to take my meeting room last week? He tried to argue that his matter was more press- ing because he has tighter deadlines. Whatever, pal. If you want a meeting room, then you need to book one, not try to swoop in there at the last minute and . . ."
I try to focus on Mimi, relieved she has forgotten all about Ryan Jansson.
If only it was so easy for me to get those crazy-beautiful eyes out of my head.
From The Last Word by Katy Birchall. Copyright © 2023 by Katy Birchall and reprinted by permission of St. Martin's Publishing Group.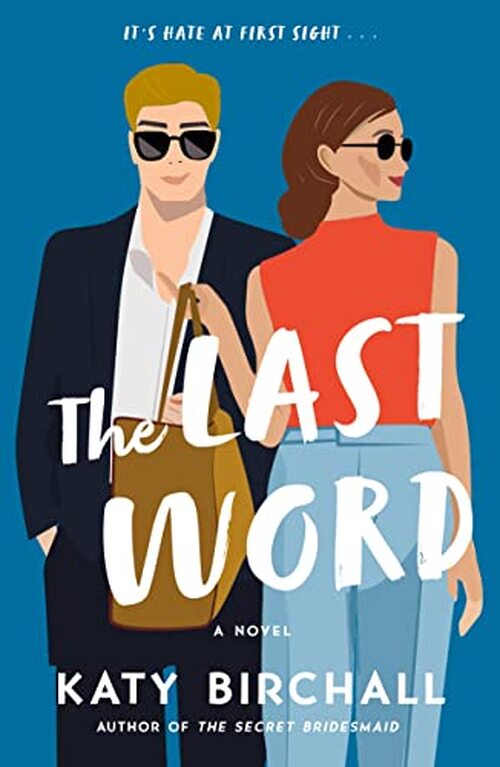 The Hating Game meets Beach Read in Katy Birchall's enemies-to-lovers romcom The Last Word, about a young journalist who puts her career (and her heart) on the line when her former work nemesis is hired in her newsroom.
Harper Jenkins is at the top of her game. A brilliant, determined journalist with a well-known knack for getting tight-lipped Hollywood stars to open up to her, Harper loves her job as Celebrity Editor at a newspaper's glossy weekend magazine and has the best contacts in the business.
But when her awful boss hires talented reporter Ryan to be the new Features Editor, Harper is furious. Because the two have met before: a decade ago, they were interns at the same publication, where they fell into a whirlwind romance…until Ryan betrayed Harper, and they never spoke again.
Thrown together in a busy newsroom, their dynamic is a disaster from the start. They can't agree on anything and bicker constantly—Ryan can't bear how chaotic and messy Harper is; Harper finds Ryan's condescending nature infuriating. They clash over who's writing what article, and fight over who's going to which event.
Yet as they're forced to spend more and more time together, Harper realizes she may have misjudged Ryan and can't help but feel a spark growing between them. Long buried feelings start to resurface and, when they're thrown together on a romantic press trip abroad, their chemistry comes to a head.
But all is fair in love and magazines, and with the news that layoffs across the department are imminent, Harper is left to wonder: who will get the last word?
Romance Contemporary [St. Martin's Griffin, On Sale: May 2, 2023, Trade Paperback, ISBN: 9781250882752 / ]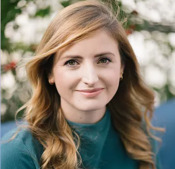 Katy is the author of several young adult novels including The It Girl series, the Hotel Royale series and Morgan Charmley: Teen Witch. She is the co-author of the middle grade Lightning Girl series and Star Switch with Alesha Dixon, and the Find the Girl teen series with YouTube stars Lucy and Lydia Connell. Katy was proud to be the author of a retelling of Jane Austen's Emma for the Awesomely Austen series, a collection of Austen's novels retold for younger readers. She has also written a non-fiction book, How to be a Princess: Real-Life Fairy Tales for Modern Heroines.
Katy lives in London with her partner, Ben, and her rescue dog, Bono.
No comments posted.