1--What is the title of your latest release?
2--What's the "elevator pitch" for your new book?
Stars Collide is a grumpy/sunshine celebrity romance between an up-and-coming young pop star with a very bubbly, very queer brand, and a reserved legend of pop music who's lonely and jaded after twenty years of stardom. She's always assumed she was straight but never understood why she's never had much passion in her life. When they're teamed up for a duet at the Grammy's, well, it's safe to say that both of their worlds will be rocked that night...
3--How did you decide where your book was going to take place?
It's a celebrity romance, so I wanted to set it somewhere exciting, and I'd just done two series in New York City, so I decided to have Eden and Anna live in LA. For the second half of the book, they're on tour together, which gave me a chance to visit a lot of new locales as they travel the country.
4--Would you hang out with your protagonist in real life?
Oh my God, yes! I tend to always write characters I'd want to know in real life, but I'm also a huge fangirl, and Eden and Anna are both pop stars, so it would be a dream come true for me to hang out with either of them and get to see that world from the inside.
5--What are three words that describe your protagonist?
Eden: Reserved, Talented, Kind, Anna: Enthusiastic, Ambitious, Queer
6--What's something you learned while writing this book?
I learned that the Staples Center (where the Grammys are held) is now called the Crypto.com Arena, which doesn't quite have the same ring to it.
7--Do you edit as you draft or wait until you are totally done?
For the most part, I wait until I'm totally done, although if I see something that just needs a quick fix, I'll take care of it while I'm thinking about it. I often leave myself notes as I go so I don't slow down the drafting process but still don't forget the change I wanted to make.
8--What's your favorite foodie indulgence?
A chocolate lava cake!
9--Describe your writing space/office!
Well, my office is still a work in progress, since we recently moved, but it's a small room off the master bedroom. It's going to have built in bookshelves along one wall so I can display all my books and knickknacks. I can't wait to have it finished! In the meantime, I do most of my work on the couch.
10--Who is an author you admire?
There are so many authors I admire! Nora Roberts is a legend, and I can only hope to be as cool as she is one day. I also admire Alyssa Cole and Lee Winter, just to name a few.
11--Is there a book that changed your life?
Not a book, but a genre. When I discovered sapphic romance, it was like a light bulb moment for me and played a huge role in me figuring out my bisexuality.
12--Tell us about when you got "the call." (when you found out your book was going to be published)/Or, for indie authors, when you decided to self-publish.
Oh, it was exciting, because I'd completed my first contract and was hoping my publisher would buy another book from me. I'd pitched six separate ideas, and not only did they buy one, but they bought the one I was most excited about writing!
13--What's your favorite genre to read?
Sapphic romance has my whole heart!
14--What's your favorite TV show?
For long term impact, probably the X Files. It's been a part of my life since high school. My current comfort show is Grace and Frankie.
15--What is your favorite season?
Fall, hands down. It brings cool temperatures, spectacular foliage, hot cider, apple picking, pumpkins, and Halloween!
16--How do you like to celebrate your birthday?
I love to go out for a nice meal with my family, have a few glasses of something bubbly, and enjoy a nice dessert.
17--What's a recent tv show/movie/book/podcast you highly recommend?
The Fixer and Chaos Agent by Lee Winter are two books that really rocked my world. The character development was just stunning. I was laughing and crying all the way through. I can't remember the last time I was so invested in a book world.
18--What's your favorite type of cuisine?
Japanese. I love sushi, miso soup, udon noodles, edamame, seaweed salad…yeah, I love it all!
19--What do you do when you have free time?
I love to read! I also enjoy watching TV, going out with friends and family, and traveling (although not as much since covid hit.)
20--What can readers expect from you next?
Cover Story is a sapphic bodyguard romance featuring an A list actress in need of extra protection who hires a female bodyguard to pose as her girlfriend to keep the real story under wraps. Look for it in spring 2024!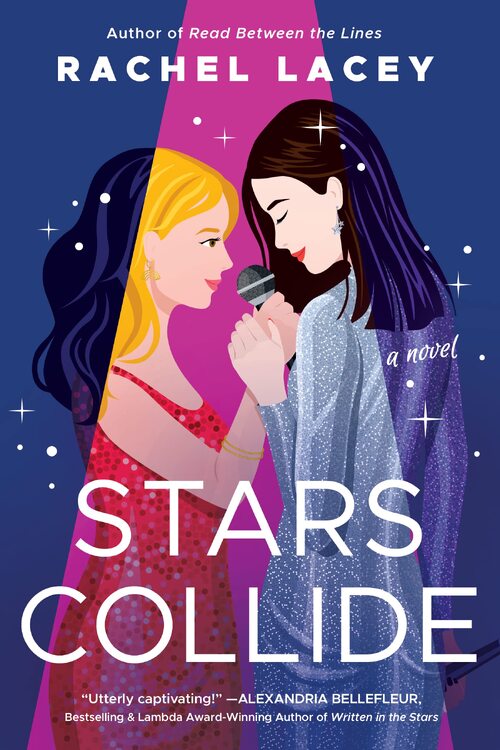 From Rachel Lacey, award-winning author of Read Between the Lines, comes a sexy slow-burn romance about two dynamic divas who collide on the world's biggest stage.
Eden Sands has been a star for twenty years, but it's lonely at the top. Her mediocre marriage just ended, and her inner circle is smaller than ever. The stage is the only place she's ever felt like she truly belonged, and yet, her last album flopped, and her upcoming tour hasn't sold out. Eden's desperate for her star to shine bright again, but when her team suggests a collaboration with an up-and-coming young star to give her a boost, she balks.
Anna Moss is pop music's rising star. She's idolized Eden Sands for most of her life—so it's a dream come true when she's invited to perform with her at the Grammys. Anna's tired of being defined by her bubbly persona. She wants to be taken seriously as an artist, and a duet with Eden could be just what she needs.
As Anna and Eden rehearse, they soon realize they have more in common than their musical talents. Now they just have to decide if what is between them is a one-hit wonder or the making of a romance worthy of one of the greatest love songs of all time.
Romance LGBTQ [Montlake Romance, On Sale: May 2, 2023, Trade Paperback / e-Book, ISBN: 9781662509117 / ]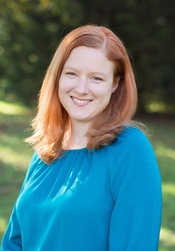 Rachel Lacey is a contemporary romance author and semi-reformed travel junkie. She's been climbed by a monkey on a mountain in Japan, gone scuba diving on the Great Barrier Reef, and camped out overnight in New York City for a chance to be an extra in a movie. These days, the majority of her adventures take place on the pages of the books she writes. She lives in warm and sunny North Carolina with her husband, son, and a variety of rescue pets.
No comments posted.