Excerpt from BEFORE YOUR MEMORY FADES, Copyright © 2022 by Toshikazu Kawaguchi. Reprinted by permission of Hanover Square Press.
Summer is fleeting in Hakodate.
Not long after the first leaf or two falls, Mt. Hako­date suddenly comes ablaze with the colors of autumn. During this season, a sloping street called Daisan Re­galia Rise attracts tourists in droves for its beautifully cobblestoned paving, straddled by the exotic autumn leaves of the roadside mountain ash trees, all of which creates the mood of a faraway land.
Autumn had also arrived in the large window of Café Donna Donna, which overlooked Hakodate Port and vast blue sky. The red-and-gold foliage spreading across the base of that panorama filtered into the café's atmosphere, making it feel quite romantic.
Maybe that was why, seated at the counter, Nanako Matsubara was thinking, I'm seeing so many couples.
Today was Sunday. With double the number of customers than usual, the café was extremely lively. However, as most were tourists, it was an open ques­tion as to how many knew this was a café where you could return to the past.
Mixed in with all the couples was a gangling man in his late forties, whose features were hidden by a hunting cap and sunglasses. Today was the third day in a row he had visited the café. Each day he would arrive as soon as the café opened and pass his time in there until it closed in the evening. It wouldn't be far- off to suggest there was something fishy about him.
Seated in the chair opposite him was Sachi, im­mersed in her current read: One Hundred Questions. Kazu was busy behind the counter and Dr. Saki Muraoka was eating lunch next to Nanako. Normally, the sight of Sachi in close proximity to this strange man would have raised alarm bells in the adults, but there was no sense of wariness in anyone. That was because all three women assumed the man was a customer who had come to visit the past. Judging by his behavior, they speculated he was either trying to determine if the rumors about the café were true and he could in fact travel to the past, or he already knew the rules and was simply waiting for the chair to become free. The café saw many dubious customers like him. Most recently in the last days of summer, a woman seeking her dead parents had first visited the café in the morning and then showed up again that evening.
Saki, a psychiatrist at the nearby general hospital, observed the man as she ate her lunch and concluded that he was exhibiting indecisive personality traits. How­ever, his manner didn't suggest he was a dangerous person. Perhaps more perceptive than she was given credit for, Sachi had picked up on this and was con­versing with him, reading the questions from One Hundred Questions aloud.
"Question Fifty-seven."
"Okay."
Nanako was listening in on this exchange. "Looks like her new favorite, don't you think?" she said to Kazu. Nanako was talking about One Hundred Ques­tions, but given Sachi's behavior, Kazu realized Sachi had taken a liking to the man in the sunglasses, who was earnestly answering her questions.
"Say you are having an extramarital affair…"
"An extramarital affair? That sounds like a hard­ball question."
Of course, Sachi didn't know what an extramarital affair was. She was simply enjoying interacting with this new person by way of this book.
"Say you are."
"Okay." The man in the sunglasses didn't seem to be finding these questions completely without fun.
Sachi continued with her question.
"If the world were to end tomorrow, which would you do?
You spend your remaining time with your husband or wife.
You spend it with the man or woman with whom you are having an extramarital affair.
"Which one?"
"Hmm," mumbled the man, tilting his head. "If I answer 'two,' I think it would tarnish my character."
The man looked over to Nanako and the others. His fear of being judged harshly based on his selection seemed less to do with Sachi than with the opinions of Nanako and Saki, who were clearly members of Sa­chi's in-crowd. Depending on the nature of the ques­tion, the exchanges often followed the same pattern.
"Number two then, is it?" Nanako asked, quick to sense a teasing opportunity.
"I'm not saying that. I've never had a wife, let alone any affairs."
"Still single at your age?" quipped Saki. She was always forthright like that.
"Dr. Muraoka…" Nanako interjected softly, sens­ing Saki might have sounded rude.
"My fate, I guess…" he said.
"But you seem like a nice guy," she countered.
"I hear that a lot," he replied.
Saki unabashedly continued her teasing, and the man replied evasively and diplomatically. Losing pa­tience at having lost her new friend's attention, Sachi intervened.
"Which one?" she asked pressingly.
"Oh, sorry, my bad…um, well then I choose 'one.'"
"Dr. Saki?"
Sachi wasn't the tiniest bit curious as to why the man chose "one." Immediately she turned her inter­rogation to Saki.
"I choose 'two.'"
"Huh?"
Saki's response had induced a wide-eyed reaction from Nanako. She hadn't expected Saki to choose "two."
"What? Is that so shocking?"
"Oh, er, it was just unexpected, that's all…"
"Why?"
"Oh…surely…you know…" Nanako couldn't voice her thoughts. She was in the opposite camp to Saki.
"I think she's calling your character into question."
The man casually butted in on the conversation while Nanako faltered. He articulated Nanako's thoughts, which left her feeling flustered.
"No… I didn't mean that at all…" she protested, with a wave of her hand.
"Why did I choose 'two,' you ask?"
Saki took it upon herself to voice the question Nanako wanted to ask.
"If I didn't choose 'two,' what sense would it make that I had had an affair?"
She wasn't defending infidelity. She was simply say­ing that if she had purposely chosen to do something so frowned upon, then she would have chosen her se­cret lover in a scenario where the world was ending the next day. She wasn't saying that it was the correct thing to do, just that it was her personal view.
But on hearing that, Nanako replied, "Oh… I see."
"Next question."
"Okay, ready," the man replied to Sachi's lively voice.
"Question Fifty-eight."
Before the Coffee Gets Cold #3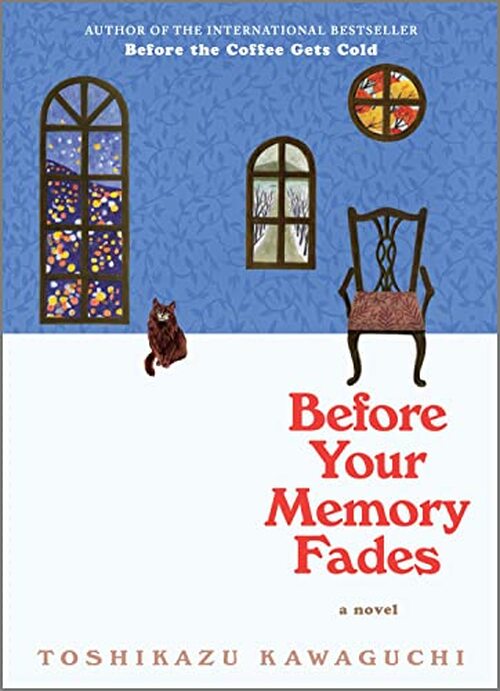 The third novel in the international bestselling Before the Coffee Gets Cold series, following four new customers in a cafe where customers can travel back in time.
On the hillside of Mount Hakodate in northern Japan, Cafe Donna Donna is fabled for its dazzling views of Hakodate port. But that's not all. Like the charming Tokyo cafe Funiculi Funicula, Cafe Donna Donna offers its customers the extraordinary experience of travelling through time.
From the author of Before the Coffee Gets Cold and Tales from the Cafe comes another story of four new customers, each of whom is hoping to take advantage of the cafe's time-travelling offer. Among some familiar faces from Toshikazu Kawaguchi's previous novels, readers will also be introduced to:
A daughter who begrudges her deceased parents for leaving her orphaned
A comedian who aches for his beloved and their shared dreams
A younger sister whose grief has become all-consuming
A young man who realizes his love for his childhood friend too late
Translated from Japanese by Geoffrey Trousselot and featuring signature heart-warming characters and wistful storytelling, in Before Your Memory Fades, Kawaguchi once again invites the reader to ask themselves: what would you change if you could travel back in time?
Fantasy [Hanover Square Press, On Sale: November 15, 2022, Hardcover / e-Book, ISBN: 9781335429285 / ]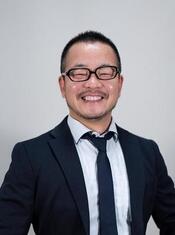 Toshikazu Kawaguchi was born in Osaka, Japan, in 1971. He formerly produced, directed and wrote for the theatrical group Sonic Snail. As a playwright, his works include COUPLE, Sunset Song, and Family Time. The novel Before the Coffee Gets Cold is adapted from a 1110 Productions play by Kawaguchi, which won the 10th Suginami Drama Festival grand prize.
No comments posted.