Excerpt from A DEAL WITH DARKNESS, Alexis L. Menard, City Owl Press © 2022 , Used by permission.
Prologue
My internal clock ticked away precious seconds. I didn't usually give my target this much of a head start, but tonight I was feeling generous.
I took a deep breath, scenting the trail of my prey in the darkness cloaking the forest. The Grimm Wood usually smelled like fresh earth and pine, but tonight the hint of copper masked the natural aroma. Nothing stirred in the trees—no sound carried on the breeze blowing east. The wind was my ally, revealing the panicked paces of the man fleeing from my attack. I could have finished him off before he escaped, but the truth was I let him go. The reaping was more gratifying when I had to work for it, more delicious when it was earned. This lowlife was a fighter, a despicable coward, and a runner.
And I really liked it when they ran.
I reached down next to his abandoned cot still unrolled by the fire, speckled with blood from the warning slice I made down his forearm. Snatching a half-empty bottle by the neck, I took a long swig from the amber glass.
"Couldn't even pay for a quality spirit, Ronan?" I asked no one, wiping my upper lip with the back of my hand. The watered-down liquor was enough to put me on edge, buzz my senses, and embolden my bravery. "That explains a lot about your situation."
The fire cracked into a low flame, darkening my silhouette as I stepped deeper into the woods. The seconds ticked down till none remained. I threw my hood up and unsheathed the blades tucked away on the outside of my thighs.
His time was up. The hunt had begun.
Vasseri wasn't my favorite kingdom, but at least the wine was always aged well.
I sat in a shaded corner of the pub, waiting for my contact to show herself while sipping from a silver tankard. The other patrons eyed me as I drank, as if expecting me to give them an excuse to call security. But regardless of the crimes I was guilty of—and there was a long list of them—no one would be calling the guard. I had friends in high places in this city. Friends only in power because of the deals they'd made with my master.
The young blonde was instantly discernible the moment she stepped foot in the Wasted Whale. We couldn't be more different, both in appearance and temperament. Then again, I didn't have much in common with most women my age. My dark red hair was still tangled with mud. The dirt stains on my stealth armor hid the dried blood of my mark, a far cry from her flawless skirts that looked like they'd never brush knees with the kind of personalities in this tavern. She ran a nervous eye around the room, curious stares meeting her own, before her gaze locked with mine. I raised my cup in silent invitation, a poor attempt to set her nervous mind at ease.
She crossed the long room quickly, terrified without an effort to hide her fear. She sat quickly, soundlessly, and fixated on her powder-blue gloves clasped on the filthy table. "Well?" she whispered. "Is it done?"
"Aye," I replied. "The errand is complete."
"And his body?"
"Feeding the trees in the Grimm Wood," I said with a small smile. The dense forest was nearly impossible to navigate if a traveler strayed from the road. The poor guy didn't stand a chance once I ran him into the thick of it. Disposing of the evidence had been the simple part. Thanks to a recent rain and soft earth, no one would ever find his corpse—exactly what my client had requested.
Her throat bobbed from a hard swallow before she gave a quick nod. "How would you like your payment?"
I drained the rest of my cup, wincing at the sour after taste. Good wine always spoiled quickly in the summer heat. "Whatever deal you made with the Dark Lord is no concern of mine." I wiped a crimson drop dripping a trail down the edge of the tankard. "I don't do this for coin, but I'll warn you about making this mistake again. The bigger the bargain, the deeper your debt, and the more expensive the pay off."
It was a lesson I'd learned the hard way.
"Aye. Thank you, miss—"
"Don't say it," I snapped, interrupting her formality with the slap of my cup on the table. Her gratitude was misplaced in a person she should have never needed to begin with. I wanted her thanks as much as I wanted this arrangement.
She sat there, gaping at me, her jaw trembling as if trying to find the right words to say. I rolled my eyes and stood, sending the chair screeching across the gritty floor. If she hadn't already paid the ultimate price—his price—I would have put this girl in her place.
But I held my tongue. I understood her pain, walked in her shoes in the distant past. Everyone had their price—their breaking point. The Lord of Lost Souls loved haggling to drain his clients dry of something more valuable than money—the greatest treasure of their souls. This girl was no different than all the others I killed for, all the other women I protected with the sentencing of a knife's edge. Heck, she wasn't so different than who I used to be five years ago. A simple girl who thought she was in love. The only difference between us was that I chose to become stronger, and she let a man force her to become less. I vowed to myself long ago I'd never be fragile again.
And I'd kept my promise.
I looked down at the broken woman pressing wrinkles into her silk gloves from the wringing of her hands—the fabric expensive, well made, and far beyond her social status. I pressed my lips into a tight line. The fool had already fallen back into the vicious cycle, her insecurities not allowing for the painful healing found in solitude. Someone far richer than herself had bought those gloves, someone she would most likely be meeting as soon as our business was complete.
I sighed and stepped around the table to leave, but my nagging conscience made me turn to face her one final time, bracing my hands on the table to lean closer. "You can't afford my services again, so let me give you some advice."
I waited for her to lift her gaze and look me in the eyes. I needed her to heed my words, not for my sake, but for hers. "Lilith of the Mountain is a potent herb that can't be tasted, smelled, or detected after a person has consumed it. You can find it at a sketchy woman's shop on the corner of Third and Drapers across from the big library." She nodded in recognition, and I continued. "It will knock out a grown man cold before he puts his cup down. Then, put money away, a little every month. Make it small amounts each time so they aren't missed from his accounts. When he's out, take the money and run. Start a new life somewhere he can't find you. When this ends badly, and it will, you need to be prepared."
I sucked in a breath and closed my eyes for a moment, unwilling to see the shame forming behind her eyes. "Lastly," I whispered, "remember your worth because no one else will. These are dark times we live in, and if we don't remind others of our value, they will try to cheapen the cost of our lives. Understand?"
"Aye," she replied. Her eyes never dropped from mine despite the fear my words placed in them.
"Good." I pushed off the table and turned sharply on my heels to leave the dingy tavern and the wandering eyes observing our conversation.
Despite the way some people looked at me, I wasn't a monster. I made sure I pushed the corruption away a little longer and stayed strangers with darkness for another night.
I wasn't a monster. I was a Hound. Though, the line between the two was starting to blur.
Eternal Night #2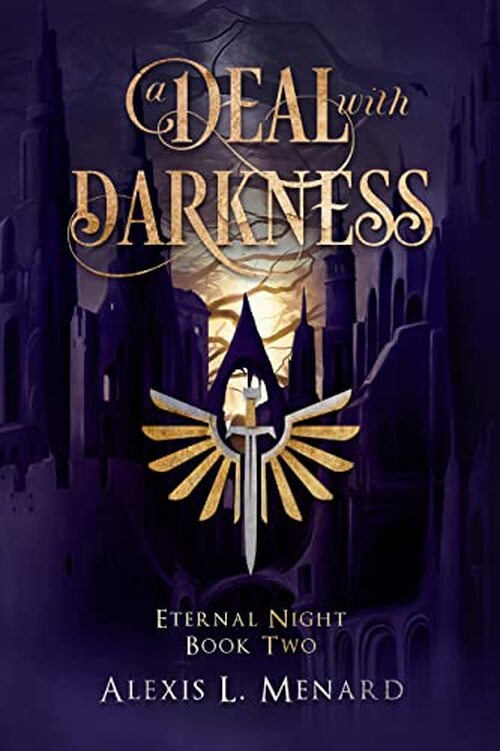 Isoldra Maan is drowning in debt, specifically over 250 souls deep. As a Hound for the diabolical yet irresistible Lord of Lost Souls, she's been stuck serving the fallen god and hunting his contracts in order to be free of her own. But when Haalarcus strikes a bargain with a divine, he places her freedom finally within reach.
A dark power threatens the integrity of the realm, splitting open the world and starting a series of plagues that force humanity to point fingers at the heavens. Isoldra reluctantly agrees to work with the divine who turns out to be the self-righteous watcher, Evander, in order to track down the heretic causing all this, but the simplicity of this bargain complicates when the stakes become much bigger than her freedom.
An evil has awakened. A darkness unleashed. When death is not the end, how far will she go for a love crossing realms, lifetimes, and the very concept of mortality?
Romance Fantasy [City Owl Press, On Sale: November 10, 2022, e-Book, ISBN: 9781648982729 / eISBN: 9781648982736]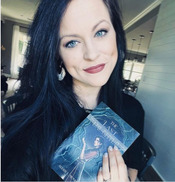 Alexis is a registered nurse based out of Louisiana where she lives with her husband, toddler, and two oversized dogs. She enjoys long walks through the Renaissance Fair, reading smutty romance into the dark hours of the night, and wine nights with her "Finer Things Club." She hopes to enrich the lives of her readers with worlds they can both escape in and take with them long after the final chapter.
No comments posted.