1--What is the title of your latest release?
2--What's the "elevator pitch" for your new book?
Unwieldy Creatures is a biracial queer gender-swapped retelling of Mary Shelley's Frankenstein. It follows the story of three beings who navigate life from the margins: Plum, a queer biracial Chinese intern at a top embryology lab; Dr. Frank, a queer biracial Indonesian scientist who compromises everything she claims to love in the name of science and ambition; and Dr. Frank's nonbinary creation, brought into the world due to complications at birth, only to be abandoned.
3--How did you decide where your book was going to take place?
Indonesia, Vermont, and west Texas. In terms of both Indonesia and west Texas, I wanted to work with settings that were in the world of geographic locations that had meant a great deal to me, but that felt somewhat unfamiliar. In terms of the Southern United States, it was important that one of Unwieldy Creatures' main characters navigate the battle of abortion and reproductive rights—when I was first writing the book, that was most clearly being fought in the south. In terms of Vermont, which isn't so much a setting as a framework to understanding Plum, our narrator, I wanted her present (Southern United States) to be a bit different from where she'd grown up and lived.
4--Would you hang out with your protagonist in real life?
I would absolutely hang out with Plum! She's thoughtful, has been through a lot, and becomes very intentional about how she navigates being in the world.
5--What are three words that describe your protagonist?
Ambitious, meditative, introspective
6--What's something you learned while writing this book?
I learned about the difference between Indonesian and Javanese wedding ceremonies, fulgurites, and the existence of Monahans Sandhills State Park. I also learned that a science innovation I made up was actually real!
7--Do you edit as you draft or wait until you are totally done?
Both. I write without too much self-censoring or need for perfection, but I'll often go back after a day's work and clean it up before moving on. The very nitty-gritty editing, however, happens after an initial draft.
8--What's your favorite foodie indulgence?
Dumplings, especially xiao long bao (soup dumplings), all day, every day.
9--Describe your writing space/office!
I recently moved, so now I write facing a window (this has always been important to me – daylight helps me greatly) in my new home surrounded by the succulents I've been able to keep alive so far! But I also enjoy writing in cafes (these days, that means with covered patios and/or sitting outside very early before it gets too hot)—in any city.
10--Who is an author you admire?
I really love Alexander Chee. Having a queer biracial Asian author who embodies so many of the qualities I strive towards—both as a public-facing writer as well as his writing itself—has been life-changing, honestly.
11--Is there a book that changed your life?
Since we're on the topic of Alex, Edinburgh absolutely changed my life. So did Frankenstein (obvs).
12--Tell us about when you got "the call." (when you found out your book was going to be published)/Or, for indie authors, when you decided to self-publish.
When Lisa Pegram, my acquisitions editor from Jaded Ibis Press, who has cradled this book in so many ways before and after Unwieldy Creatures was birthed, called me about the book, I was stunned to receive her absolute unfiltered joy and love for the book. She got so many things I was after that so many others who were initially interested but ultimately passed on the book didn't. It was incredible to connect with her not on what needed to be changed (which is how so many of these calls go) but on what she saw in it, who she thought would connect with it. Getting chills just thinking about it!
13--What's your favorite genre to read?
I honestly don't have a favorite! But I love creative nonfiction (especially that intersects with big topics in popular culture), young adult fiction, and novels that have a sort of mythological atmosphere to them.
14--What's your favorite movie?
Everything Everywhere All at Once reigns supreme at the moment.
15--What is your favorite season?
Autumn is my favorite! Especially when it first gets cool. This will be the first time I've experienced fall living in "not-Texas," and I can't wait to see the leaves change.
16--How do you like to celebrate your birthday?
As a Virgo stellium+, I have a three-part ritual: I buy myself something to wear that gives me pleasure, I learn something new (this typically is in the form of taking a class on something), and I work on something creative. Outside of that, I enjoy going roller skating on my birthday and buying myself flowers, and if it were safer, I'd pamper myself with a facial.
17--What's a recent tv show/movie/book/podcast you highly recommend?
I just blew through all four seasons of Glow Up: Britain's Next Make-Up Star! It's a competition reality show centering on make-up artists, and I love the lack of drama between the contestants, the thoughtful but challenging feedback from the judges, and the industry assignments. And also the lessons at the end of each show! I also really enjoy seeing so many queer and non-binary artists on television.
18--What's your favorite type of cuisine?
Literally any Asian cuisine. Any.
19--What do you do when you have free time?
Roller skate, dance, photography (right now, playing with double exposure self-portraits on Polaroid).
20--What can readers expect from you next?
I just signed a contract to edit an anthology on LGBTQIA+ teens reflecting on fashion with Jessica Kingsley Publishers, and I'm so excited! I'm also working on this "unwieldy" memoir/essay project (it hasn't decided what it wants to be yet) and a mashup of a love triangle/twins romance young adult in verse project which I hope will become a graphic novel.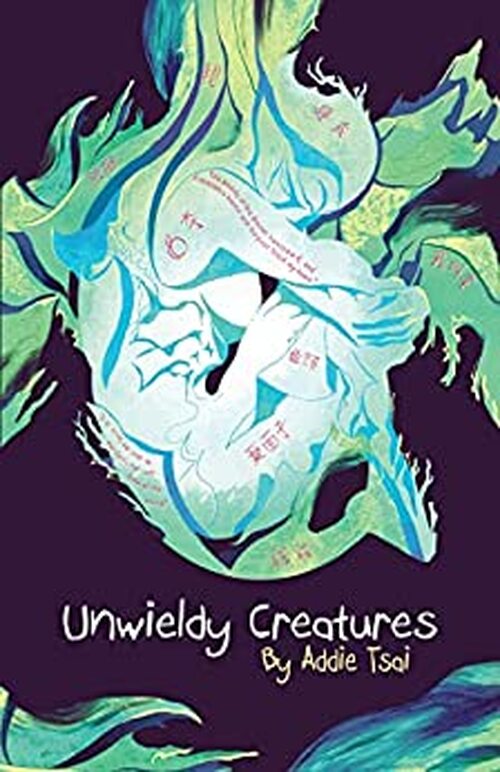 Unwieldy Creatures, a biracial, queer, gender-swapped retelling of Mary Shelley's classic novel Frankenstein, follows the story of three beings who all navigate life from the margins: Plum, a queer biracial Chinese intern at one of the world's top embryology labs, who runs away from home to openly be with her girlfriend only to be left on her own; Dr. Frank, a queer biracial Indonesian scientist, who compromises everything she claims to love in the name of science and ambition when she sets out to procreate without sperm or egg; and Dr. Frank's nonbinary creation who, painstakingly brought into the world, is abandoned due to complications at birth that result from a cruel twist of revenge. Plum struggles to determine the limits of her own ambition when Dr. Frank offers her a chance to assist with her next project. How far will Plum go in the name of scientific advancement and what is she willing to risk?
Fantasy [Jaded Ibis Press, On Sale: August 2, 2022, e-Book, / eISBN: 9781938841361]
Author Addie Tsai is a queer, nonbinary writer, artist of color, and Lecturer of Creative Writing at the College of William & Mary in Williamsburg, Virginia. Addie is also a staff writer at Spectrum South, Fiction co-Editor and Editor of Features and Reviews at Anomaly, and co-Editor in Chief at just femme & dandy.
No comments posted.