1--What is the title of your latest release?
2--What's the "elevator pitch" for your new book?
The Magic of Lemon Drop Pie is the story of Lolly, a pie maker, who gives up everything- including an engagement ring and her dream career in England – to keep her family and their struggling Seattle diner afloat after her mother's unexpected death. Ten years later, she's given the chance to redo her 3 biggest regrets in life and live 3 days as if she'd made different choices. Can Lolly find a way to reclaim the life she still longs for and the love of the man she can't seem to forget? This story is a sweet, uplifting read with food, travel, second chances at love, and a spoonful of magic realism!
3--How did you decide where your book was going to take place?
I always set my novels partly in my beloved Pacific Northwest. This one takes place in Seattle, in the charming neighborhood of Magnolia. It also partly takes place in Brighton, England and Hawaii, both places where I've lived for short periods of time. I enjoy using unique, vivid settings to enhance my stories and giving readers a taste of these special places in the world.
4--Would you hang out with your heroine in real life?
Yes! Lolly's kind, loyal, has great vintage style, and makes delicious pies. What's not to love?
5--What are three words that describe your hero?
Ginger. Athletic. Earnest.
6--What's something you learned while writing this book?
How to make a lemon meringue pie! My editor asked me to create a real recipe for lemon drop pie, so I bought a LOT of lemons and got to work! There were a few duds, but I finally did create a yummy lemon drop pie recipe that's in the back of the book!
7--Do you edit as you draft or wait until you are totally done?
Edit as I draft. I usually write part of the first draft, then go back to the beginning and start editing. It's like a rolling series of edits, writing new chapters and editing the previous chapters as I go along.
8--What's your favorite foodie indulgence?
Sushi! I live on the Pacific coast, so I have access to a lot of delicious Asian food and seafood. Sushi is my favorite. I go out to eat sushi with my family to celebrate each time I have a new book release. It's a tradition – sushi and champagne!
9--Describe your writing space/office!
I have at various points written parts of a novel at a kitchen table, in a 1984 Westfalia VW poptop campervan, and even in a leather chair wedged beside the hot water heater in our basement! But we moved last summer and for the first time I have a real office…with a daybed stacked with pretty pillows and a window with a view of Puget Sound. It's so luxurious feeling after staring at that water heater!
10--Who is an author you admire?
Marilyn Robinson. The breadth of her intellect and the depth of her prose are superb.
11--Is there a book that changed your life?
Kristin Hannah. I've loved her books since I was a teenager. They beckoned me to the Pacific Northwest. Now she lives on a nearby island. I'm astounded by the strength of her storytelling.
12--Tell us about when you got "the call." (when you found out your book was going to be published)
It was 1 in the morning in a darkened café in Paris. I was huddled in the kitchen where the internet signal was strongest. It was one of the happiest moments of my life! And also a pretty cool setting.
13--What's your favorite genre to read?
I love women's fiction (in some other countries they don't call it women's fiction. They refer to it as "feel good" fiction which I like better!) Also I'm a sucker for a good British rom-com when I'm on an airplane!
14--What's your favorite movie?
The Brother's Bloom starring Rachel Weisz, Adrian Brody and Mark Ruffalo. It's a gorgeous, eccentric caper through Europe that asks the question "how do we live a meaningful, unscripted life?"
15--What is your favorite season?
Spring! And in the Pacific Northwest spring starts in late February and last until June! Hurray!
16--How do you like to celebrate your birthday?
My birthday is a few days before Christmas, so I like to do something festive like get a peppermint mocha, window shop, look at Christmas lights, and then have dinner and parlor games with friends.
17--What's a recent tv show/movie/book/podcast you highly recommend?
I adore Home on Apple+. It examines how unique architecture around the world can transform communities. It's profound and beautiful.
18--What's your favorite type of cuisine?
Eclectic. I've lived and traveled in over 50 countries around the world and I gather a recipe or two often during my travels. Our dinner table is a medley of Hungarian, French, Italian, Moroccan, Thai, Korean, Turkish, etc. Yum!
19--What do you do when you have free time?
Kayak, hike or explore the PNW, play board games with my family, baby my herb garden, read read read!
20--What can readers expect from you next?
A super fun novel (this one is set in Paris and on San Juan Island) about a disgraced Parisian chef who heads to a remote island in the Pacific Northwest to reconnect with the mother who left when she was three and try to regain her spark in the kitchen.
Lolly's Lemon Drop Pie
Lolly's Lemon Drop Pie is silky smooth, surprisingly rich, and deliciously sweet and tart! A fresh twist on lemon meringue pie to brighten your day.
Crust
1 pie crust (store bought or homemade, as you prefer)
Filling
2 Meyer lemons (larger is better than smaller if you want a rich lemony flavor)
2 eggs
4 egg yolks
7 Tablespoons granulated sugar
7 Tablespoons good quality European butter (if unsalted, add eighth t. salt with the butter)
1 lemon drop hard candy
Meringue
4 egg whites
half teaspoon cream of tartar
third cup granulated sugar
A dash of salt
Pie Crust Preparation
Blind bake the pie crust for about 15-20 minutes at 375 degrees F or if you are using a store-bought crust simply follow instructions on package. Prick shell bottom with a fork before baking. If you are using beans or pie weights to keep your pie crust bottom from bubbling up, remove them halfway through blind baking so the bottom can bake some. Set pie crust aside and turn down oven to 350 degrees F.
To Make the Filling
Grate the zest from both lemons into a small bowl. Squeeze the juice from both lemons into the bowl and stir.
In a heavy saucepan beat the eggs, egg yolks, and sugar until mixed. Add lemon juice and butter. Add the lemon drop candy.
Cook the mixture over medium low heat stirring constantly until it thickens enough to coat a spoon. It will look almost like pudding. Remove from heat and let stand for 5–10 minutes. Stir a few times until it is fairly smooth again.
Fill prepared pie crust with the mixture. Bake at 350 degrees F for 12 minutes. Remove from oven. Turn oven up to 375 degrees F.
While the filling is baking, prepare the meringue. Using a completely clean bowl, beat the egg whites and cream of tartar until soft peaks form, roughly 3–5 minutes. Make sure your egg whites have no yolk in them, just whites. Add sugar and salt and beat on high until glossy stiff peaks form, about 2 more minutes. Spread the meringue around evenly on the filling, making sure the edge of the meringue touches the edge of the crust all the way around the pie. This helps the meringue not weep.
Bake the pie at 375 degrees F for about 10 minutes until meringue is nicely browned.
Remove from oven and cool at room temperature for 1–2 hours until pie is no longer warm. Enjoy Lolly's Lemon Drop Pie!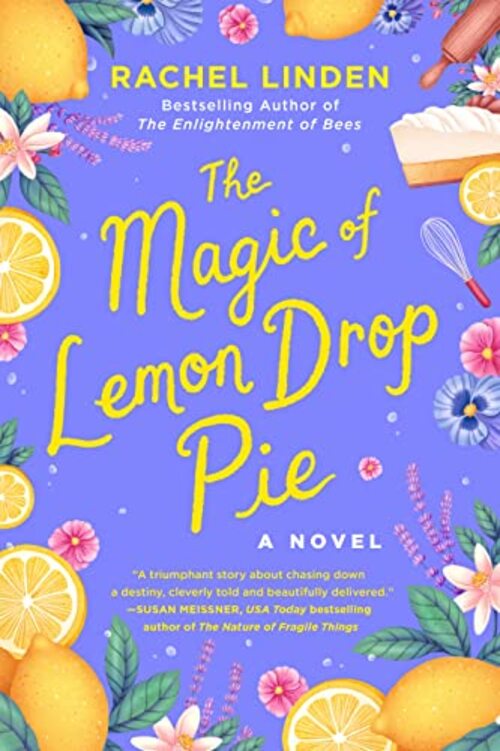 Lolly Blanchard's life only seems to give her lemons. Ten years ago, after her mother's tragic death, she broke up with her first love and abandoned her dream of opening a restaurant in order to keep her family's struggling Seattle diner afloat and care for her younger sister and grieving father. Now, a decade later, she dutifully whips up the diner's famous lemon meringue pies each morning while still pining for all she's lost.
As Lolly's thirty-third birthday approaches, her quirky great-aunt gives her a mysterious gift—three lemon drops, each of which allows her to live a single day in a life that might have been hers. What if her mom hadn't passed away? What if she had opened her own restaurant in England? What if she hadn't broken up with the only man she's ever loved? Surprising and empowering, each experience helps Lolly let go of her regrets and realize the key to transforming her life lies not in redoing her past but in having the courage to embrace her present.
Women's Fiction [Berkley, On Sale: August 2, 2022, Trade Size / e-Book, ISBN: 9780593440193 / eISBN: 9780593440193]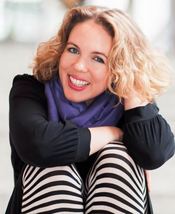 Rachel Linden spent her childhood in a magical world of make-believe, enjoying countless hours playing pioneer house under a towering blue spruce tree, mixing potions for enchantments, and pretending to be a member of the French Resistance in WWII. These early adventures prompted her to write stories with such exciting titles as Beans!, which she fashioned into books bound in cardboard from cereal boxes.
Rachel's taste for adventure and her interest in the world led her to a career as an international worker with a faith-based charity, and her experiences living and traveling in forty-seven countries around the globe continue to provide excellent grist for her stories.
Rachel holds a BA in Literature from Huntington University, an MA in Intercultural Studies from Wheaton College, and studied creative writing at Oxford University in England during her undergraduate education. She currently splits her time between Seattle, Washington, and Budapest, Hungary, where she lives with her husband and son on the banks of the Danube River.
When she is not dreaming up a new story, Rachel spends her time traveling on trains across Central Europe with her family, enjoying good food and wine with friends from around the world, and exploring the natural beauty of the Pacific Northwest and the history and architecture of Europe.
No comments posted.