1--What is the title of your latest release?
2--What's the "elevator pitch" for your new book?
A psychic on the verge of stardom who isn't sure she believes in herself and a cynical journalist with one last chance at redemption are brought together by secrets from the past that also threaten to tear them apart.
3--How did you decide where your book was going to take place?
I live in the Pacific Northwest. It's gorgeous but also rainy a lot of the winter with an inversion layer that creates an eerie atmosphere at times. It seemed like the perfect place for a psychic-medium to grow up!
4--Would you hang out with your heroine in real life?
I would definitely hang out with Sylvie! I'm obsessed with psychics, tarot card readers, mediums and palm readers. I'd want to ask her everything about her gift, the process of connecting to those who've passed, and to prove that she's legitimate by telling me a secret I've never shared with anyone.
As for Thomas, I love a good debate and to hear the other side of any argument. If we hung out, he'd provide the logic and balance I sometimes need when my imagination gets out of control. And, if I was single, he'd be my kind of guy—brilliant, nerd-sexy, and compassionate.
5--What are three words that describe your hero?
Empathetic. Courageous. Psychic.
6--What's something you learned while writing this book?
While researching and writing SOME OF IT WAS REAL, I watched every reality show about psychics, from Tyler Henry's series to the Seatbelt Psychic. It's so fascinating to watch psychics work, but also to see how, whether they're legit or not, the power they wield. In the end, I learned that their true gift is providing a way for people at a crossroads in life or struggling with grief to move on.
7--Do you edit as you draft or wait until you are totally done?
I usually write for three or four hours, take a break to get some exercise or play with my dog, and then edit what I've written. But the BIG edit doesn't happen until I have the entire story on paper. And then I edit again and again and again… because, for me, that's where the magic happens.
8--What's your favorite foodie indulgence?
I'm a huge fan of food carts! My favorite is Korean Mexican BBQ. I've been a vegetarian for decades and love creative combinations!
9--Describe your writing space/office!
Up until a few years ago, I had a tiny desk in the corner of our living room. I've never needed much space. Just some quiet and distance from a window (I'm easily distracted!). But recently my husband built a writing shack for me. It's a gift to have somewhere to go, instead of writing in our home, and I've discovered the joy of being able to stick post-it notes EVERYWHERE.
10--Who is an author you admire?
There are so many!!!! Stephen King, Andrea Bartz, Mary Doria Russell, Tracey Garvis Graves, Rebecca Serle, Colleen Oakley, Erica Ferencik, Eliza jane Brazier, Jennifer Egan, TJ Klune, Taylor Jenkins Reig, Andy Weir, Tana French… I could go on and on!
11--Is there a book that changed your life?
There are so many that have really impacted me so I'll just name a few! For Whom The Bell Tolls. The Stand. The Sparrow. King Rat. The Invisible Life of Addie Larue. The Book of M. Heart Shaped Box. Station Eleven…
12--Tell us about when you got "the call." (when you found out your book was going to be published)
I was SO nervous!!! Kerry Donovan at Berkley Publishing called to talk about SOME OF IT WAS REAL and I think I blacked out a lot of the conversation. It's such a surreal experience hearing an editor you admire say terrific things about your book. I think I just said thank you a million times and then it took about a week for it to sink in that my adult debut novel was going to be published!
13--What's your favorite genre to read?
I really don't have one. I like to mix things up. Historical fiction, horror, upmarket fiction, rom coms, true survival stories… I'm open to anything!
14--What's your favorite movie?
Lately I'm more into series and Station Eleven BLEW ME AWAY. The acting, depth of characters, storyline and costumes were unbelievable. I watched it twice!!
15--What is your favorite season?
Fall. I live in Oregon so those last days of summer, before the rain falls and gray skies become the norm, are so precious.
16--How do you like to celebrate your birthday?
My favorite birthdays are the ones I spend with my husband and our dog. We try to either kitesurf or go for a bike ride and then we take Boone (our Vizsla whose name is ALWAYS in every book I write) to the beach for a swim.
17--What's a recent tv show/movie/book/podcast you highly recommend?
Right now I'm fascinated by the Netflix show Drive to Survive. Who knew that Formula One racing was so interesting. It details the lives of the drivers, the strategies of the CEOs and takes me around the world.
18--What's your favorite type of cuisine?
Italian! If I could survive only on bread and pasta I would do it!
19--What do you do when you have free time?
I love to play outside—kitesurfing and biking with my husband, Henry, and hiking with Boone. I've also recently started to paint with watercolors.
20--What can readers expect from you next?
My next novel, also with Berkley, will be published in August 2023. It's a story about a woman named Constance who says yes to everything, including a proposal from her boyfriend, Hayden, who she hasn't been dating for that long.
Constance discovers that her antique engagement ring was designed by a man who once wrote letters home from World War I that were turned into a book after his death that's now housed in the Special Collections section of her library. She goes to read the letters and, inspired by their candor, writes a note to the author about trepidations concerning her fiancé.
When Constance returns to the library to read more of the letters, she finds that the long-deceased author has written her back. Soon she's questioning everything in her life and falling in love with a dead man…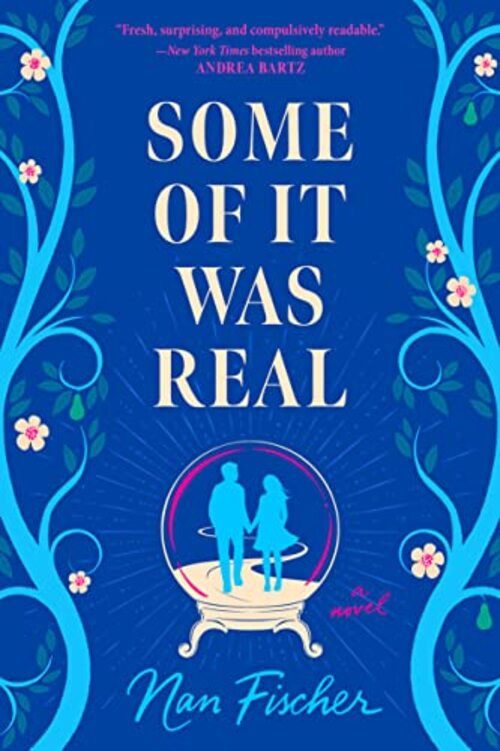 A psychic on the verge of stardom who isn't sure she believes in herself and a cynical journalist with one last chance at redemption are brought together by secrets from the past that also threaten to tear them apart.
Psychic-medium Sylvie Young starts every show with her origin story, telling the audience how she discovered her abilities. But she leaves out a lot—the plane crash that killed her parents, an estranged adoptive family who tend orchards in rainy Oregon, panic attacks, and the fact that her agent insists she research some clients to ensure success.
After a catastrophic reporting error, Thomas Holmes's next story at the L.A. Times may be his last, but he's got a great personal pitch. "Grief vampires" like Sylvie who prey upon the loved ones of the deceased have bankrupted his mother. He's dead set on using his last-chance article to expose Sylvie as a conniving fraud and resurrect his career.
When Sylvie and Thomas collide, a game of cat and mouse ensues, but the secrets they're keeping from each other are nothing compared to the mysteries and lies they unearth about Sylvie's past. Searching for the truth might destroy them both—but it's the only way to find out what's real.
Women's Fiction Family Life [Penguin, On Sale: July 26, 2022, Paperback / e-Book, ISBN: 9780593438695 / eISBN: 9780593438701]
A graduate of Cornell University and former Traveling Writer for Ringling Bros. and Barnum & Bailey Circus and Senior Campaign Writer for The University of California, San Francisco, Nan's articles have appeared in Harper's Bazaar, Reese Witherspoon's Hello Sunshine, The Huffington Post, Powell's Book Blog, YA Books Central, Germ Magazine, Hypable, and School Library Journal.
Nan lives in the Pacific Northwest with her husband, Henry, and sometimes vorpal, but always lovable, Vizsla, Boone. When she's not conjuring a story or reading, Nan can be found hiking, biking, kitesurfing, skiing or planning her family's next adventure.
No comments posted.