Excerpt from Chapter 1
Beth
He looks at me with what appears to be great effort. Like he was about to nod off into a heavy, much-needed nap when I interrupted. He doesn't look too bothered. Not like he might were I a car smashing through his fence. See that, Mom?
I take my hand off the Nikon's focus ring and give him a friendly wave. Hopefully he doesn't find it creepy that I'm peering over his fence with a camera in hand. Why am I still holding the camera, anyway?
"Hi?" he says as if he isn't sure I'm even real.
"I thought I was all alone out here." I gesture vaguely at the world around us. Told you I'm a liar. "Seems like everybody else on the street already jumped ship for the season. Winter is coming."
"Call it a slack tide," he says with a somber nod. "We're between holidays, the kids are back in school, the weather's just starting to turn, but the storm watchers won't start arriving for another month. There aren't many year-rounders here." He pokes at the logs with an old hot dog skewer that's coated in rust. The sight of those warm embers sends a ripple of gooseflesh down my legs. Shorts and a hoodie are fine during the day, but the evening chill arrives fast and sharp as a switchblade in a dark alley.
"I've been here for a week," I say, hugging myself to keep from shivering. "This is the first time I've seen you. Just get in?"
"No, I've been here. I don't go out much."
"On vacation? Taking advantage of the quiet?"
"Something like that." The man is a wellspring of information.
"Well, now that you know I'm here, and we both know that we're alone, I suppose I have to wonder if you're going to try to murder me." I say it with a smile and a well-practiced, awkward half wink. He doesn't return them. Jake paces behind me, nails clicking on the composite decking. He clearly disapproves of my choice to engage this man, whose name I don't even know, and definitely disagrees with my pointing out that we're alone and murderable.
"I'm not going to murder you," the man deadpans. It's not particularly reassuring. Maybe Jake is right. After all, he's lived here longer than me. And dogs know things.
But my eyes are drawn back to that Solo cup, and the bottle he filled it from.
"I know you're not going to," I say. "I'd kick your ass from here to Sunday. What I said was 'if you try.' "
Finally he smiles. I feel like a thief who just found the family vault behind an old tapestry. Now it's time to crack it.
"I'm not going to try either," he says.
"Okay, then. How about you prove it and invite me over for a drink like a proper gentleman?" I'm putting on the act now. Slipping into character as easily as a comfortable pair of pajamas. It's a familiar performance that always gets me where I want to go, and never where I need to be.
"Isn't that exactly what I'd do if I were intending to murder you, though?" he asks, eyes narrowed quizzically. He's having fun with it now. I'm in. I can almost see Mom shaking her head in disappointment.
I shrug and look off toward the ocean, feigning second thoughts. I hear the foamy surf crash, roll up the sand, then recede. It's hypnotizing, that eternal, narcotic rhythm. For a moment, I forget what I'm doing. What I want. Another second or two, and the window of opportunity will close. He'll say look at the time, it was nice to meet you, and have a good night, and I'll go run a bath and fall asleep in front of the TV. We'll probably never talk again.
Would that be so bad? I know what will happen if he invites me to the other side of this fence. I know every line, like a show I've watched too many times.
"I suppose you're not wrong," I say, shooting him a mischievous side-eye. "But what the hell? I could use a little excitement in my life."
He laughs this time. Then darkens, as quickly as that surf retreats into the depths. He stares down into his cup as if reading the sediment. Determining his fate. I feel my tires slipping. Engine surging. He looks back at me, having caught a glimpse of headlights as I slide off the road and careen straight at him. This is his last chance. To save himself. To save us both.
"Why don't you come over?" he asks. "Have a drink with me?"
Copyright © 2022 by Kevin C. Jones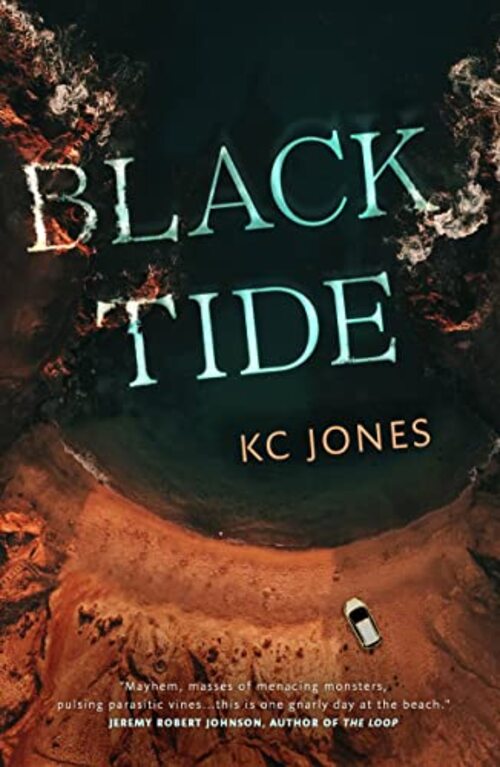 It was just another day at the beach. And then the world ended.
Mike and Beth didn't know each other existed before the night of the meteor shower. A melancholy film producer and a house sitter barely scraping by—chance made them neighbors, a bottle of champagne brought them together, and a shared need for human connection sparked something more.
After a drunken and desperate one-night stand, the two strangers awake to discover a surprise astronomical event has left widespread destruction in its wake. But the cosmic lightshow was only part of something much bigger, and far more terrifying.
When a set of lost car keys leaves them stranded on an empty stretch of Oregon coast, when their emergency calls go unanswered and inhuman screams echo from the dunes, when the rising tide reaches for their car and unspeakable horrors close in around them, these two self-destructive souls must band together to survive a nightmare of apocalyptic scale.
Science Fiction Suspense/Thriller | Horror [Tor Nightfire, On Sale: May 10, 2022, Trade Size / e-Book, ISBN: 9781250792693 / eISBN: 9781250792709]
No comments posted.