1--What is the title of your latest release?
2--What's the "elevator pitch" for your new book?
ML&DP is about a vigilante baker who kills bad men with good pies. In TV terms, it's Pushing Daisies meets Dexter.
3--How did you decide where your book was going to take place?
The book is set in a fictional Massachusetts college town because I wanted a cozy and politically progressive place to for my murder girl to set down roots.
4--Would you hang out with your sleuth in real life?
Absolutely! Why would I not when murder and pie is on the menu??
5--What are three words that describe your sleuth?
Whimsical, fashionable, and murdery
6--What's something you learned while writing this book?
That titles are incredibly hard to come up with!! ML&DP started life as PIES BEFORE GUYS but I had to come up with a bunch of alternative options when the publisher wanted to change it. (And I still mostly just call it 'the murder pie book'!)
7--Do you edit as you draft or wait until you are totally done?
Draft first, then edit. I'm an outliner, so the actual drafting can go pretty quick if I'm not tinkering with it as I go. I find it's best to stay out of my own way!!
8--What's your favorite foodie indulgence?
Pie, of course!
9--Describe your writing space/office!
It is my completely unglamorous kitchen island that can only accommodate stools, so writing usually has me perched there like a demented gargoyle surrounded by teapots and notebooks. It's a whole mood!
10--Who is an author you admire?
Ooh, there's so many! I admire Chuck Wendig's voice and ability to write across genres and no one does twists quite like Clare Mackintosh. Alexis Hall is one of the few writers who can make me literally laugh out loud while reading and Talia Hibbert is a master at writing characters you want to be friends with. And Stephen Graham Jones can write endings that absolutely gut you – I'm still chasing something that even comes close to the emotional kick in the teeth that THE ONLY GOOD INDIANS closed with.
11--Is there a book that changed your life?
Haha yes, but not in a good way!! Let's just say reading Stephen King's NIGHTSHIFT in fourth grade was not the best decision ever!
12--Tell us about when you got "the call." (when you found out your book was going to be published)
When I first signed with my agent, any calls we had were scheduled by email, so when I started getting calls out of the blue, I knew it was time to be excited!
13--What's your favorite genre to read?
I read widely across genre, but crime is what I always come back to.
14--What's your favorite movie?
Princess Bride and Silence of the Lambs - which I think says everything you need to know about me!
15--What is your favorite season?
Fall, of course!
16--How do you like to celebrate your birthday?
By pretending it doesn't exist. I'm not a fan of making a spectacle of myself, so I prefer to pass over it in silence.
17--What's a recent tv show/movie/book/podcast you highly recommend?
I'm a chronic re-watcher when it comes to TV so most of my favs are out of date, but Killing Eve just ended and I'm definitely sad to see it go (especially since the last season was… a bit dodgy).
For books, I just finished an ARC of Nadine Matheson's THE BINDING ROOM and it was excellent – if you haven't read THE JIGSAW MAN, now's your chance to get caught up so you're ready for the next installment!
On the lighter side, if you were a fan of Buffy, you definitely don't want to miss Lily Anderson's BIG BAD – it's the absolutely best nostalgic comfort read, which this far into the pandemic is something we all need!
18--What's your favorite type of cuisine?
Carbs in all their glorious and varied global iterations.
19--What do you do when you have free time?
Panic?? And make dresses. Usually at the same time.
20--What can readers expect from you next?
The sequel to ML&DP will be out February 2023 and is basically murder at the Great British Bake Off. I'll be sharing the title and cover soon, so follow on Twitter for updates!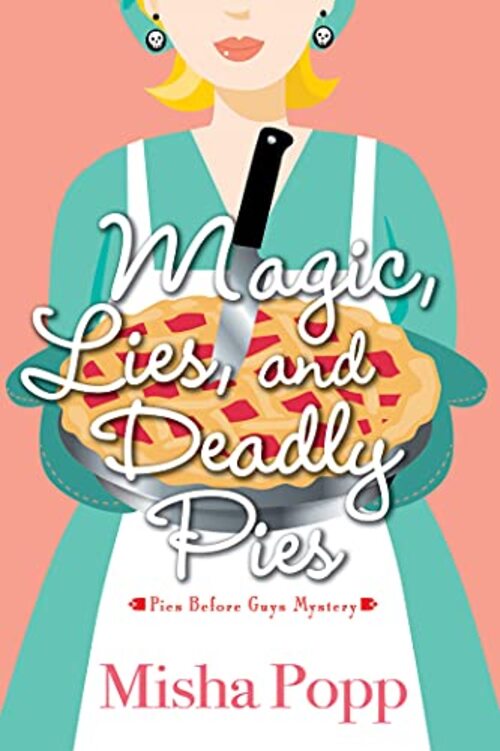 The first time Daisy Ellery killed a man with a pie, it was an accident. Now, it's her calling. Daisy bakes sweet vengeance into her pastries, which she and her dog Zoe deliver to the men who've done dirty deeds to the town's women. But if she can't solve the one crime that's not of her own baking, she'll be out of the pie pan and into the oven.
Parking her Pies Before Guys mobile bakery van outside the local diner, Daisy is informed by Frank, the crusty diner owner, that someone's been prowling around the van—and not just to inhale the delectable aroma. Already on thin icing with Frank, she finds a letter on her door, threatening to reveal her unsavory secret sideline of pie a la murder.
Blackmail? But who whipped up this half-baked plot to cut a slice out of Daisy's business? Purple-haired campus do-gooder Melly? Noel, the tender—if flaky—farm boy? Or one of the abusive men who prefer their pie without a deadly scoop of payback?
The upcoming statewide pie contest could be Daisy's big chance to help wronged women everywhere…if she doesn't meet a sticky end first. Because Daisy knows the blackmailer won't stop until her business is in crumbles.
Mystery Culinary | Mystery Cozy [Crooked Lane Books, On Sale: May 10, 2022, Hardcover / e-Book, ISBN: 9781643859958 / eISBN: 9781643859965]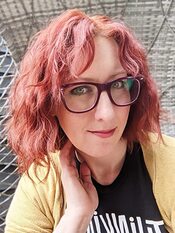 Misha Popp enjoys writing about murdery women and over-the-top baked goods, but not so much about herself. She lives in rural Massachusetts where she bakes entirely too many pies and sculpts things out of chocolate. An unrepentant school nerd, she has a collection of degrees that have nothing to do with the jobs that pay her.
No comments posted.