1--What is the title of your latest release?
2--What's the "elevator pitch" for your new book?
If you're interested in historical mysteries with feisty women protagonists, this is the book for you!
3--How did you decide where your book was going to take place?
I grew up and live in Bangalore, India, which is my favorite city. I've lived in many parts of the world, but always chose to return here. My academic research (in my day job as an ecologist and university professor) is also focused on Bangalore, and I have fifteen years of research to draw on, plus my own family's rich personal experience. With such a wealth of information, there was nowhere else I would have located the book!
4--Would you hang out with your sleuth in real life?
Absolutely. Kaveri is such a mold-breaker. She lives in colonial India, in a time and place when 'good' women were expected to conform to societal norms and expectations that kept them in their place, i.e. mostly within the home. But she's a budding mathematician who loves swimming and driving cars, gets involved in solving a murder, and blazes her own path. What's not to love?
5--What are three words that describe your sleuth?
Spunky. Kind. Intelligent.
6--What's something you learned while writing this book?
How to scatter backstory in through the plot, instead of providing it in large page-long lumps. That's something I really struggled with in this book, but I find it so much easier now that I'm writing book two in the series, and have a better grasp of the technique.
7--Do you edit as you draft or wait until you are totally done?
I wait till I'm totally done. I have a little "Things to do" file where I jot down any ideas for edits that occur to me along the way. But I need to get to the end before I can edit. It's only when I have a complete draft in hand that I can see how the various plot threads should come together. At that point, it's easy to identify which part of the book needs to be connected with another plot point elsewhere, where it's getting too straightforward and red herrings need to be introduced, where I've left a dangling plot thread that I've forgotten to close out, and stuff like that. If I edited as I wrote, I think I'd never get done. I'd just keep editing.
8--What's your favorite foodie indulgence?
Dark chocolate, in all forms. Chocolate bars, cake, brownies, fudge, fondue, ice cream… everything!
9--Describe your writing space/office!
My home office is on the second floor of our house. It has a large wooden table that runs across the long end of the room, which is great, as you can stack multiple books and reference papers along the length of the desk, and never run out of space. The wall behind me has three large maps, fixed to the wall with tape, of Bangalore in 1890, 1970 and 2000. In front of me is a large window, and outside the window is a large silver oak tree. Squirrels play and fight on its branches, a coucal (crow pheasant) walks up and down while displaying its magnificent chocolate plumage, and a golden oriole sometimes drops by, tapping imperiously at the window and making its harsh scolding call. When I'm saturated with writing and need a break, all I need to do is look at the tree in front, or the maps behind to feel refreshed.
10--Who is an author you admire?
Robin Hobb. I am an absolute fan of her Farseer series. The way she writes characterization and setting is unsurpassed.
11--Is there a book that changed your life?
Way back in college, it would have to be Zen and the Art of Motorcycle Maintenance –which got me reflecting about that elusive trait called "quality", how difficult it was to define, and yet how important it was to aspire towards it.
12--Tell us about when you got "the call." (when you found out your book was going to be published)
My terrific agent, Priya Doraswamy of Lotus Lane Literary, is an old and dear school friend whom I've known for over forty years. She is also from Bangalore, and really 'got' the book from the start - and I'm so fortunate she did, as she was the best possible advocate for it. She was as excited as I was when she found out that Little, Brown had made us an offer for world rights. She's in the US, I'm in India, and the publishers are in the UK – so when she called me to give me the news, she was coordinating across three different time zones. It was crazy! And so wonderful. I was jumping up and down with my phone in my hands.
13--What's your favorite genre to read?
Cozy mysteries. Second-favorite – fantasy!
14--What's your favorite movie?
An old classic, The Sound of Music. I must have watched it dozens of times, and it never fails to enthrall.
15--What is your favorite season?
Spring, without question. The flowers are in bloom and the streets of Bangalore look so beautiful, adorned with purple Jacaranda, pink Tabebuia and scarlet Gulmohar blossoms. The butterflies are abuzz, and the birds in full throated song. It's a little hotter than it used to be (thank you climate change!) but still, undoubtedly, the best season of them all.
16--How do you like to celebrate your birthday?
Spend the day with my family, cooking, eating, and watching a movie at home.
17--What's a recent tv show/movie/book/podcast you highly recommend?
I've really enjoyed watching The Wheel of Time with my husband. I loved the books, and as a long-time fan, I'm thrilled that they got the look and feel of the series right.
18--What's your favorite type of cuisine?
I'm a foodie, and will eat and enjoy all kinds of cuisine, if it's vegetarian. But my favorite cuisine is south Indian, the food I grew up eating at home. It's comfort food, and what we eat most days at home.
19--What do you do when you have free time?
My day job is hectic, and between that and my writing, it doesn't leave me with a lot of free time. What I do get is so highly valued. I read (of course), hang out with my daughter and husband, and play a classical Indian string instrument called the veena – though I don't get to do as much of the last as I would like to these days.
20--What can readers expect from you next?
The second book in the Kaveri series, which will be out in the summer of 2023 – featuring more adventures of the characters in THE BANGALORE DETECTIVES CLUB, as they start working to solve a new murder.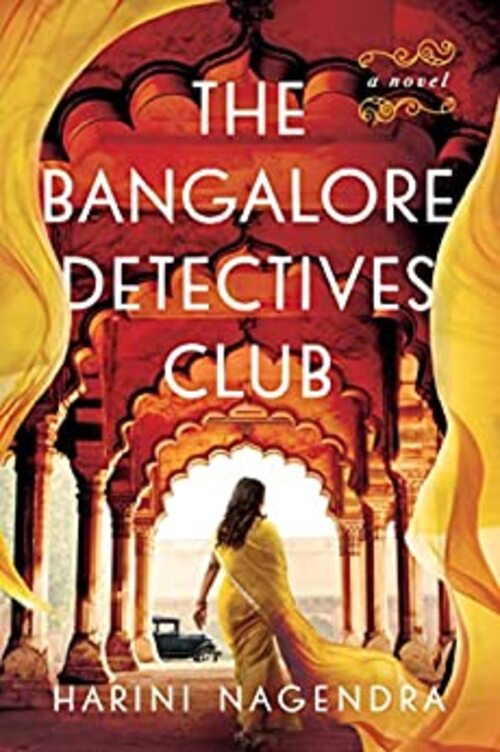 The first in a charming, joyful crime series set in 1920s Bangalore, featuring sari-wearing detective Kaveri and her husband Ramu. Perfect for fans of Alexander McCall Smith's The No. 1 Ladies Detective Agency.
When clever, headstrong Kaveri moves to Bangalore to marry handsome young doctor Ramu, she's resigned herself to a quiet life.
But that all changes the night of the party at the Century Club, where she escapes to the garden for some peace and quiet—and instead spots an uninvited guest in the shadows. Half an hour later, the party turns into a murder scene.
When a vulnerable woman is connected to the crime, Kaveri becomes determined to save her and launches a private investigation to find the killer, tracing his steps from an illustrious brothel to an Englishman's mansion. She soon finds that sleuthing in a sari isn't as hard as it seems when you have a talent for mathematics, a head for logic, and a doctor for a husband . . .
And she's going to need them all as the case leads her deeper into a hotbed of danger, sedition, and intrigue in Bangalore's darkest alleyways.
Mystery Historical | Mystery Woman Sleuth [Pegasus Crime, On Sale: May 3, 2022, Hardcover / e-Book, ISBN: 9781639361595 / ]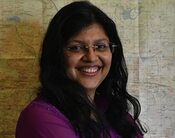 Harini Nagendra is a professor of ecology at Azim Premji University, and a well-known public speaker and writer on issues of nature and sustainability. She is internationally recognized for her scholarship on sustainability, with honors that include the 2009 Cozzarelli Prize from the US National Academy of Sciences, the 2013 Elinor Ostrom Senior Scholar award, and the 2017 Clarivate Web of Science award for interdisciplinary research in India.
Her non-fiction books include Nature in the City: Bengaluru in the Past, Present and Future, and two books co-authored with Seema Mundoli – So Many Leaves, and Cities and Canopies: Trees in Indian Cities, which received the 2020 Publishing Next Awards for best English non-fiction book in India, and was featured on the 2021 Green Literature Festival's honor list. The Bangalore Detectives Club is her first crime fiction novel.
Harini lives in Bangalore with her family, in a home filled with maps. She loves trees, mysteries, and traditional recipes.
No comments posted.