Philippa Kirkpatrick has been raised at a castle by a duchess. I'm all about the details. Can you explain Philippa's position a little bit?
Philippa came to Carlyle Castle as a young child, when her widowed father married the Duke of Carlyle's sister. She was raised at the castle, doted on by the Carlyle family. Her father died when she was a teenager, and then her stepmother, leaving her as the ward of the duke's mother, the Duchess. The duchess has no other grandchildren and believes she never will; she loves Philippa as a granddaughter and made Philippa her sole heiress (and the duchess was a wealthy woman before she married a duke). As the duchess is elderly, and the duke is unable to run things himself, Philippa gradually becomes the lady of the estate, which she takes to and is determined to do well. The duchess trusts and relies on her completely, which means Philippa has to handle the troublesome new steward, William Montclair, herself.
The description for ALL THE DUKE I NEED doesn't paint a detailed picture of Will. How would you describe him to readers? Charming and easygoing? Serious and a total boy scout good guy?
Will is Westley from The Princess Bride crossed with Will Turner from Pirates of the Caribbean. He's an adventurer with a curious mind who thrives on a challenge and prefers to think on his feet. He is not a boy scout, but his heart is always in the right place, and he's not above breaking a few rules if he thinks they're wrong. He has a strong sense of justice, fairness, and equality. That said, he's also a bit of a scamp, with a sense of humor and a love of pranks.
How would you describe the dynamic between this hero and heroine?
Boss/employee. Philippa isn't technically his boss, but she might as well be, and they both know it. That doesn't mean Will can stop flirting with her, and it doesn't mean she can disapprove of his unconventional methods of… everything. Philippa has the upper hand in just about every regard, but Will is determined to learn his job from top to bottom, missing nothing in between, and she really comes to admire that about him—just as he is continually impressed by her.
How much, if any, historical research goes into your books? Are you a history buff?
It depends! Sometimes a mountain, sometimes only a small hill. I do love history, and I love to tuck in strange-but-true pieces into my books. For this book I read a great deal about India, where Philippa is from, but also about the American shipping industry post-Revolution and some of the zanier schemes of pre-Revolution France and bridge-building techniques from the 1700s, plus several early eighteenth- century novels like Gulliver's Travels and The Adventures of Roderick Random. I aim for possible and plausible, but freely admit to tweaking details and glossing over bits to make the story work. Almost everything I mention in my book—from jewelry to paintings to houses—is based on a real thing I found in research.
If you could only pick one of your books, other than this one, to a romance reader unfamiliar with your work, which one would you pick? And why?
I usually tell people to start with something short, just in case: try I LOVE THE EARL, which is a novella that sets up a previous series of mine (The Truth About the Duke). It's a very loose twist on Pride and Prejudice, and I had a blast writing it, under intense time pressure so I couldn't overthink every detail. If you enjoy that one, there's a good chance you'll enjoy the rest of my work.
Other authors I've interviewed have told me that the kinds of books they enjoy reading are different from the kind of books they enjoy writing. What do you like to read? Favorite books? Favorite author?
My favorite reading at the moment is thrillers. I like gritty detective procedurals where lots of people get shot and the protagonist details every bite of food he eats, like John Sandford and Nick Petrie and Glen Erik Hamilton, but always and especially Lee Child's Jack Reacher (I would like to take this moment to thank Amazon Prime for the REACHER show, with a Reacher who is appropriately tall and violent). It's just SO different from what I write, there's no danger of anything noticeable bleeding through into my own books.
What are you currently working on?
ALL THE DUKE I NEED is the last in the Desperately Seeking Duke Trilogy, although there will be a big series epilogue this summer, to tie up all the little bits that wouldn't fit into the books. I'm still adding scenes to that. I also just finished a holiday novella for a collection coming out next October, and now I'm starting from scratch on new ideas! It's both exciting and scary to wipe the slate clean, leave the characters you spent 2-3 years getting to know, and begin something completely new.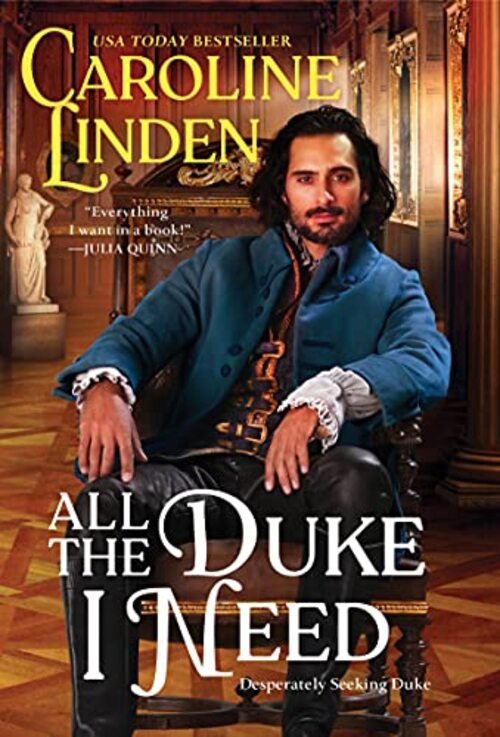 The third book in the clever, sexy Desperately Seeking Duke series from USA Today bestselling and RITA Award–winning author Caroline Linden.
Raised in the splendor of Carlyle Castle by her doting guardian, the Duchess of Carlyle, Philippa Kirkpatrick is one of the greatest heiresses in England. The duchess is eager to see her wed, but Philippa hesitates to leave the only home she knows.
William Montclair is in London to expand his family's trading firm, with little progress. Impulsively he takes a job managing the Carlyle estate—for the money, he tells his incredulous brother, and only for a year.
Philippa is shocked by the handsome, scandalously bold new steward. It's all she can do to prevent the horrified duchess from sacking him on sight. She determines to teach him how to love Carlyle as she does, only to find herself reluctantly charmed by the rogue.
It's true; Will is falling for everything about Carlyle…including the duchess's beautiful ward. But he has promises—and secrets—to keep, and telling Philippa would resurrect a devastating family scandal. Not telling her, though, means he must break her heart—and his own.
Romance Historical [Avon, On Sale: April 26, 2022, Mass Market Paperback / e-Book, ISBN: 9780062913661 / eISBN: 9780062913678]
Family scandal keeps an heiress and an estate manager's love imperiled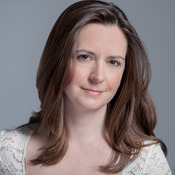 Caroline Linden knew from an early age she was a reader, but not a writer. Despite an addiction to Trixie Belden and Nancy Drew, she studied physics and dreamed of being an astronaut. She earned a math degree from Harvard College and then wrote software for a financial services firm, all the while reading everything in sight but especially romance. Only after she had children, and found herself with only picture books to read, did she begin to make up a story of her own. To her immense surprise, it turned out to be an entire novel--and it was much more fun than writing computer code. Now the author of five books, she lives with her family in New England.
No comments posted.