1--What is the title of your latest release?
EVERYTHING WITHIN AND IN BETWEEN
2--What is it about?
EVERYTHING WITHIN AND IN BETWEEN is about Ri, who tries to learn Spanish to reconnect with her absent mother and Mexican heritage, but who is hiding her efforts from her strict grandmother—who has kept her from both.
3--What do you love about the setting of your book?
I love that the setting is in Santa Barbara, the beautiful beach town where I live that is often referred to as the "American Riviera," because the geography and climate share similarities to areas along the French coast of the Mediterranean Sea. EWIB prominently features one of my favorite beaches and some of the beautiful architecture in Santa Barbara, such as the red-tile roofs, that I love as well.
4--How did your main character(s) surprise you?
I wrote about a main character whose mother is Mexican American and whose dad is white. She's trying to come to terms with her identity given her light skin and mixed heritage because that's something I've struggled a lot with, but I found Ri surprising in the scenes when she becomes incredibly angry with her grandmother for keeping her from learning about her heritage and their culture. Those aren't feelings I would have assumed I had, until writing this book and now reflecting on it.
5--Why will readers relate to your characters?
All of us, at some point or another, don't know where we fit in or belong, so I think readers will relate to characters who have those feelings.
6--What was one of your biggest challenges while writing this book (spoiler-free, of course!)?
I found it challenging to think deeply about how colorism has affected not only my family but our culture at large.
7--Do you look forward to or do you dread the revision process?
I look forward to it, for the most part, but then, when I'm in the thick of it and working on what feels like the millionth revision, I dread doing more!
8--What's your favorite snack to have on hand while writing?
I love eating all sorts of fruit, but I typically eat before writing so I'm not distracted. I don't really stop for anything while I write—or I try not to!
9--Where would you go for an ideal writer's retreat?
I'd go somewhere that's remote and surrounded by lots of greenery, preferably near a body of water, maybe in the mountains or on an island. It would ideally be abroad, and I would have adventures on my writing breaks.
10--What's the best piece of writing advice you've received?
One of my favorite pieces of advice is write the story that only you can. It should be meaningful to who you are as a person. You can do this in a number of ways, including creating stories about ideas, places, or concepts that are meaningful to you.
11--Who is the fictional character you want to hang out with the most? (anyone in literature!)
There are so many! Most of the ones I would choose have some kind of magical ability.
12--What's one of your earliest book memories?
I remember being a preteen and devouring Mary-Kate and Ashley books, so when my younger brother wanted me to read him bedtime stories, those are what I'd read. Except I'd get angry when he fell asleep, and I would wake him up and quiz him on what had happened in the book. (And if he didn't have the right answers, I'd threaten to not read to him anymore unless he paid better attention. I was mean!) He was always confused because he thought the point of a "bedtime" story was to read him to sleep. But I had other ideas, apparently!
13--If you had to write in a different genre, what would it be and why?
I've always wanted to write YA sci-fi or fantasy. I have an idea for a fantasy that I hope to flesh out soon.
14--What song will automatically put you in a good mood?
So many! But right now, I'd say "Closer" by Tegan and Sara. It always gets me moving faster, whether I'm jogging near the beach or dancing with my toddler.
15--What is your favorite way to practice self-care?
I love taking naps.
16--What can you eat and never get sick of?
Strawberries. I'll eat them until I get a stomachache.
17--Will you share a favorite, recent-ish book you recommend?
I adored THE INHERITANCE GAMES by Jennifer Lynn Barnes and even though it came out a year ago, I'm thinking about it now because I really want to read the recently released sequel, THE HAWTHORNE LEGACY. I love the suspense!
18--Do you have any hobbies?
I feel like reading doesn't count because it's part of my job, but I do it for fun, too, so I'm still going to say reading! And I jog, although I feel like that's a hobby I do mostly because it's good for me. Maybe I need some new hobbies!
19--Are you an early bird or a night owl?
I'm a night owl who has to wake up early and hates it!
20--What can readers expect from you next?
I'm working on a YA contemporary that I really hope to be able to share more about soon. It includes my typical staples of challenging family dynamics, characters learning about themselves and their families, grief, and a lot of heart. Plus, there are some strong found family and romantic elements in there. I'd also like to publish a YA fantasy that includes magical elements. Stay tuned!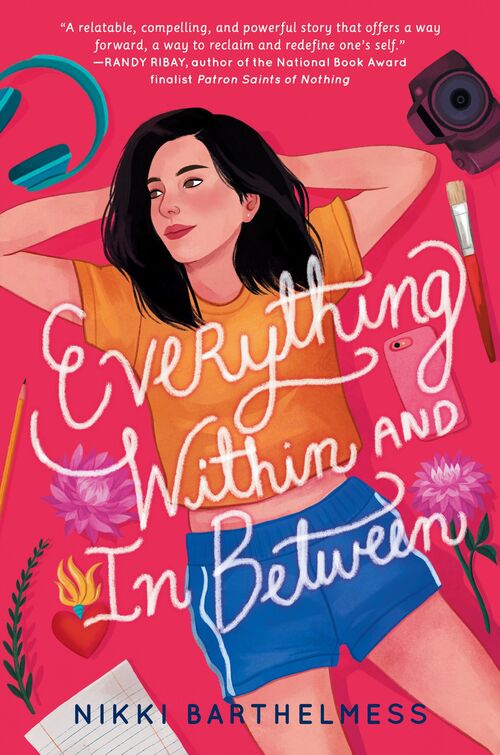 I Am Not Your Perfect Mexican Daughter meets Color Me In in Everything Within and In Between where Ri Fernández struggles to reclaim a heritage and a mother from her strict grandmother who has kept Ri away from both.
For Ri Fernández's entire life, she's been told, "We live in America and we speak English." Raised by her strict Mexican grandma, Ri has never been allowed to learn Spanish. What's more, her grandma has always pushed Ri away from the neighborhood they call home and toward her best friend's world of mansions and country clubs in the hopes that it'll bring Ri closer to achieving the "American Dream."
In her most private thoughts, Ri has always believed that her mother, who disappeared when she was young, would accept her exactly how she is. So when Ri finds a secret unanswered letter from her mom begging for a visit, Ri decides to reclaim what her grandma kept from her: a language and a mother. But nothing goes as planned. Her mom isn't who Ri imagined she would be. And Ri's struggling to navigate the different interweaving threads of her mixed heritage that make her who she is. Nobody has any idea of who Ri really is—not even Ri, herself.
Everything Within and In Between is a new deeply honest story about the bonds between families and defining who you are for yourself from acclaimed author Nikki Barthelmess.
Young Adult | Young Adult Coming of Age [HarperTeen, On Sale: October 5, 2021, Hardcover / e-Book, ISBN: 9780062976901 / eISBN: 9780062976925]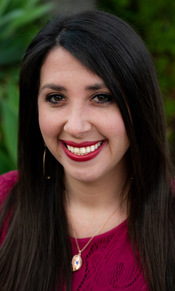 Nikki Barthelmess is an author of young adult books, including The Quiet You Carry, Quiet No More, and Everything Within and In Between. While growing up in foster care, Nikki found solace in books and writing. A former journalist, Nikki lives in sunny Santa Barbara with her husband, daughter, and a diva of a corgi. When not reading or working on her books, Nikki loves advocating for the rights of current and former foster youth, jogging near the beach, and trying to convince her abuelita that feminism means it's okay that her husband does all the cooking.
Photo Credit: Robby Barthelmess
No comments posted.