Beck watched the heavily gunned galleon sweep around the small isle, the wind filling its sails. After six months of patrolling the waters off the west coast of Scotland, Beck wouldn't let this chance of capturing the most notorious French pirate slip past him. If the bastard outgunned them, he would use some intimidation to slow him down until Cullen could attack the Borreau from the other side.
"Gavin," he yelled, "are the men ready?" Gavin's mouth dropped open, frozen, as he gazed past Beck. Beck pivoted on his boot in time to see… Eliza?
The woman wore sailor's clothing. No petticoats, but the breeches that she'd worn under her skirts. Tall boots hugged her shapely legs up past her knees. She wore a longish coat of wool and leather with an intricate braid trim, a white tunic, and a floppy hat over her hair. A crossbow swung by her side. She charged across the deck, Alice, who was also dressed in trousers, hurrying behind her with a lantern.
"Holy Lord," Rabbie said next to him.
"Beck," Drostan yelled, pointing at Eliza. As if he hadn't seen her. Half his men had stopped to stare at the lass as she leaped up onto the forecastle at the bow of the ship.
"Eliza," he called. He caught up to her and Alice where Eliza climbed onto the rail, wrapping one of her legs in the line to steady herself. "What are ye doing?"
Alice pulled a long dagger from her skirt, holding it before Beck so he couldn't advance on Eliza. Eliza swung around, pointing her nocked arrow directly at his chest. "Taking over your bloody ship, Macquarie, so I can save it."
Mo chreach! He had a crew of twenty armed men, and she thought she could just take over his ship? "First of all, I rescued ye from starving on that isle."
"And I am showing my appreciation," she said, "by preventing your certain death. Now give me space to do it, Macquarie." She met his gaze with a hard one of her own. In it, he saw fury and fear. What had she been through at Jandeau's hands?
"I will shoot you if I must," she said.
"Beck," Drostan yelled, pointing to the pirate ship skimming along the water with the wind. Jandeau's ship was gliding close enough that he could see the bastard standing along the rail, his beard regrown from when he'd shaved it as part of his disguise two years ago.
Men, young and old, stood ready along the rails, each with a blade or a gun. Two cages were suspended over them, one with a skeleton tied upright inside, bits of sinew dried to the poor bastard's bones. The other cage held a more intact corpse, his body slumped over. The tangy whiff of death tinged the breeze as Jandeau maneuvered the Borreau into a position of attack, aiming his cannons along his gunwale at the Calypso.
Beck leaped past Alice to stand next to Eliza. The rail pressed against his shins to keep him from falling into the narrowing space between the ships.
"You almost tipped the lantern," Alice yelled. "Burn the whole bloody ship down."
"Ye plan to take on the Borreau with one crossbow?" Beck asked.
"One lit with fire," Alice said, raising the lantern.
"It will do little damage on its own," he said, trying to remain calm. The woman thought she could take over his ship! The ship he'd spent a full year building. The ship he loved more than everything other than his family.
"'Tis a warning shot," Eliza said. Granite-hard determination in the set of her mouth showed no room for negotiation. "I plan to frighten him away."
Beck stared into her intense blue-gray eyes. "First off, Jandeau is not a coward." Especially when faced with twenty less guns. "Second, I want to capture him, not frighten him away." Beck reached toward her and felt the sting of a blade along the back of his hand. He looked down to see that she'd slid a dagger across it. Not deep, but blood swelled from it. Her warning shot to him.
Crossbow along her side, she held the bloodied dagger pointed at his throat. "We are on the leeward side," she said, "going against the wind in an attack. Whatever that ship is out there will not get here before Jandeau's heathens board to steal your ship, kill all the men, and take my children to sell or rape. Those swinging ropes along his side…" Beck knew they were there. "They are for sending at least half his fifty crewmen over here as soon as he's close enough. The swine will overrun us within minutes."
Her eyes snapped with fury. Teeth clenched, she leaned slightly closer to him. "I will not let that happen. You will have to kill me to get me down from here, because I would rather die than end up in the hands of that crew."
He could grab her and lock her in his cabin, although he'd likely suffer more bloodletting. Dammit. She was right about Jandeau stealing the children if he won against the Calypso. As much as Beck wanted to capture the French pirate, he wouldn't sacrifice children in the attempt.
Beck inhaled through his nose. "What is your plan?"
©Heather McCollum, Excerpt from The Highlander's Pirate Lass, Entangled Publishing August 2021. Shared with permission from the publisher.
The Brothers of Wolf Isle, #2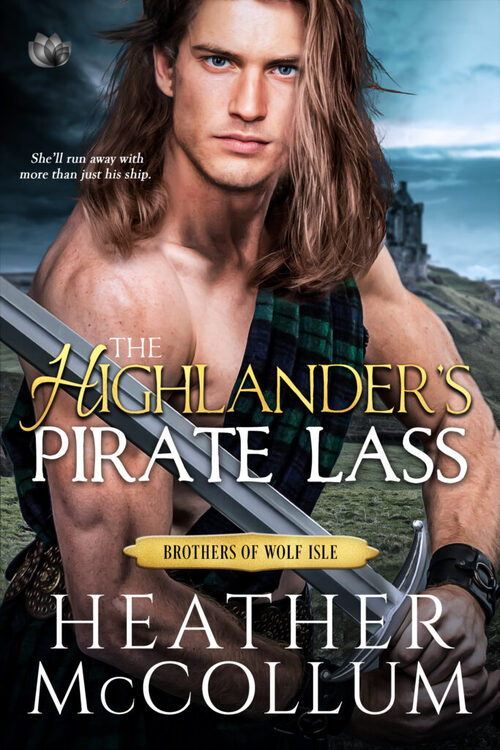 Beck Macquarie, captain of the Calypso and second brother to the Macquarie chief, patrols the waters off the shores of his clan's ancestral home, Wolf Isle. Always on the lookout for English, French, and pirates, Beck can't help his curiosity when a beautiful woman waves frantically to him from a deserted isle. After rescuing her and three children, he doesn't anticipate her changing into sailor's breeches and taking over his ship when a pirate ship comes into range.
Desperate to save her wards and herself from the clutches of the infamous pirate who desires her, Eliza Wentworth commandeers the Scotsman's ship. A renowned liar, she manages to bluff the pirate into not attacking. The taunt that he has something she will trade herself for, doesn't change her mission to find the captain and crew who rescued her when she was a child. When the Scotsman offers to help her after not apprehending her, she takes his offer. Besides, he is brawny, kind, and the perfect man to teach her about the pleasures that can be found in and out of his bed.
When Eliza learns that her pirate family has been captured by the English, she will do anything to save them. The regrets of her past are so heavy that she will even sacrifice the growing feelings she has for Beck in order to cleanse away her sins. With discovered blood ties to royalty in England, Eliza makes a deal with the English commander. To save her pirate family she must truly steal Beck's ship. But she doesn't anticipate Beck climbing aboard, with a fury as large as her need to complete her mission. Will he help her even though she has betrayed him too?
Romance Historical [Entangled: Scandalous, On Sale: August 23, 2021, e-Book, ISBN: 9781649371188 / eISBN: 9781649371188]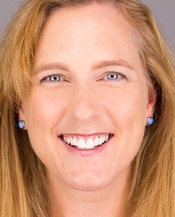 Heather McCollum is an award winning, historical romance writer. She is a member of Romance Writers of America and the Ruby Slippered Sisterhood of 2009 Golden Heart finalists. The ancient magic and lush beauty of Great Britain entrances Ms. McCollum's heart and imagination every time she visits. The country's history and landscape have been a backdrop for her writing ever since her first journey across the pond. When she is not creating vibrant characters & magical adventures on the page, she is roaring her own battle cry in the war against ovarian cancer. Ms. McCollum recently slayed the cancer beast and resides with her very own Highland hero, rescued golden retriever & 3 kids in the wilds of suburbia on the mid-Atlantic coast.
No comments posted.