1--What is the title of your latest release?
2--What is it about?
An accident-prone artist is rescued from a failed body cast art project by a sexy firefighter, only to discover he's going to be her new stepbrother! They have to help plan wedding parties together while fighting off the volcanic attraction they feel, but he's keeping a secret that could ruin everyone's happily ever after.
3--What do you love about the setting of your book?
It's set in the Mile High City, aka Denver, Colorado, the best place to live (I might be a little bias since I live here, lol).
4--How did your heroine surprise you?
She was much more afraid of love than I first thought.
5--Why will readers love your hero?
He's a Cinnamon Roll firefighter, what's not to love;)
6--What was one of your biggest challenges while writing this book (spoiler-free, of course!)?
Researching all the firefighting facts. I did interviews with firefighters and my own personal research, but as I've never been a firefighter, I'm sure I made a mistake somewhere (my apologies for any mistakes made).
7--Do you look forward to or do you dread the revision process?
I dread first edits because it bursts that little bubble you have when you see all the things you did wrong, but once you go in and start fixing them you realize how much better the story is!
8--What's your favorite snack to have on hand while writing?
Candy! Also (don't judge me) I love those little dehydrated yogurt puffs, the baby food ones. So tasty!
9--Where would you go for an ideal writer's retreat?
A cabin in the woods by a beautiful river or lake.
10--What's the best piece of writing advice you've received?
Don't compare your writing journey to others, everyone is on their own path.
11--Who is the fictional character you want to hang out with the most? (anyone in literature!)
Rachel Morgan from The Hollows Series.
12--What's one of your earliest book memories?
The first time I read an entire book by myself. It was Frog and Toad, and I was so proud of myself.
13--If you had to write in a different genre, what would it be and why?
Fantasy because that's what the very first book's I ever wrote were (no you can't see them, they're terrible and I've hidden them away in a drawer forever, lol)
14--What song will automatically put you in a good mood?
Cake by the Ocean (it's a sister thing).
15--What is your favorite way to practice self-care?
SNL called me out on this one…watch a murder show while taking a bath and sipping a martini.
16--What can you eat and never get sick of?
Spaghetti with parmesan!
17--Will you share a favorite, recent-ish book you recommend?
Act Your Age, Eve Brown by Talia Hibbert. I love all Hibbert's books, but this one was just *chef's kiss* so amazing!
18--Do you have any hobbies?
Aerials (specifically hoop and sling), music (ukulele mostly), infusing vodka, crochet, karaoke.
19--Are you an early bird or a night owl?
Night Owl.
20--What can readers expect from you next?
2 more sexy firefighter books coming your way. O'Neil's story is up next followed by Ward and Díaz's book!
Mile High Firefighters Book 1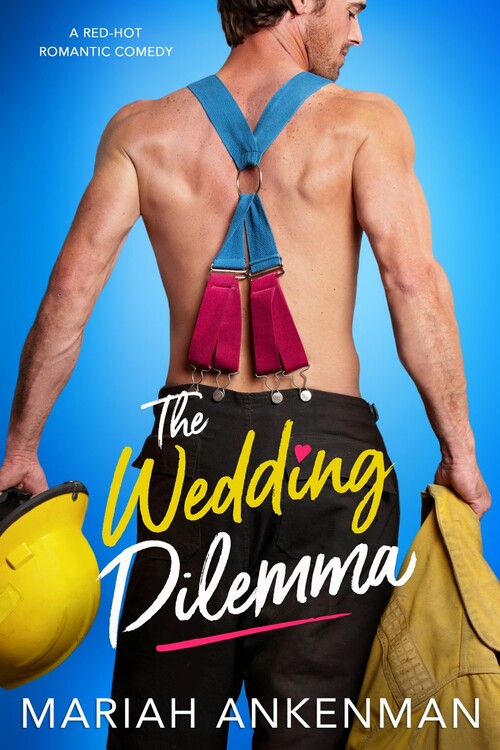 My life has always been pretty predictable. Run into burning buildings, save those in distress, be a hero. Shoot the shit with my fireman buddies, come home, and do it all again tomorrow. Little did I know that a random SOS call from a woman stuck in a plaster cast with nothing underneath (I swear I only caught a flash of skin) would throw me for a complete loop.
Until I see the flighty artist again. At my mom's engagement party. To her dad.
Suddenly the unpredictable woman I couldn't stop thinking about is my soon-to-be-stepsister. Yeah, the same one I mortified when I accidentally saw her a tiny bit naked. This should make family gatherings way more interesting.
Except when your mom's as loaded as mine is, you can never fully let your guard down when a guy comes sniffing around. So I can't help but be suspicious, even though his daughter's the perfect blend of beautiful and wild. As we spend more time together, prepping for our parents' wedding, we both agree that maybe there's nothing wrong with having a little bit of fun in the meantime. But if she knew I was investigating her dad on the side, she would never forgive me…
Romance Contemporary | Romance Comedy [Entangled: Amara, On Sale: May 17, 2021, e-Book, ISBN: 9781649371690 / eISBN: 9781649371690]
Bestselling author Mariah Ankenman lives in the beautiful Rocky Mountains with her two rambunctious daughters and loving husband who provides ample inspiration for her heart-stopping heroes.
Whether she's writing hometown heroes or sexy supernaturals, Mariah loves to lose herself in a world of words. Her favorite thing about writing is when she can make someone's day a little brighter with one of her books.
No comments posted.