Thank you so much for allowing me the pleasure of being on your blog, it's such an honor. I do hope everyone is having a fantastic holiday season! Enjoy this excerpt.
***
"Well hell, look who's decided to grace me with his presence again. Parker Jax. How the hell are you, man?"
After hugging the man at the bar, Parker grinned when he stepped back. "Better, Marc. How about you? Place is looking good."
Marc Chariz shrugged and looked Skylar over and flashed one of his signature and patented sexy smiles. Known all over the world to get women to drop their panties. Parker wanted to punch him.
"Marc, this is Skylar. Skylar Radford, the second-best damn Marine I've known, Marc Chariz."
Marc offered his hand and took hers with a smile. "You're a delightful pleasure for this place. Nice to meet you." The next second, he'd pulled her into a hug and whispered something into her ear. "You didn't do her justice when you told us about this stunning woman, my friend. I used to serve with this old codger. If I need a stand-in fiancée, can I hire you?"
Skylar laughed.
"Don't let her go, and we're no longer friends."
Marc released her hand with a chuckle.
She looked between them. "He knows the truth, Parker, we don't have to pretend around him. Besides, we said this wasn't a date. Now, I want to know who the first best Marine is that you know? It must be your father. You said he served."
Marc tipped his head back and released a full bodied laugh. "Good lord, I love this woman. When you tire of him, come back and I'll—"
"Be dead if you don't step away from her," he growled. "You said it wasn't a date. I didn't."
With a kiss to her cheek, Marc did, and even retreated back behind the bar. "Burgers will be up soon, go pick a table and I'll have them bring it out when it's ready."
"Parker!" A bleached blonde, svelte woman launch herself at him. Catching her instinctively, he hugged her back. "Tiffany. Didn't think you were here."
"In town to visit my brother." She leaned back and looked by him to where Skylar stood. "Who's she?"
"Skylar," his woman said without hesitation. "Only a friend."
Marc's eyes sparkled with amusement. Setting Tiffany down, he tugged on Skylar's hair. "Who's on a date with me."
"Not a date," Skylar said. "Nice to meet you, I'm going to go grab a table."
He could feel it when she was away from him. There was this fucking emptiness that grew within his chest. And he hated it. Moments later, Marc was beside Skylar. Instead of a table to sit at, the duo headed to the far wall and the waiting pool table.
"Who's Miss 'Not-a-Date' that you can't keep your eyes off?" Tiffany leaned against him, arm around his waist—she'd always been like a younger sister to him. "Because from where I'm standing, you're thinking this is very much a date."
"When did you start thinking you knew how to read me?"
She snorted and elbowed him in the side. "Please. I spend my days surrounded by Marines, despite you lot pretending you give away zero emotion, you're very easy to read. Don't assume because I have blonde hair I'm in idiot."
His cock kicked to life at the sight of Skylar chalking her cue stick. Marc and she carried on an easy conversation and he hated she was with his friend at the moment, but his jealousy was calmed by the fact, she just looked like she was having fun. At least that's what he was telling himself.
"Far from an idiot, Tiffany." He began walking to where her brother and his woman were starting their game.
She stopped gripping his arm, so he did also. "Stop the lies, this farce between you. There are real feelings there between the two of you. A blind man could see it. Tell her how you feel and settle down with her before you lose her forever. It's so much more than you and her. There's your son, your friends, your parents." She kissed his cheek and he glanced to find Skylar watching them. "Let's play some pool. I haven't won any money in a while." She walked ahead of him. "Skylar, are you okay if it's us against the guys?"
"Hell no," Marc bit off. "If this is two on two, I want the pretty woman not related to me on my team."
"A few games, then," Parker said. "I get to play with her, too." He held her gaze as he said that and loved how her brown eyes darkened with desire. Tiffany's words bounced around in his head. She'd known him forever so maybe she did see something that others didn't.
"Somehow, I feel that already happens," Tiffany muttered beside him.
He didn't dignify that with an answer even though his lips twitched because Tiffany had the right of it.
Walking behind Skylar, he swiped his own pool cue, deliberately brushing against her. No denying her sharp intake of breath. That's right, baby, I'm going to make sure you know I'm here.
His teasing her was a double-edged sword. Each time he did something to her, she affected him just the same, if not more. Then, there was how she bent over the table, lining up for her shot. He made it through two games but now, it was the third and he didn't have much control left. This was girls versus the guys.
The three of them had regaled Skylar with stories of how it had been when they'd first met and all the trouble they'd found themselves getting in. It pleased him to no end when she shared a few like stories about herself and Ryliee, her best friend. There were times they had to pause in playing because they were laughing to hard.
He missed times like this and thought about how Marc was doing after he had gotten out of the Marines. The man had done so well for himself and seemed to have his shit together. He made a note to speak to him, if it turned out he wasn't cleared to go back in the field. Marc had lost a limb and knew all about not being able to get back to what you loved.
Where did Skylar end up in all of this? Did he want to leave her? No. He liked being with her in the evenings, cooking dinner with her, and just spending time together. He didn't miss going out and drinking with his friends like he thought he would.
"You're up, Skylar," Tiffany said, snatching some fries from her plate and popping them in her mouth.
"Okay, I have to put my hair up. Time to get serious. No way we're going to lose to these two troublemakers. Then again, perhaps delinquents would be a better word given the stories I've just heard."
Tiffany whooped while he, along with Marc, frowned. His instinctive denial rose upon his lips. Both for her hair comment and the one she made about Marc and him.
Parker loved the way her natural curls tumbled around her. Especially when they were spread out on the pillow as she tossed in the throes of the shared passion between them. Or when he watched her sleep. It was the time he thought about all the things to say to her that he couldn't while she was awake. The things to say he'd been brought up to think made a man weak.
She stood before him, no pool cue in hand, staring up at him with those amazing eyes she had that never failed to sear him to his soul. He cocked an eyebrow, forcing himself not to reach out and push those very curls away from the soft curvature of her face.
"Yes?"
"My hair thing?"
He blinked. "What about it?"
"You keep one in your pocket. Can I have it?"
Damn. Giving in to his urge to touch her, he skimmed his palm along her cheek, pushing his fingers into her hair as he moved. Her full lips parted with a small mewl.
She's so fucking responsive to my touch.
Pulling the tie out of his front jean pocket he stretched it between his fingers. "Here you go."
Without breaking their eye connection, she reached out and gathered up her hair, exposing the graceful lines of her neck, and those aristocratic cheekbones. As usual a few tendrils hung free and she held it in one hand using her other to pluck it from him. Three swift moves and it was piled up high, leaving him wanting to take it back down.
Her tongue flicked out, dampening the plump bottom lip that was a distraction to him. "Thanks. Time to kick your ass." A hesitation and a smirk. "Again."
She was right, when she and Marc played they'd won. He wasn't sure if it was her skill or the fact he was to damn distracted by her.
Skylar smiled, turned her face to his palm and he swore she kissed his skin but then she was gone, leaving him with nothing but a need and a memory.
Marc rested his shoulder against his. "Right, nothing there at all."
(C) Aliyah Burke, Entangled Publishing, 2020 Reprinted with permission from the publisher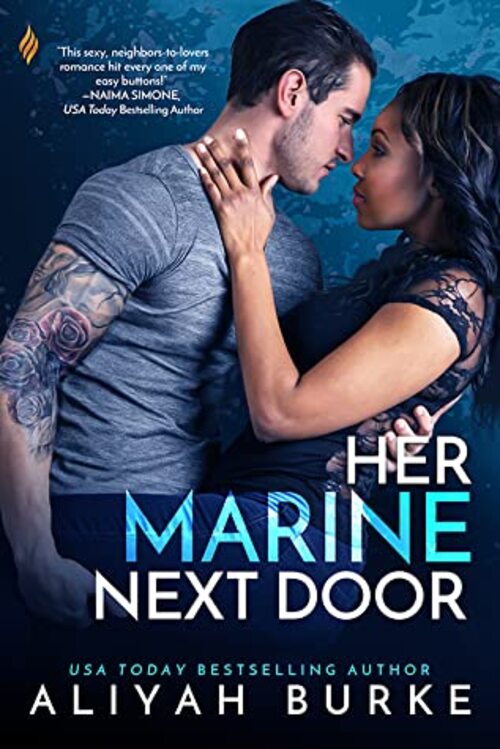 My next-door neighbor Parker Jax is not my type. He's covered in tats, rides a motorcycle, and his parties keep me up all night. The fact he's sexy as sin doesn't change the fact we are oil and water.
I'm a quiet artist. He's a rowdy marine. I've got a broken heart. I'm convinced he doesn't have a heart at all.
Thankfully, my bad-boy neighbor is on leave from the Marines for only thirty days. But then the jerk has to go and show me that he has a soft side beneath all those hard muscles. He actually leaves his own party to help me, and he didn't even have to.
Fantastic. Now I owe him.
I'm not worried, though. What are the chances he'll need me to do anything before the month is up?
But when a woman shows up with a kid at her side, knocking on Parker's door, it turns out those chances are pretty good. . .
Romance Military | Romance Contemporary [Entangled Brazen, On Sale: December 14, 2020, e-Book, ISBN: 9781649371041 / eISBN: 9781649371041]
Aliyah Burke is a USA Today Bestselling Author who's an avid reader and never far from pen and paper (or the computer). She is happily married to a career military man. They are owned by three Borzoi. She spends her days at the day job, writing, and working with her dogs.
No comments posted.