Half a dozen women, standing by a makeshift bar in Didcote's Air Transit Auxiliary's mess turned appraising faces toward us. For one panicky moment I felt I was back at boarding school on the first day of term.
"Good morning, Miss Redfern, I'm Vera Abercrombie, Didcote's commanding officer." A compact looking woman with a direct no nonsense gaze introduced herself. I suppose, like everyone else who first met her, I was surprised that the Didcote ATA commanding officer wasn't the standard issue senior male RAF officer with a waxed moustache. Vera Abercrombie was probably in her mid-thirties, but her fair northern skin was deeply lined, either from years of flying, or put there by the burdensome responsibility of her war-time job.
She carried a clip-board with a sheaf of papers pinned to it and her glance strayed to it often, as if she might have inadvertently overlooked some small but important detail. There are not many women who have shot to the heights of command that Vera Abercrombie had achieved, without being conscious of their seniority every hour of their long working day, but there was no arrogance in her greeting and no feeling that this was her 'show,' and that Crown Films was lucky to be allowed to interrupt her demanding schedule.
"This is a friend of mine, Captain O'Neal."
Abercrombie glanced at the insignia on Griff's arm. "American Army Air Force," she extended her hand to Griff and then bent down to pat Bess's head
"What a sweetheart," she said.
"Yes, ma'am. 84th Wing. I hope you don't mind my butting in here. We've had planes delivered by the ATA and I couldn't pass up the opportunity to meet you all." I've always envied Griff his relaxed and easy manner. It's something I've noticed that most Americans possess. We English tend to stand around in stiff awkward silence as introductions are made, but Griff just sails right in, as if he's known everyone in the room forever.
Commander Abercrombie was clearly impressed. "Welcome to Didcote, both of you," she looked down at Bess again and smiled, "All of you! Now, let me introduce you to the First Officer pilots taking part in the film tomorrow."
She turned to the silent, watchful group of women at the bar. "From left to right: Officer Trenchard," a tall athletic looking brunette with a serious face nodded and said, "Welcome to Didcote." I nodded back, and smiled, but her face remained grave, as if introductions were not the time for small-talk.
"Officer Evesham," a broad smile from a young woman with the bright, healthy complexion that comes from being active outdoors in all weather. She lifted a hand in greeting. "Please call me June." I caught the trace of an accent and wondered if she came from South Africa. June bent down and swung Bess up into her arms. Strongly aware of her independence and dignity my little dog usually treats this sort of familiarity with a groan and struggles to be put back on the ground, but June's laugh of delight was so unaffectedly buoyant that Bess turned her head and gave her an affectionate face wash. More laughter as the rest of the group relaxed. June was the jolly sort: easy-going and unaffected. Her intelligent blue gaze carried only a natural curiosity and a willingness to get along.
Commander Abercrombie turned to her next pilot, "Officer Partridge is your . . ." she got no further. A petite and very young woman with immaculately waved ash blonde hair and a vivid red mouth walked toward us. She nodded briefly at me, ignored Bess's best pirouette in greeting, and put her hands on her hips to give Griff the once over. "Fighter or bomber?"
Griff laughed and stuck out his hand. "Griff O'Neal—Mustang. Best plane out there." It was the sort of thing Griff always said, but the blonde took it as a challenge. She smiled, turned to her friends at the bar with her eyebrows raised and drawled. "Well, we'll have to see about that, clearly the captain hasn't come across a Spitfire yet! I'm Edwina Partridge. And this," she waved her hand at a tall, stately girl with a thick mane of dark gold hair, "Is Betty Asquith, but we call her Grable, of course." The tall girl smiled and opened her mouth to say hullo, but Edwina breezed on. "And next to her is Zofia Lukasiewicz. I should say Countess Lukasiewicz, but she wouldn't like that, would you ducky?" She laughed at her familiarity.
The countess was a little taller than Edwina Partridge, but there all similarity ended. She was dark haired, dark eyed and greeted us with a gracious inclination of her head. No one would interrupt this woman, I decided, she was easily the most composed member of this group. "Hullo, what a handsome couple you both make, and such a pretty little dog!" Zofia's last name might be Polish, but her soft, clear voice gave only the slightest hint that she was.
Now that Edwina had paused for breath Betty 'Grable' Asquith had a chance to acknowledge us. "Hullo-how-are-you?" It was barely a question and neatly pin-pointed exactly where Grable came from in our hierarchical British class-system. The faint lengthening of aristocratic vowels, the level English appraisal from not unfriendly, but certainly not inviting, gray-blue eyes. It was clear that Grable came from the ruling class. Her smile was perfunctory, and she was certainly not going to offer something as familiar a handshake. "Are you directing this shindig tomorrow?"
"No," I said. "That would be Huntley Masters our unit director. I am here to write up a script. The rest of the crew will be here in the morning to start . . ."
But Edwina wanted to finish her introductions. "All of us have licenses to fly two engine planes, but Letty here . . ." she waved at a pretty girl with fine, straight fair hair that hung loose to her shoulders. Two extraordinarily round, very blue eyes fixed themselves on my face, as she stepped forward. A friendly nod and a smile, "We are so excited about being in your film!" I noticed she completely ignored Edwina who hadn't quite finished with her introduction. "Letty is the only one of us who is licensed to fly the big chaps: four-engine Lancaster and Fortress bombers.
"All of them," Edwina's hand flew out toward the line-up along the bar, "are taking part in my film." Having made her point, she looked up at Griff through heavily mascaraed lashes. "I can fly anything, but the Spit is the love of my life," she declared.
Commander Abercrombie cleared her throat, as if she was used to being sidelined by Edwina. "Will you join us for a glass of sherry before lunch?" she asked me and turning to Griff. "We have beer . . . if you would prefer, but unfortunately no . . . um . . . Coca . . ." she fumbled for the word Coca-Cola as if that was what Americans lived on.
"Beer, will be fine, thank you Commander."
(C) Tessa Arlen, Berkley/Penguin Random House, 2020. Used with permission by the publisher.
A Woman of WWII Mystery #2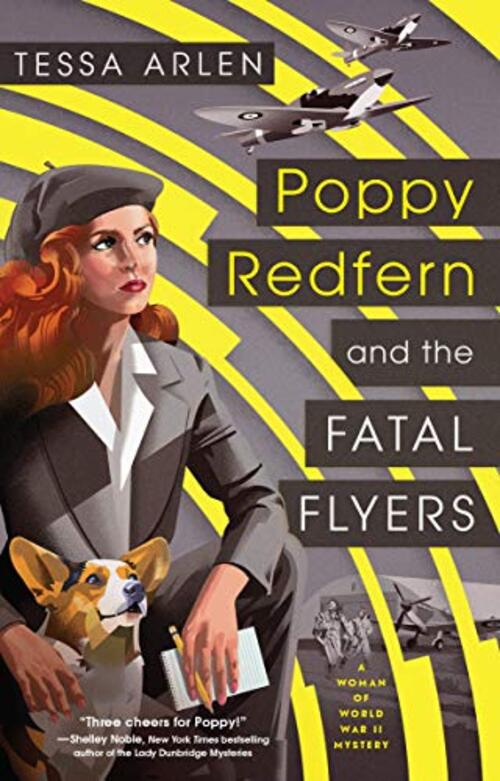 "You'll love this character so much, you'll want her as your best friend."—Alyssa Maxwell, author of the Gilded Newport Mysteries and a Lady and Lady's Maid Mysteries
Poppy Redfern is back on the case when two female fighter pilots take a fatal dive in an all-new Woman of World War II Mystery by Tessa Arlen.
It is the late autumn of 1942. Our indomitable heroine Poppy Redfern is thoroughly immersed in her new job as a scriptwriter at the London Crown Film Unit, which produces short films featuring British civilians who perform acts of valor and heroism in wartime. After weeks of typing copy and sharpening pencils, Poppy is thrilled to receive her first solo script project: a fifteen-minute film about the Air Transport Auxiliary, known as Attagirls, a group of female civilians who have been trained to pilot planes from factories to military airfields all over Britain.
Poppy could not be more excited to spend time with these amazing ladies, but she never expects to see one of the best pilots die in what is being labeled an accident. When another Attagirl meets a similar fate, Poppy and her American fighter-pilot boyfriend, Griff, believe foul play may be at work. They soon realize that a murderer with a desire for revenge is dead set on grounding the Attagirls for good. . . .
Mystery Historical | Mystery Amateur Sleuth [Berkley, On Sale: December 1, 2020, Trade Size / e-Book, ISBN: 9781984805829 / eISBN: 9781984805836]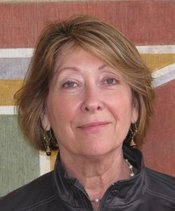 TESSA ARLEN, the daughter of a British diplomat, had lived in or visited her parents in Singapore, Cairo, Berlin, the Persian Gulf, Beijing, Delhi and Warsaw by the time she was sixteen. She came to the U.S. in 1980 and worked as an H.R. recruiter for the Los Angeles Olympic Organizing Committee for the 1984 Olympic Games, where she interviewed her future husband for a job. She lives in Washington.
No comments posted.