Hello everyone! I am Heather McCollum, Scottish Historical Romance writer, and I'm thrilled to be here at Fresh Fiction today. When I'm not writing marvelous brawny, broody Highlanders, I am usually answering calls of "Mom." I have three full-of-drama kids, one rescued golden retriever, and one Highland husband of my own. I am also a 9-year survivor of ovarian cancer, lover of hot chai tea lattes, and exuberant baker of all the goodies I should not be eating.
My newest release is the first book in a new series, Sons of Sinclair, which is set in 16th-century Scotland, way up in the north. The four books in the series focus on four brothers who were raised by their warlord (some say insane) father as the four horsemen of the Apocalypse. Cain Sinclair takes over the chieftainship when his father is killed in battle and decides that to conquer his father's greatest enemy, he will wed the new woman chieftain of the Sutherland clan. Unfortunately, Ella Sutherland is stubborn on top of being beautiful and brave, and she does not surrender to Cain's strategically laid plans.
Here are some words to give you a flavor of this jaunt through the Highlands.
H – Horses – Cain and his brothers own over 500 hundred of them.
I – "I choose death," Ella said. "Ye choose poorly," Cain replied.
G – Girnigoe Castle – the fortress and seat of Clan Sinclair in northern Scotland
H – Heights – Ella is definitely not afraid of them. Catch her escaping out her tower window, kitten tucked down her bodice.
L – Love gives, where Conquest takes – this is the theme of the book.
A – Aunt Merida has the sight & foretold the death of Cain's father.
N – "Never surrender Dunrobin Castle." Ella has heard it her entire life.
D – Discovery of secrets is dangerous for everyone.
*
C – Chess – Cain has grown up playing it to learn strategy and how to conquer.
O – "Och, lass," he said. "Every bloody inch of ye calls to me."
N – Nose punch to Hew Mackay for saying such terribly insulting things to Ella.
Q – Queen Elizabeth I sits on the throne of England during this time. An example of a strong woman leader, like Ella as chief of her clan.
U – Under the water in the loch, wild passions rage.
E – Enemies to lovers. My favorite trope!
S – Scottish thistle – a flower that is both bonny and able to be used as a weapon. A practical choice in flowers for a Highland lass.
T – Tattoo – Cain has the tattoo of a horse on his bicep with encircling Celtic braids as well as one on his back to signify the first horseman of the Apocalypse – Conquest.
Sons of Sinclair #1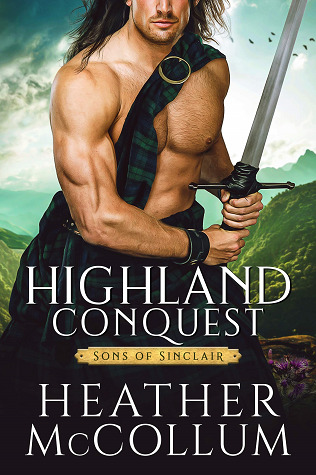 Cain Sinclair has a plan. In order to finally bring peace to his clan, he will wed the young female chief of their greatest enemy. Only problem: capturing her and forcing her back to Sinclair castle doesn't exactly make her want to say yes. Ella Sutherland may be clever, passionate, and shockingly beautiful, but what she isn't is willing.
Every attempt Cain makes to woo her seems to backfire on him. A gift? The kitten practically claws his eyes out. A competitive game of chess? Even when he wins, he loses. It seems the only time the two ever see eye to eye is when they're heating up Cain's bed. Still, the only thing Ella truly wants is the one thing he cannot offer her: freedom.
But when Cain discovers she's been harboring a secret—one that could threaten both clans' very existence—he'll have to decide between peace for the Sinclairs or the woman who's captured his heart.
Romance Historical [Entangled: Amara, On Sale: April 28, 2020, Mass Market Paperback / e-Book, ISBN: 9781640637474 / ]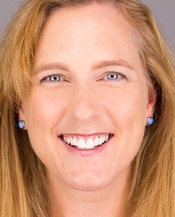 Heather McCollum is an award winning, historical romance writer. She is a member of Romance Writers of America and the Ruby Slippered Sisterhood of 2009 Golden Heart finalists. The ancient magic and lush beauty of Great Britain entrances Ms. McCollum's heart and imagination every time she visits. The country's history and landscape have been a backdrop for her writing ever since her first journey across the pond. When she is not creating vibrant characters & magical adventures on the page, she is roaring her own battle cry in the war against ovarian cancer. Ms. McCollum recently slayed the cancer beast and resides with her very own Highland hero, rescued golden retriever & 3 kids in the wilds of suburbia on the mid-Atlantic coast.
No comments posted.