Our first foster dog came into our home at an embarrassingly late stage in my dog training career. I'd been talking and writing about fostering for years but hadn't made the leap to actually doing it for reasons (excuses?) that might sound familiar to you; I was busy, my resident dogs might not enjoy it, and I'd have a hard time saying goodbye to my new best friend. But when the heartbreaking photos of dogs in need on my feed got to be too much for me, I finally decided it was time to stop talking and start doing. We welcomed an adorable pitbull named Freddy and that dude helped us kick off our fostering journey.
Since then my husband and I have gone on to foster a bunch of other dogs with more on the horizon. My initial concerns about fostering didn't really matter when I saw the happy endings that happened once our fosters found their forevers. There are so many compelling reasons why fostering is important, but the following are a few of my favorites.
Fostering Saves Two Lives
Any time you bring in a foster you're saving an additional life along with the temporary one under your roof because doing so opens up a space for another dog. Freddy came from ACCT Philadelphia, which is the region's largest animal care and control provider. Unfortunately, that means they have a constant stream of animals coming in their front door every day. Couple the nonstop cat and dog intake with a finite amount of kennels available and you're stuck with the heartbreaking outcome of euthanasia due to space issues. But by bringing Freddy home we were actually able to save two dogs; our foster and the dog that was able to move into his newly vacated kennel space.
Fostering Keeps Dogs Healthy
When Freddy arrived, he was dealing with a few common ailments that were simple to treat at home but would've spiraled out of control in a shelter environment. The angry red rash on his belly cleared up quickly because my husband and I were able to apply the necessary medication on a regular basis. Hanging out in our calm, quiet home gave Freddy the opportunity to recover from living in the overstimulating shelter environment. Ailments like upper respiratory infections and skin conditions are common in shelters because of physical stressors like a tough to disinfect environment and mental stressors like lack of exercise and nonstop barking. Getting dogs out of cement cells and into homes enables the dogs to recharge, get healthy and eventually thrive as they await their forever homes.
Spencer
Fostering Inspires Others
There's nothing like a compelling before and after story (with pictures!) to help convince fence-sitters to start their own fostering journeys. I always post a ton of photos and videos of my fosters on social media, and by the time the dogs find their happily ever afters my friends and followers are truly invested in the outcome. Seeing the dogs' stories play out real-time, from the initial days of transition to the inevitable blossoming after the dogs have acclimated to being with us helps people understand that fostering is not only incredibly rewarding, it's actually not that hard! Since we started fostering I've had people tell me that watching the magical process from start to finish was enough to convince them to try it as well. And it's not just my near-and-dear friends who have been moved to begin their own journeys; people that I've only interacted with on social media have told me that my non-stop updates gave them the courage to give fostering a try!
Fostering Fits Every Lifestyle
You might be thinking that your lifestyle is the very reason why you can't foster, but the fact is there's more than one way to help a furry best friend in need! The most common fostering arrangement is bringing a dog into your home until he or she finds a HEA, but fostering can be as short as an overnight stay. Thanks to a recent study that measured the cortisol levels of dogs before and after sleepovers, we now know for a fact that being out of the shelter for just one night is enough to significantly lower stress in shelter dogs. This short-term fostering set-up is perfect for people who are unable to commit to an until-you-find-forever stay, or for those that want to try baby steps before jumping into a longer relationship. And if an overnight still isn't an option for you, many rescue groups need people willing to drive dogs to adoption events and hold leashes during meet and greets. That means that your foster commitment can be as quick as a few hours on a Saturday afternoon!
Riley
Fostering Changes You. . . For Good
Sure, we all understand the magic of being loved by a dog. But there's a perspective shift that happens when you realize that by fostering you literally – and I do mean literally – save a dog's life. In WHO RESCUED WHO, main character Elizabeth Barnes stumbles on a dog in need and realizes that if she doesn't step up to save it, there's a chance the puppy won't make it. Elizabeth acts quickly to help the pitiful pup, and before long she starts to understand the power of the dog-human bond. It's Elizabeth's first time saving a pup and no one is more surprised than she is when "rescue fever" takes hold of her. It's not a spoiler to say that by the end of the book she's volunteering at a shelter and trying to make furever love matches for other pups and people!
So "who rescued who"? Foster and rescue magic happens on both ends of the leash, so I'd call it even.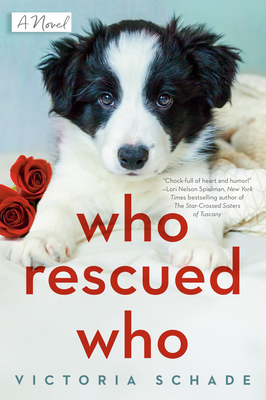 A few rough breaks lead a woman at the end of her leash to journey across the pond to fetch a surprise inheritance--but the dogs she rescues along the way have other ideas.
The plan was simple: Elizabeth would suffer through a quick trip to her late father's family homestead in the English countryside, try not to think about how she was unjustly fired from her dream job, claim her inheritance, and hop on the next flight back to Silicon Valley where she can get her life back on track.
The plan does not include rescuing an abandoned black and white puppy. Or bonding with her long-lost aunt and uncle, their Border Collie, and their two very opinionated sheep. Or falling for the handsome local who runs the town's craft brewery. As Elizabeth's brief visit to Fargrove turns into an extended stay, she discovers that she has more in common with the new puppy than she realized.
Women's Fiction Contemporary [Berkley, On Sale: March 24, 2020, Trade Size / e-Book, ISBN: 9780593098837 / eISBN: 9780593098837]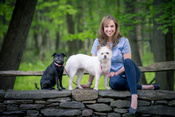 Victoria Schade has been a dog trainer and writer for over seventeen years. During that time her dog duties have included working behind the scenes on Animal Planet's Puppy Bowl as the lead animal wrangler, appearing on two seasons of the Animal Planet show Faithful Friends, writing dog training content and appearing in educational videos for NBC/Universal, Pet360, PawCulture and petMD, and writing two dog training books, Bonding With Your Dog and Secrets of a Dog Trainer.
Victoria shares her 1850's always-in- need-of- renovations home with Millie the Smooth Brussels Griffon (who wants you to know that she is not a skinny pug), Olive the mixed breed dog, the occasional foster pup, and her incredibly tolerant husband, Tom.
No comments posted.