What is a perfect day? It's a different answer for everyone. For some, it's a thrilling adventure at an amusement park with friends while for others it's a quiet day at home in solitude. I think a perfect day is one that allows for resting and recharging, but also leaves time to enjoy the company of loved ones. If I had to choose, here is what my perfect day would look like:
It would start with sleeping in as late as I want. I have two kids in the single digits so the "I'm hungry. She hit me. Mooooooomy wake upppppp!" Start early. After waking up I'd enjoy a warm cup of coffee and a yummy breakfast of fruit and cheese while reading a few chapters of a favorite book while the kiddos snuggle at my side with their own books. Reading doesn't have to be a solitary enjoyment. Even if you're reading different things, when you read together, it's great family time.
After enjoying a relaxing morning it would be time for a sandwich and snacks party with my friends where we'd munch while playing Tabletop games. Because it's my day, the games on the docket would be Betrayal at House on the Hill, Mysterium, Stone Age, Champions of Midgard, and possibly Werewolf. The kiddos would have their friends over, too, to play Robot Turtles, Hoot Owl Hoot, Sushi Go, and if we're having a real fun and messy time, Pie Face.
After gaming, there would be an impromptu music jam where we'd all grab an instrument and have our own little karaoke party. Maybe we'd even write an original song with tons of inside jokes we could laugh about for years to come. That sounds lovely.
We'd end the night with a horror movie (my favorite kind), a creature feature or possibly a foreign horror film. It could be scary, funny scary, or so bad it's funny, as long as we have candy and popcorn I'm good. The kiddos would be in bed by this point, lulled to sleep in an easy ten minutes (I know, laughable right) and soundly sleeping for the rest of the night.
After all of our friends leave, I'd have a nice soak in the hot tub. We don't have a hot tub, but in my perfect day, we totally have a hot tub. Then hubby and I settle for snuggles and reading in bed. More reading? Yes! Always more reading! Then I would get a wonderful uninterrupted 8 solid hours of sleep and wake up feeling rested, recharged, and ready for another day.
So that's what my perfect day would look like. Family and friends, food, games, music, and of course, books! It might not be as perfect as the snowed-in day Lincoln and Lilly share in The Best Man Problem, but it would be perfect for me. If your perfect day includes a laugh-out-loud sassy and swoony read, be sure to check out The Best Man Problem on sale now!
Mile High Happiness Book 2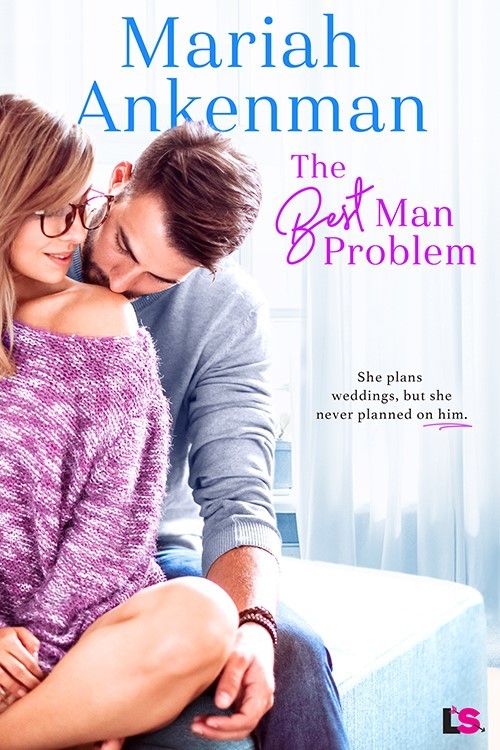 Lilly Walsh is used to keeping things buttoned-up and aboveboard. After all, the last time she hooked up with someone in a wedding party, it nearly cost her her wedding planning business. Thankfully, those rules don't apply when she meets a handsome stranger in a hotel bar. One bad pirate joke leads to the best night of her life, but come morning, she's got a wedding to plan.
Lincoln Reid never imagined he'd see the woman who rocked his world last night and then ran out on him ever again. But there she is, planning his best friend's wedding with the same passion and drive that brought him to his knees. She's adamant that wedding planner and best man can never mix, but that just means he's got four weeks to make her see him as more than just a one-night guy. Because he's itching for more than one night...or five, or ten…
Romance Comedy | Romance Contemporary [Entangled, On Sale: January 20, 2020, e-Book, ISBN: 9781657622326 / eISBN: 9781657622326]
Bestselling author Mariah Ankenman lives in the beautiful Rocky Mountains with her two rambunctious daughters and loving husband who provides ample inspiration for her heart-stopping heroes.
Whether she's writing hometown heroes or sexy supernaturals, Mariah loves to lose herself in a world of words. Her favorite thing about writing is when she can make someone's day a little brighter with one of her books.
No comments posted.