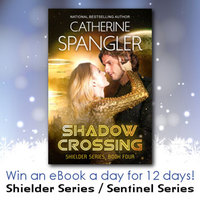 Catherine Spangler invites you to celebrate twelve days of holiday cheer with an e-book giveaway each day of the contest. Winners can choose any e-book from her science fiction romance Shielder series or her romantic urban fantasy Sentinel series.
From Catherine: I want to offer a heartfelt thank you to all my wonderful readers who have supported me, emailed me, even become friends, throughout 2014. Because of you, it was an awesome year! I hope you had a good year as well, and wish you a very wonderful holiday season and a happy, healthy, and prosperous New Year! What better way to start 2015 (or any year) than with a good book to read? Enter today—if you win, you get the book of your choice from my Shielder or Sentinel series. Happy reading!
Don't miss Catherine's latest Shielder book, SHADOW CROSSING!
Ms. Spangler shines, her talent wonderfully evident as she takes us on a journey across galaxies . . . . One of romance's brightest stars. — Sensual Romance Reviews
Celie Cameron has spent her most of her life as a smuggler, skirting the law. She's given that up for more legal delivery runs, but she misses the adrenaline rush of danger. When a routine delivery goes haywire, throwing her into the company of a handsome pilot—an android, or so she thinks—Celie finds herself embroiled in galaxy-spanning intrigue and deception.

The android, Rurick, is a miracle creation. Because of past experiences, Celie has avoided relationships with men. But she finds herself attracted to Rurick, feeling safe to indulge in flirtation with a pseudo man. As they join forces to challenge an insidious threat to the populations of the Verante quadrant, the attraction between them grows.

But then Celie learns Rurick is actually a human—a royal prince—masquerading as an android and all bets are off. He doesn't agree, and ensures Celie is forced to work closely with him. They battle wits from a glittering royal palace to a shipwreck on a barren planet. Facing possible death, she can no longer deny her feelings—or the man. Together, they fight to bring light to a darkness every bit as depraved as the expanse of space known as . . . Shadow Crossing.
Read an excerpt from SHADOW CROSSING.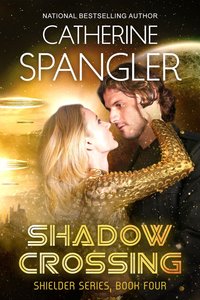 Buy SHADOW CROSSING
Contest ends: January 6, 2015