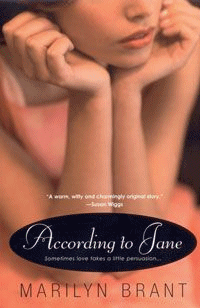 To add a dash of Austen-esque fun to your summer, Marilyn is giving away an autographed copy of her humorous and hot award-winning debut, ACCORDING TO JANE, as well as a set of four different Austen notecards/envelopes with sayings from Mansfield Park, Pride and Prejudice, Northanger Abbey and a letter from Jane to her sister.
ACCORDING TO JANE
Order Today
It begins one day in sophomore English class, just as Ellie Barnett's teacher is assigning Jane Austen's Pride and Prejudice. From nowhere comes a quiet "tsk" of displeasure. The target: Sam Blaine, the cute bad boy who's teasing Ellie mercilessly, just as he has since kindergarten. Entirely unbidden, as Jane might say, the author's ghost has taken up residence in Ellie's mind, and seems determined to stay there. Jane's wise and witty advice guides Ellie through adolescence and beyond, serving as the voice she trusts, usually far more than her own.
Years and boyfriends come and go, but Jane's counsel is constant, and on the subject of Sam, quite insistent. Stay away, Jane demands. Still, everyone has something to learn about love--perhaps even Jane herself. And lately, the voice in Ellie's head is being drowned out by another, urging her to look beyond everything she thought she knew and seek out her very own, very unexpected, happy ending. "A charming book."~Family Circle's "Inner Circle"
"Fresh, original, and lots of fun."~Barnes & Noble Review, "The Long List"
"A warm, witty and charmingly original story."~Susan Wiggs, #1 New York Times Bestselling Author
"What an unexpected, uplifting, and urbane debut novel! Subtly powerful and amusingly acerbic, you will be gently reproved into agreeing in the power of love to transform us all."~Laurel Ann Nattress, Austenprose
Winner of RWA's prestigious Golden Heart® Award for "Best Novel with Strong Romantic Elements" & Double Finalist for the Booksellers' Best Awards ("Best First Book" and "Best Single Title/Mainstream Novel")
Contest ends: August 30, 2010