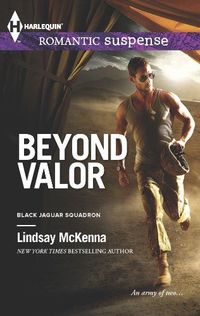 Purchase
An Army of Two...
Black Jaguar Squadron
Harlequin Romantic Suspense
February 2013
On Sale: January 22, 2013
Featuring: Megan Trayhern; Luke Collier
282 pages
ISBN: 0373278098
EAN: 9780373278091
Kindle: B009YF4UQW
Paperback / e-Book
Add to Wish List

"YOU MAKE ME FORGET EVERYTHING ELSE." Luke Collier knows his duty. A marine corps combat medic, his job is to save lives-not satisfy his own desires. Megan Trayhern is his corpsman, but the beautiful redhead can't be anything more. Luke has already given his heart once, and he understands the toll the corps can take on a woman, on a romance...on a marriage. Megan has her own mission. While she doles out medical care in the nearby village, she's also gathering intel. It's a dangerous assignment, one that the onetime military brat undertakes without fear. She needs to focus-and be careful-and the growing passion she feels for Luke can only put them both at risk. Honor binds them both, but the heart gives its own orders....
Videos
Comments
27 comments posted.
Re: Beyond Valor

I love military romances and can't wait to read this book! I don't have any favorite books while they are IN the military but I love Suzanne Brockmann's "Troubleshooters" books.
(Bonnie Capuano 4:34am February 2, 2013)
I love romance and action together, my last read was Sydney
Croft´s ACRO series, it was great! I´m always adding to my TBR
list, =)
Thanks for the giveaway & Happy Saturday!
//Linda
(Linda Larsson 6:01am February 2, 2013)
i enjoy all books of these types. always a good read!!
(Lisa Fitzgibbons 6:30am February 2, 2013)
I read a good military romance recently, about a soldier in Afghanistan and a journalist who has been reading his blog. This was called A Prince Among Men. The best part of it was the setting and spartan conditions of the army base. Not much point reading about soldiers who have a cushy lifestyle!
(Clare O'Beara 9:40am February 2, 2013)
I really enjoy action adventure and romance all rolled into
one. Thanks for the chance to win.
(Mary Hay 10:13am February 2, 2013)
My favorite military romances are by M. L. Buchman. He's got a
great series based on Night Stalkers.
(Susan S 11:18am February 2, 2013)
I think my favorite military romances are the KGI series by
Maya Banks. Lots of fun!
(Rebecca Whitehead-Schwarz 11:37am February 2, 2013)
I love the KGI Series also and Cindy Gerard's too. Military
romances are great.
(Nicki Bland 11:47am February 2, 2013)
Oh I have enjoyed military romances with characters from different branches... some authors have wonderful series that I have and continue to enjoy.
(Colleen Conklin 12:26pm February 2, 2013)
I love military romances and I have honestly never read one
that I didn't enjoy. As they say, there's something about a
man in uniform. :-)
(Lisa White 12:36pm February 2, 2013)
.looks..good
(Kent Cook 2:15pm February 2, 2013)
i do not have a favorite i love all romance , thanks
(Debbi Shaw 4:34pm February 2, 2013)
I really don't have favorite. I certainly look forward to your new series.
Blessings,
Marjorie
(Marjorie Carmony 5:17pm February 2, 2013)
Men in uniform---how can one not like them? I know I'd enjoy your book.
(Sue Farrell 5:23pm February 2, 2013)
sounds like a great book to read
(Ann Unger 6:34pm February 2, 2013)
I don't have a favorite thought I do enjoy reading military
romance.
(G. Bisbjerg 7:59pm February 2, 2013)
I have read all your military stories and the Trayhen family. I can't wait to read this book. I don't have a favorite, its the one that I'm reading at the time. I love to read about combat with alittle mix of romance!
(Carole Fiore 8:19pm February 2, 2013)
I love military romances and yours and Catherine Mann's have always been some of my favorites. I had a big collection of almost all your books but unfortunately lost them all when I lost my home in the big tornado that hit my hometown in 2011. So I've been reading you for a lot of years and love the Trayherns. I can't wait to read about the extended family.
(Linda Henderson 8:23pm February 2, 2013)
I love military romances being married to a Marine Veteran who
is my hero and High school sweetheart... I love Marliss Melton
she writes a great military romance... I also love love Ranae
Rose's Battered Not Broken... There are many others but those
are my current favorites.
(Jeannie Platt 8:35pm February 2, 2013)
Your books sound like they're going to have pretty powerful stories behind them, and I can't wait to get my hands on them!!! They're also in lockstep with today's headlines. Who would have thought that women would have been given approval to fight in combat situations?? Whether you approve or not is not the purpose of my posting, but I know that you wrote the book long before this ruling came down, so you were ahead of the curve!! It's going to be interestin to read how you perceived the situation, and put a little time for romance in the book as well, which it sounds to me you hinted at. My hat goes off to all the men and women in the military. I could never do their job, and I know they have a hard one to hoe. As long as they know their country is behind them, regardless of what else they might read, is all they need to know!! Thank you for keeping their stories alive!!
(Peggy Roberson 9:41pm February 2, 2013)
I do not have a favorite military romance but would like to. So enter me to win this and I can review it and find me one.
(Jane Squires 11:16pm February 2, 2013)
This sounds like a new twist on romance. I have never read a military romance before but it sounds great.
(Kathleen Yohanna 11:43pm February 2, 2013)
The last book I read in military romance is His Woman in Command. After reading this book, I got hook to the Black Jaguar Squadron series.
(Kai Wong 12:03pm February 3, 2013)
Being a military brat myself, I simply LOVE books that involve military men. A man in uniform makes a woman's heart beat faster to start with, so I love having military men (and women) as the heroes and heroines of love stories. There aren't enough writers of contemporary romance using military people or situations in their stories. Personally, I'd love to read a couple paranormal or time-travel stories involving military settings/characters... HINT, HINT! LOL
(Donna Holmberg 9:25pm February 3, 2013)
I don't have an absolute favorite, but I do love them in
general.
(Mary Preston 11:32pm February 3, 2013)
With a husband who is a military man I look forward to reading your books.
(Gladys Paradowski 12:27pm February 5, 2013)
I am truly enjoying the romantic thrillers which I had previously not read, so finding all of the new authors (to me) is wonderful.
(Cynthia Blain 6:06pm April 4, 2013)
Registered users may leave comments.
Log in or register now!