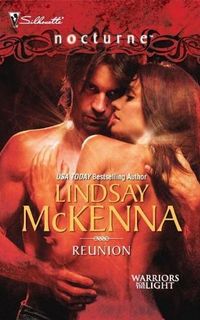 Purchase
Warriors for the Light #4
Silhouette Nocturne
April 2010
On Sale: April 1, 2010
288 pages
ISBN: 0373618328
EAN: 9780373618323
Mass Market Paperback
Add to Wish List

He claims it was a brutal test of his Jaguar powers that divided their fates for centuries. All Aella knows is that a familiar joy courses through her body when she arrives on an archaeological assignment at the Great Spirit Mound. Who is this godlike stranger who comes to her in her dreams? She should be terrified. Instead, Fox's protective presence awakens in Aella memories of torrid lovemaking— and a yearning she can't deny. If she believes her visions, Aella is Fox's lost Incan bride…and he is her soul flame. But Fox is competing with a Dark Lord who is determined to keep them apart, hovering on the brink of temptation, eternally separated from the Light….
Comments
30 comments posted.
Re: Reunion

I do not read a lot of Nocturne, but what I have I find that I like them very much and will read many more!
(Joyce Bruner 2:49pm April 5, 2010)
Lindsay your WARRIORS FOR THE LIGHT series sounds wonderful! How interesting to read your interview and see how this beautiful necklace was the inspiration,
(Christy Hawkes 10:00pm April 7, 2010)
I have loved all of your books Ms McKenna and enjoyed meeting you at RT in 2000. I look forward to reading this Nocturne.
(Cindy Olp 4:21am April 8, 2010)
Wow, such wonderful research that goes into your books!
(Joanne Reynolds 6:31am April 8, 2010)
WOW! Adventure is in your spirit and in your work. I love books that really take you somewhere and surround you in a different place and time. Can't wait! I adore that you shared your inspiration with us.
(Rachel Turner 9:36am April 8, 2010)
i would love to read this book
if i don't win i'll watch 4 it here
(Debbi Shaw 11:34am April 8, 2010)
Love paranormal romance.
(Sherry Russell 12:20pm April 8, 2010)
I really like your books and always look forward to the next one, so win or not I will be reading it.
(Lisa Avila 12:40pm April 8, 2010)
I am just dipping into the Nocturne line and lovin it...
(Colleen Conklin 1:40pm April 8, 2010)
I love Nocturne authors and your
covers are beautiful!
(Amber Leigh Williams 5:35pm April 8, 2010)
The necklace is amazing. I can understand how inspiring it could be. I am looking forward to reading the series.
(Mary Preston 5:36pm April 8, 2010)
As harlequin Nocturne's were
my first real exposure to the
paranormal, I bow at your
feet. Your writing marathon
just turned into a reading marathon for me. :)
(Lisa Richards 6:57pm April 8, 2010)
I always look forward to McKenna books.
Blessings,
Marjorie
(Marjorie Carmony 7:14pm April 8, 2010)
hope to read this book
(Deb Pelletier 7:45pm April 8, 2010)
Seeing the necklace took my breath away. I enjoy paranormal stories. I look forward to the new books in the Warriors for the Light series.
(Rosemary Krejsa 7:47pm April 8, 2010)
Hello Lindsay,
Please enter me in your fantastic contest and I love entering and winning contests from FreshFiction.com too!
God bless YOU, Cecilia
cecilia74@sbcglobal.net
(Cecilia Dunbar Hernandez 8:22pm April 8, 2010)
love your writing its like watching a movie
(Brenda Hook 8:23pm April 8, 2010)
Paranormal books are the best!!!!
(Lori Roche 9:31pm April 8, 2010)
What a great idea... each book will draw us into the next. Once we've read the first book we won't be able to resist getting the next one. Crafty... very crafty!
(Donna Holmberg 10:39pm April 8, 2010)
Lindsay,
Have enjoyed your books for years.
Have not read any of the Nocturne's
though. I have only read paranormals
the past year or so. The WARRIORS
FOR THE LIGHT series sounds like
something I would enjoy. Will have to
search out the first 3 and keep an eye
out for the new one.
That necklace is truly spectacular. I'm
heading to the internet to find out
more about it. Would prefer to go to
Peru to see it : )
Good luck with the release of the rest
of the series.
(Patricia Barraclough 11:18pm April 8, 2010)
Paranormal books are great!
Count me in!
(Brenda Rupp 11:53pm April 8, 2010)
I love when I can pick up interesting facts in the romance books I read - I even manage to stun the children with little snippets I have picket up. Can't wait to read this book!
(Barbara Hanson 5:42am April 9, 2010)
Another great series for me to read. I am so looking forward to reading your books. That necklace IS gorgous, would love to have to have owned it.
(Tonya Atchley 9:55am April 9, 2010)
What a beautiful necklace - it would be an inspiration. Jewelry has it's own story to tell. Lies, deceit and even death to own a precious gem.
(Vikki Parman 1:06pm April 9, 2010)
Thanks for sharing the emerald necklace picture. This is indeed a beautiful necklace. I also love your series and had wondered what has happened to the Warrior for the Light. Hopefully everything is well in your family.
(Kai Wong 1:09pm April 9, 2010)
Glaad that you are able to get back to writing the series.
(Karin Tillotson 1:18pm April 9, 2010)
Thanks for the great story telling.I love your books:)
(Kathy Dunaway 6:20pm April 9, 2010)
Though I've been collecting the WARRIORS OF THE LIGHT books, I haven't yet had a chance to read them. I'm waiting to get the last ones so that I can read them one after the other.
(Sigrun Schulz 12:20pm April 10, 2010)
I love the way you research your books. I've read all the series & look forward to more.
(Pat Wilson 10:43am April 12, 2010)
I love your paranormal books and really look for to reading these. When a writer puts herself into creating a paranormal book like you do the results are hours of enjoyment for readers like me!!! Thank you!Hope to start this series soon.
(Lynn Falin 1:36am January 21, 2012)
Registered users may leave comments.
Log in or register now!