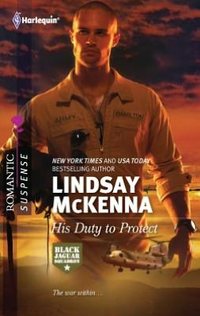 Purchase
Black Jaguar Squadron
Harlequin Romantic Suspense
February 2012
On Sale: January 24, 2012
Featuring: Ty Hamilton; Rachel Trayhern
224 pages
ISBN: 037327761X
EAN: 9780373277612
Kindle: B006IIWZNS
Paperback / e-Book
Add to Wish List

Romance Series | Romance Suspense
"Why the hell are you here?"
Captain Ty Hamilton knows the woman hates him, especially since he'd tried to sabotage her military career. All those years ago, the formidable Rachel Trayhern had fought back and won.
Ty paid a high price for his arrogance. Now they're stationed at the same base in Afghanistan.
Worse, she's been assigned to his unit. In five years, he's changed enough to feel ashamed of how he'd behaved. He wishes he could apologize, but Rachel's steely demeanor holds him at bay.
Suddenly, a mission gone awry leaves Ty and Rachel stranded in enemy territory. And with their lives at stake, old hatreds become trivial—and new, unexpected feelings awaken….
Comments
22 comments posted.
Have already read HIS DUTY TO PROTECT I sure enjoyed it.
(Judy Ferguson 9:31am March 13, 2012)
I like that they're helicopter pilots.
(Lisa Elwood 9:53am March 13, 2012)
As a long-time fan of BJS, Morgan's Mercenaries, and all things Lindsay McKenna, I love this book - as soon as I see her name as the author, I'll buy the book, no questions asked!
(Felicia Ciaudelli 10:15am March 13, 2012)
Ooooo, Nice cover. Lindsay, it sounds like another fantastic read. I also read Duty To Protect, I love your style, keep them coming nice in uniforms. Thanks
(Margie Gagarin 10:42am March 13, 2012)
I'm going to have to catch up on this military family saga!
(Diane Sallans 11:42am March 13, 2012)
Wonderful cover... I too have to look for the earlier books... sounds like a great series!
(Colleen Conklin 1:07pm March 13, 2012)
I have read all the Morgan's Mercenaries books and one day I
will have enough funds to get my own copies of them. In the meantime I'l keep an eye open in the library for this one :D
(Ilona Fenton 2:09pm March 13, 2012)
THanks for introducing me to the Trayhern Family. I can't wait to read about them.
(Robin McKay 2:23pm March 13, 2012)
I am so glad I found this site. Did not know there were military theme books. Love it.
(Kiki Winn 6:20pm March 13, 2012)
I want to read this book!
(Cheryl McEwen 7:05pm March 13, 2012)
Book sounds great, can't wait to read it. Thanks for giving me a chance to win it.
(Linda Hall 7:18pm March 13, 2012)
Something very special about a man in uniform...
Good luck and happy writing!
(Tracie Travis 7:41pm March 13, 2012)
It sounds like your book will make for a good read. Sometimes women have to prove themselves - even on the battlefield!! I guess that Rachel will have to prove herself in more ways than one!! :-) Thank you for taking the time to share your latest book with us. I'll be looking forward to reading it.
(Peggy Roberson 10:02pm March 13, 2012)
I love romantic suspense because I adore a protective hero. I especially love military heroes. His Duty To Protect sounds like a book I will love.
(Stacie Deramo 10:13pm March 13, 2012)
Oh, sounds like my kind of book!
(Jennifer Beyer 10:18pm March 13, 2012)
You are a new author for me, but I am definately interested.
Thank you.
(Patti Paonessa 11:43pm March 13, 2012)
love the series, this one will be great.
(Barb Volker 9:55am March 14, 2012)
My mother's family has a whole lot of muscle brained military men who don't
need women until the NEED them (and not only in bed). They are definitely "a
woman's place is...". It really takes a particular type of woman to put up with
them. I love it when they wake up to what is "now".
(Sandra Spilecki 11:21am March 14, 2012)
I love a man in uniform!!!
(Marcelle Cole 10:09pm March 14, 2012)
You are one of my favorite authors, but I am day late. Big bummer, but I am
buying this book for sure.
(Tammy Yenalavitch 8:03pm March 15, 2012)
Great cover background and foreground. I do like a man in uniform especially when off duty.
(Alyson Widen 9:32pm March 15, 2012)
the book sounds very interesting. I just discovered this site today, i'm looking forward to see what I can read on it, thanks
(Carol Russell 6:32pm March 19, 2012)
Registered users may leave comments.
Log in or register now!